Mongolia's Looming Tuberculosis Crisis
Mongolia continues to face the spread of TB, particularly in the low-income population.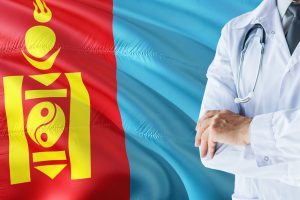 Tuberculosis (TB), a long-standing scourge that has afflicted humanity for millennia, remains a formidable global health challenge. Despite Mongolia's pledge to combat tuberculosis at the 2018 United Nations High-Level Meeting on the issue, health experts say that the country is yet to achieve U.N. Sustainable Development Goal 3.3, which aims to end the TB epidemic by 2035.
Mongolia has made undeniable progress. According to the World Health Organization's Mongolia office, in the past two decades, Mongolia saw a significant decline in tuberculosis mortality rates, dropping from 4.9 per 100,000 population in 1996 to 2.0 in 2022. This progress is attributed to the country's socioeconomic development, the use of effective drug treatments, and comprehensive control efforts. 
Mongolia implemented the National Tuberculosis Program and adopted the short treatment program in 1995, substantially improving healthcare infrastructure, particularly in tuberculosis dispensaries. TB treatment is provided free of charge, and Bacillus Calmette-Guerin (BCG) vaccination coverage is nearly universal. The country has successfully secured grants from the Global Fund to combat tuberculosis, HIV, and recently, COVID-19, and the government partly covers the costs of medications. 
Moreover, between 2017 and 2021, Mongolia's health industry made some progress in introducing modern technology such as rapid molecular diagnostic tests across the nation. Government-funded social protection measures have helped mitigate the impact of tuberculosis nationwide.  
Despite these efforts, Mongolia continues to face the spread of TB, particularly in the low-income population. 
The first national population-based tuberculosis prevalence survey in 2015-2016 revealed a high prevalence estimate of 428 cases per 100,000 population. Consequently, in 2021, the WHO ranked Mongolia among the 30 high tuberculosis burden countries globally. Conceringly, the incidence of tuberculosis strains resistant to standard antibiotics used for treatment has been on the rise, increasing from 1.0 percent in 2009 to 5.3 percent in 2016. 
Another major issue that impacts Mongolia's TB crisis is the dispersed population, as it poses an additional challenge to disease control efforts. Although there is evidence of a high tuberculosis rate in suburban settlements, such as in the ger districts, there are likely pockets of TB in isolated rural areas as well. 
Moreover, what is equally important is to recognize that tuberculosis primarily affects those suffering from poverty, deprivation, and inequality. These complex social issues can have a direct impact on whether a certain population is prone to TB. 
Recent socioeconomic development has led to significant rural-to-urban migration; the capital of Mongolia, Ulaanbaatar, is home to 70 percent of the population. Rapid urbanization has resulted in widespread urban poverty and the expansion of slum communities, such as the ger districts, which have limited access to employment opportunities. 
Additionally, 27 percent of the Mongolian population lives below the national poverty line, with a significant portion residing in ger districts, suburban slums, and rural areas. Poverty increases the chance of exposure to various tuberculosis risk factors like HIV, smoking, and alcohol misuse. 
Risk factors for tuberculosis in Mongolia include undernutrition, smoking, alcohol consumption, diabetes, and air pollution. Smoking and alcohol use are notably higher among Mongolian men than women, with 43 percent of men being active smokers. 
Poor general health literacy and a lack of motivation to act on that literacy are also linked to poverty, meaning those who become sick may not seek treatment. This may be why people with TB symptoms don't always seek treatment in a timely manner. One-third of symptomatic individuals fail to reach diagnostic centers, although the reporting issues vary across different geographic areas within the country. Only 19 percent of new tuberculosis cases annually are diagnosed and started on treatment, leaving many patients out of care. 
While Mongolia's total health expenditure as a percentage of GDP has increased slightly from 4.2 percent in 2015 to 4.9 percent in 2020, the majority of this spending is directed toward health services rather than public health programs. Unfortunately, government spending on tuberculosis programs has not significantly increased, primarily due to inflation and currency exchange rate fluctuations between 2018 and 2021.
The current government's Vision 2050 long-term plan does include a section for enhancing the country's preventative measures for disease control and introducing modern technologies. But Mongolian TB experts urge additional attention to addressing tuberculosis and demand sustained funding over many years. 
Currently, international donor funding accounts for 38.3 percent of the total amount of tuberculosis spending in Mongolia, emphasizing the need for increased political commitment to combat TB in the country. Scaling up tuberculosis control efforts necessitates not only financial and material resources but also the involvement of multiple stakeholders. Mongolia requires more "fighters" actively engaged in the fight against tuberculosis, working alongside patients. 
Consequently, tuberculosis is not just a medical problem but also a socio-political challenge, with its resolution relying on political pressure and will as much as scientific advancements.