More Than Just Nuclear: Risk Reduction in the China-US Relationship 
There is a strong case for discussing this new "nuclear plus" feature of both countries' approach to strategic deterrence.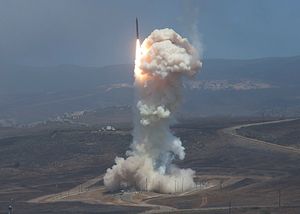 In a June speech, National Security Advisor Jake Sullivan indicated that the United States would need new strategies to achieve its longstanding goal to "reduce the risk of nuclear conflict." From a U.S. perspective, China's nuclear arsenal is contributing to that risk for at least three reasons.  
First, China has not revealed the goals and reasons behind its nuclear modernization, which Sullivan described as "one of the largest peacetime nuclear build-ups in history." Second, the U.S. and Chinese governments have no dedicated, official channel in which to discuss nuclear arms racing or escalation risks that might emerge in a crisis or conflict. Third, a decade or so into the future, the U.S. expects to face an unprecedented nuclear environment in which it will need to deter two near-peer nuclear powers.  
Both China and the United States are pessimistic that they can cooperate to reduce nuclear risk after sustained efforts to establish an official channel for that purpose have not succeeded. Each side has proposed risk-reduction measures that are non-starters for the other. Beijing is no more interested in quantitative, treaty-based arms control than Washington is interested in China's proposal of a multilateral No First Use policy. Meanwhile, stable periods in the broader bilateral relationship have been too short-lived to realize Presidents Xi Jinping and Joe Biden's reported agreement "to look to begin to carry forward strategic stability talks" almost two years ago. 
Yet there is some common ground in the relationship: Experts in China and the U.S. both seek to better understand the complex and dynamic interactions of nuclear weapons with novel non-nuclear capabilities, whether missile defenses or information-age weapons like counterspace weapons, cyberattacks, and conventional strike capabilities, including hypersonic delivery systems.  
China plans to rely on its information-age weapons to deter unwanted U.S. actions in conventional conflicts so that it would not need to resort to using its nuclear weapons. Meanwhile, U.S. efforts to bolster missile defense and conventional strike capabilities have deepened China's concerns about the adequacy of its nuclear forces.  
There is a strong case for discussing this new "nuclear plus" feature of both countries' approach to strategic deterrence. Neither side has a clear idea of how the other would react to its use of the "plus" capabilities. For example, China is concerned about U.S. "cross domain deterrence" and the possibility of a nuclear response. Nor do both sides understand how their "plus" capabilities affect the other's confidence in their own nuclear forces. 
Some analysts might think that escalatory risk and arms racing is desirable for deterrence or a necessary part of strategic competition. Nevertheless, accepting such risks and engaging in such races should be deliberate choices, not unintended consequences. 
"Nuclear plus" discussions would be challenging even at the unofficial level. China does not officially acknowledge its offensive cyber capabilities, while neither country openly admits to their own counterspace capabilities. Any discussion would also have to include experts from outside each countries' nuclear communities, who might well have different views of the merits of bilateral dialogue. Drafting a productive agenda and participant list would likely involve a process of trial and error. But both countries should untangle the nuclear risks posed by their nuclear plus approach to strategic deterrence before they encounter a crisis, conflict, or intense arms race. 
In a series of articles, Chinese and American experts intend to make explicit the misperceptions that drive the mistrust in the ever-increasing instability in the bilateral relationship. Find the whole series here.