Philippines Seeks Greater Regional Cooperation on South China Sea Disputes
President Marcos said that his administration has reached out to Malaysia and Vietnam at a time of growing friction in contested waters.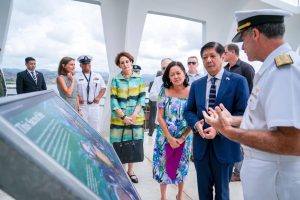 Philippine President Ferdinand Marcos Jr. says that his government has approached its Southeast Asian neighbors to discuss a separate code of conduct on the South China Sea, after limited progress in the regional agreement being negotiated with China.
Speaking at a livestreamed event at the Daniel K. Inouye Asia-Pacific Center for Security Studies in Honolulu, Marcos said that the situation for the Philippines in the disputed waterway "has become more dire" due to growing Chinese assertiveness, and that Manila needed to band together with allies to maintain peace in the region.
"We are still waiting for the code of conduct between China and ASEAN and the progress has been rather slow unfortunately," Marcos said, BenarNews reported. "We have taken the initiative to approach those other countries around ASEAN with whom we have existing territorial conflicts, Vietnam being one of them, Malaysia being another and to make our own code of conduct."
He added, "Hopefully this will grow further and extend to other ASEAN countries."
Marcos' speech followed his meeting on Friday with Chinese leader Xi Jinping on the sidelines of the APEC summit in San Francisco, during which the two leaders discussed ways of reducing tension in contested waters. Marcos said after the meeting that he and Xi had "tried to come up with mechanisms to lower the tensions in the South China Sea," without elaborating.
The past year has seen an increase in China's assertiveness in the South China Sea, particularly in Philippine waters. The most heated incidents have involved its attempts to obstruct the Philippines resupply a small contingent of troops stationed at Second Thomas Shoal in the Spratly Islands, which lies well within the Philippines' Exclusive Economic Zone. The soldiers are housed in the BRP Sierra Madre, a rusting warship that the Philippine Navy grounded on the shoal in 1999.
The Chinese attempts to blockade the ship culminated late last month in an incident in which Chinese vessels collided with two Philippine ships while attempting to block them from resupplying the Sierra Madre. This year, Chinese vessels have also used high-powered water cannons and a military-grade laser to drive away Philippine supply flotillas.
In yesterday' speech, Marcos said that China was showing interest in atolls and shoals that are "closer and closer" to the coast of the Philippines.
"Unfortunately, I cannot report that the situation is improving," he said. "The situation has become more dire than it was before."
Marcos' call for growing regional cooperation makes sound strategic sense, given the challenges that the Association of Southeast Asian Nations (ASEAN) has faced in addressing the South China Sea disputes. Since 2002, the Southeast Asian bloc and China have been negotiating a binding Code of Conduct for the South China Sea. But despite frequent pledges from both sides to speed up the talks, an agreement is unlikely anytime soon.
Part of the reason is the difficulty in squaring the distinct interests of ASEAN's 10 member states, who have differing levels of investment in the South China Sea disputes and, in the case of nations like Cambodia and Laos, warm relations with China. Part of the reason is China's continuing aggression against rival claimants, which is to put it mildly, not doing much to generate the trust that would be necessary to finalize a Code.
Indeed, it is reasonable to question whether, despite frequent Chinese pledges of support for a Code of Conduct, most recently after talks between ASEAN and Chinese officials in Beijing last month, China even wants to reach a fair and binding agreement.
Ray Powell, the director of SeaLight, a maritime transparency project based at Stanford University, argued in these pages last week that while Southeast Asian governments continue to voice their support for a Code of Conduct, "doubts about their prospects must now be severe." In the best case scenario for China, he wrote, "these protracted talks serve as political cover while it extends de facto control over yet more of its vast maritime claims."
In the meantime, the fact that Southeast Asian claimants have unresolved disputes with one another has prevented them from forming a unified position regarding Beijing's maximalist claims, which affect all of them to a greater or lesser degree. An informal code of conduct between the Philippines, Vietnam, and Malaysia, which would perhaps serve as a prelude to the final resolution of the disputes between them, would lay the groundwork for greater regional unity on the South China Sea disputes.
In a context in which China is resorting to force to advance its claims, it makes much more sense to invest diplomatic resources in bilateral talks with fellow claimants than in a clotted ASEAN process whose ultimate success is uncertain.