Streamlining Japanese Investments in Indian Start-ups: What's Missing?
While India's growth figures are attractive to Japanese investors considering long-term strategies, there is a challenge in converting this interest into short-term investment plans.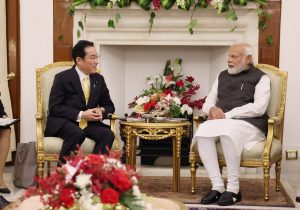 In the world of Indian startups, securing funding has become a formidable challenge in 2023, marked by a notable downturn in venture capital investments compared to the previous year. From January to June 2023, the collective venture capital injection barely crossed the $4 billion threshold, signifying a dramatic plunge from the substantial $18.4 billion amassed during the same timeframe in 2022. This development coincides with a period in which the majority of startups find themselves in a state of financial hibernation, colloquially referred to as a "funding winter." This phenomenon is driven by global investors who are adopting a cautious approach due to pervasive worldwide uncertainties and heightened concerns regarding a potential economic downturn in Western nations.
The number of unicorns – that is a private company with a valuation of $1 billion or more – created shrank from 44 to 23 over 2021-22, but for the second year in a row, India added more unicorns than China. India emerged as the fourth-most popular destination for startups in the world in 2022, attracting 4.2 percent of global venture capital, behind the United States, China, and United Kingdom.
Japan, an emerging economic and political ally of India and currently the fifth-largest contributor of foreign direct investment (FDI), presents potential solutions. Nearly 10 percent of its gross domestic product (GDP) is derived from earnings generated overseas. Japanese venture capital firms are showing growing interest in India as they seek promising investment prospects in a world where the startup landscape is facing challenges. Significant Japanese corporations like Suzuki, Toshiba, Toyota, and Denso have already initiated partnerships with Indian startups. Notably, SoftBank has emerged as a prominent and substantial investor in Indian startups spanning various industries with companies like Flipkart, Paytm, Delhivery, Policybazaar, Swiggy, and OYO, among others part of its wide portfolio. Nevertheless, the prevailing economic uncertainties have led SoftBank to significantly curtail its investment initiatives within the Indian startup landscape.
Japan has risen as the second most favored destination for Indian entrepreneurs seeking foreign capital. However, it's noteworthy that a significant 79 percent of Indian startups have never engaged in any form of collaboration with organizations of Japanese origin. In a 2022 survey conducted by the Japan Bank for International Cooperation (JBIC) regarding Overseas Business Operations by Japanese Manufacturing Companies, India emerged as the top choice of promising medium- to long-term business destination countries. This suggests two things. One, there is interest in collaboration from both sides. Two, while India's growth figures are indeed attractive to Japanese investors considering long-term strategies, there is a challenge in converting this interest into short-term investment plans.
In New Delhi, there is an increasing agreement regarding the significance of Tokyo, and over the past decade, numerous measures have been implemented to enhance Japanese investments in India. In 2014, a Japan Plus desk was established at Invest India – India's Investment Procurement Agency (IPA). In 2018, an MoU was signed between Invest India and the Japan External Trade Organization (JETRO), along with establishment of the Japan-India Startup Hub. The same year also saw the "Tech4Future" Grand Challenge organized by Invest India and SoftBank Group to identify and support innovative startup enterprises in the fields of AI, machine learning, face recognition, and cybersecurity for funding and potential incubation opportunities.
Recently, the National Investment and Infrastructure Fund (NIIF) entered into a collaboration with the JBIC to launch a $600 million India-Japan Fund (IJF). It will focus on investing in environmental sustainability and low carbon emission strategies and aims to play the role of being a "partner of choice" to further enhance Japanese investments into India. While Indian Ambassador to Japan Sibi George attends business seminars across the country, the Indian embassy in Tokyo also holds pitching events every month for both Japanese and Indian startups.

In principle, everything appears to align perfectly to facilitate Japanese investments, with interest, institutions, and government willingness in place. The only missing piece of the puzzle is people-to-people contact. Despite India and Japan's strategic partnership, cultural similarities, and almost half a decade of Modi-Abe bromance, people-to-people contact between the two countries has been underwhelming. 
JET – the Japan Education and Training Program, founded by the Japanese government in 1987 – provides an opportunity for young college graduates to assist with international exchange and foreign language education throughout Japan. The program has over the years become a key foundation for the Japan-U.S. alliance. India joined the JET Program in 1998, but, until recently only 43 recorded JETs had been in the program. In 2023, only one individual was recruited. Unfortunately, programs like JET have traditionally focused on native-English speaking countries – thereby putting India, despite its huge English-speaking population, at a disadvantage. Despite top-ranking universities, as of 2020, merely 1,675 Indian national students were enrolled in higher education institutions in Japan. 
Enhancing interpersonal connections relies on the joint support of both governments; one side alone cannot boost this engagement. The governments of India and Japan need to take proactive measures to promote greater interaction. Collaborative efforts should focus on bolstering educational initiatives, particularly by expanding student exchange programs, with a special emphasis on language training. Platforms like the Ministry of Education, Culture, Sports, Science, and Technology (MEXT)-sponsored Japan-India Exchange Platform Program (JIEPP) need to be strengthened by both the governments. Furthermore, tourism should be actively encouraged, and efforts to integrate the Indian diaspora into Japanese society should be heightened. Increased exchanges of business leaders will result in better understanding of on-ground realities and a fast-changing business environment in India. 
Understanding Japanese culture and business etiquettes is a crucial prerequisite for conducting successful business with the Japanese. Over the long term, this lays a solid foundation of trust between the citizens of both nations, with potential ripple effects extending to other sectors such as trade and the economy. While people-to-people contact is a positive leverage with long term dividends, the enduring benefits make it a worthwhile endeavor, particularly as the interests of India and Japan increasingly align in the Indo-Pacific region. This mutually beneficial partnership not only contributes to the growth of India's startup ecosystem, positioning it to compete with global counterparts like the United Kingdom, China and eventually the United States, but also reinforces the existing Special Strategic and Global Partnership between India and Japan.