Thailand Announces Reduced Subsidies for EVs as Sales Boom
The Thai government is hoping to maintain the upward trajectory of EV sales while reducing pressure on its budget.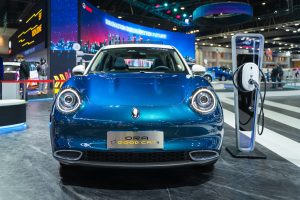 Thailand's government yesterday approved a reduced package of subsidies for electric vehicles, in a bid to sustain the country's current EV uptake while reducing budgetary pressures.
Narit Therdsteerasukdi, secretary general of the Thailand Board of Investment, told reporters that starting next year and ending in 2027, the government will offer a subsidy of up to 100,000 baht ($2,776) per EV, down from 150,000 baht ($4,165) currently, Reuters reported.
The subsidy scheme, which has been approved by the National Electric Vehicle Policy Committee and is estimated to cost the government around 3 billion baht ($83.2 million), will also include lower import duty and excise taxes, he added.
The subsidies, known as the EV 3.5 policy, are intended "to drive a sustained policy in supporting Thailand's role as an electric vehicle hub in the region," Narit said. "It aims to attract new investors to establish manufacturing bases in the country while urging existing entrepreneurs to transition into the electric vehicle industry."
Government subsidies have helped to encourage the rapid uptake of EVs in Thailand. In the second quarter of this year, the country accounted for about half of Southeast Asia's total EV sales, according to data from Counterpoint Research. BMI, the research arm of the ratings agency Fitch, recently estimated that Thailand's EV penetration rate would reach 8.7 percent of all vehicles by the end of this year, a substantial increase from 3.8 percent in 2022.
Like several of its Southeast Asian neighbors, Thailand is keen to transform itself into a regional hub for EV manufacturing, building on its long-time status as the region's leader in auto production. (The country is also the fourth-largest vehicle manufacturer in Asia.) The government aims to convert about 30 percent of its annual production of 2.5 million vehicles into EVs by 2030.
The government is preparing incentives to encourage more investment in electric battery and vehicle production, and to help established car manufacturers – predominantly Japanese giants like Toyota, Honda, and Isuzu – to convert their Thai factories to EV manufacturing facilities. It has also announced that it will soon offer tax breaks and grants to automakers who set up EV research and development centers in Thailand, or relocate their regional headquarters to the country.
So far, the country has scored considerable successes, particularly in attracting major Chinese EV manufacturers to the country. In March, China's BYD broke ground on an EV factory in Rayong, south of Bangkok, which is expected to start production in 2024 and will have an annual capacity of 150,000 vehicles. In May, China's Hozon New Energy Automobile will also set up a factory in Thailand to begin production of its NETA V model. Then, in August, Changan Automobile confirmed unofficial earlier reports by announcing that it would invest 1.83 billion yuan ($251 million) to set up a plant in Thailand with an annual capacity of 100,000 units.
All of these firms will join China's Great Wall Motor, which acquired a factory from General Motors in 2020, which it intends to turn into a regional production center for EV and hybrid cars. The Thai government is also in talks with other Chinese firms including Geely and Chery, according to the Bangkok Post.
The government is hoping that these various incentives for vehicle producers and battery makers will reduce their costs, make EVs cheaper for Thai consumers, and hence allow for subsidies to be reduced.
"In the past two to three years after the government's support, the rate of EV use in Thailand has greatly increased," Narit said yesterday. "So support from the government will gradually reduce in line with the situation, in order not to cause too much of a burden on the budget."