What Mattered Most to China About Anthony Albanese's Visit
Chinese media focused on Australia's "change in attitude," but Beijing has also made adjustments, downplaying issues of concern to keep the relationship stable.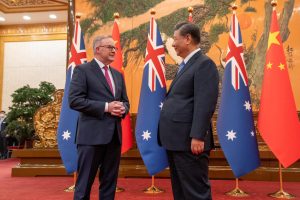 As Australian Prime Minister Anthony Albanese concluded his four-day visit to China, both countries agreed it was important to keep up the momentum in their steadily warming relations, while also expanding their areas of cooperation.
Both sides emphasized the complementary nature of their economic ties and sounded optimistic about exploring new areas of cooperation in climate change, renewable energy and agriculture. They also committed to maintaining their recently resumed high-level dialogues. These include annual prime minister meetings and other diplomatic, strategic and economic talks.
While Australian media coverage focused on the historic nature of the trip, as well as the importance from a trade perspective, what mattered most to China? And how was the visit covered by the media there?
Beijing certainly views the visit as a major milestone in bilateral relations. Official media coverage emphasized that the two countries have no historical issues with one another, and have previously demonstrated how a stable bilateral relationship can be mutually beneficial.
Chinese President Xi Jinping praised Albanese's efforts in getting their relations back to this level, calling the visit "a new starting point."
The Chinese media and some of China's Australia watchers also noted Albanese's attendance at the China International Import Exhibition in Shanghai as symbolizing the importance of the Chinese market for Australia. They saw this as an indication Australia "will not comply with US attempts to decouple from China."
The Main Takeaways From the Chinese Side
There are several important takeaways from Albanese's trip on the Chinese side.
Overall, China saw the visit as an opportunity to re-engage Australia, a key U.S. ally in the region and an important economic partner.
Recognizing its economic coercion against the previous Morrison government did not achieve its objectives – and facing ongoing U.S.-led efforts to constrain its rise – Beijing has been making foreign policy adjustments.
It has been reaching out to some U.S. allies and partners, including key European Union member states, and inviting them to multi-pronged diplomatic initiatives organized by China. It has also been holding bilateral talks on important economic and political issues with high-ranking officials from these countries.
Chinese leaders recognized the Australian Labor Party's traditional approach to foreign policy emphasizes cooperation with international organizations, such as the United Nations and regional institutions. As such, they focused on the shared interests between China and Australia (commerce, climate change), as well as their shared identities (Asia-Pacific countries).
At the same time, they also subtly (or bluntly, depending which side you look at it) reminded Canberra that its alliance commitments with the United States and membership in security arrangements like AUKUS and the Quad should not be at the expense of Australia-China relations – and certainly not Chinese interests.
The Global Times made no secret of the fact Australia can set an example for other U.S. allies in an opinion piece:
Australia is the first US ally to make a clear change in its attitude toward China after a fierce conflict with China since the US defined China as its No. 1 strategic competitor. […] Japan, South Korea, the Philippines, and even US allies in Europe will think about themselves given the ups and downs of China-Australia relations.
The economic agenda was equally important to Beijing, given the difficulties China is currently facing.
Given the nature of Australia-China trade, there is a limit to the punitive measures China can impose on Australia. In fact, despite the tensions that existed with Australia under the Morrison government, overall bilateral trade has continued to grow, reaching nearly $300 billion in 2022. This shows how complementary the two economies actually are, as well as the resilience of these economic ties.
This is what Chinese leaders and the media emphasized during Albanese's visit and why they were highly critical of the idea of "decoupling" or "de-risking" from China's economy.
Chinese rhetoric characterized "decoupling" as going against free trade and protectionism, but in reality, Beijing is deeply concerned over any specific measures that restrict trade in the high-tech sector, such as with semiconductors. The United States and its allies have been increasingly adopting such restrictions in recent years.
The Importance of What Wasn't Said
What wasn't discussed much in the Chinese media was the gap between what Beijing presented as a successful visit and what was actually achieved.
One could argue both sides talked about the obvious – for example, that bilateral relations have more or less stabilized, compared to how they were 18 months ago. As China expert Richard McGregor astutely observed, Albanese was "pushing on an open door."
This is not to belittle the progress made so far. The intentions of both governments to resume and strengthen the many dialogues between officials from their countries is important – even critical – in "resetting" the relationship. These channels of communication are incredibly important during times of crisis as a way of managing disputes and avoiding conflicts from spiralling out of control.
Though resetting the relationship was a definite aim in the long term, there were also significant takeaways in the short term. This can be seen in how the state media coverage downplayed AUKUS and conflicts in the South Pacific, where China's influence has raised alarm bells in Canberra and Washington.
China has signaled its displeasure over AUKUS and continues to consider it a major impediment to further improvement of bilateral relations. But Xi told Albanese they could work together on regional security challenges: "Where there are efforts to cause disturbances in the Asia-Pacific region, we must firstly stay vigilant, and secondly oppose them," the Chinese president said.
And in the Pacific, the Chinese side is seeing an opportunity for the two countries in terms of regional economic development – how Australia and China can both contribute.
This article was originally published on The Conversation. Read the original article.