Taiwan Has 'Brunch With Tsai' After Her LGBT Support Angers Prayer Breakfast Organizers
The president's breakfast date was canceled at the last minute over her support for the LGBT+ community. Taiwanese internet users weren't having it.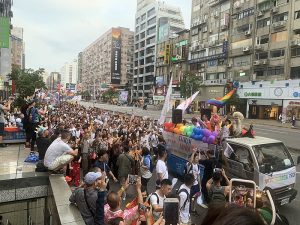 Taiwan's national prayer breakfast was set to have a theme of "love without borders." It turned into a Twitter brunch festival after Taiwanese internet users proved more adept than event organizers at themed party planning.
Organizers canceled the annual event yesterday for the first time in 20 years after President Tsai Ing-wen made a Facebook post supportive of Taiwan's LGBT+ community.
The group, jointly organized by Christian organizations in Taiwan, had sent a letter to Tsai requesting that she not attend the Friday breakfast due to the preparatory committee's opposition to her stance on marriage equality.
A spokesperson for Tsai said Thursday she would not attend so as to not inflame rifts between organizers, who disagreed on whether to hold the breakfast without Tsai in attendance. On Thursday evening, the event was called off.
Taiwan last year became the first country in Asia to legalize same-sex marriage, a major step in a long battle by LGBT+ campaigners to gain equal rights and usurp opposition campaigners, including religious conservatives who gained a foothold in societal discourse after, in some cases, receiving support from foreign hate groups.
Friday was supposed to kick off a weekend of celebration. Taiwan's military held a mass wedding this morning, which included two female soldiers who married their civilian partners, the first time the annual army ceremony has featured same-sex couples.
The ceremony was held one day before Taiwan's annual Pride parade, which takes place Saturday. Tsai's Facebook post, made on October 25, encouraged people to join the parade, which is Asia's largest annual gay rights event.
Tsai became more vocal in her support of gay marriage last year as her cabinet pushed a law to legalize same-sex unions in advance of a deadline that had been set by its high court. The president herself had faced political opposition to the move, and her stance on LGBT+ rights in Taiwan has won her admiration both in the country and throughout Asia.
On Friday, as the prayer breakfast was supposed to be held, Taiwanese Twitter users began using the hashtag #陪小英吃早餐, or "brunch with Tsai," to post photos of their breakfasts and brunches as a show of support to the president.
"President Tsai, it's nice to have you in Taiwan," one Twitter user wrote before their morning coffee and toast. "President Tsai does not need to eat breakfast with weirdos. We will eat breakfast with you," another said while eating bean curd noodles from the southern city of Tainan.
The legalization of same-sex marriage did not come easy for Taiwan even after its high court historically ruled in May 2017 that barring same-sex couples from wedding is unconstitutional and ordered the legislature to pass an according law within two years.
Religious groups spearheaded a series of confusingly worded referendums in 2018 in which the public voted against making same-sex marriage legal by amending the country's civil code. This led the legislature to ultimately pass a law that did not touch the civil code but still complied with the high court's ruling to make same-sex marriage legal.
Not everyone in Taiwan's LGBT+ community can get married, however. Taiwan currently does not allow same-sex couples to marry if one or both partners is a national of a country where same-sex marriage is illegal. A union between partners from Taiwan and the United States, where gay marriage is legal, is fine, but Taiwanese with partners from other countries in Asia, or from places like Hong Kong or Macau, are out of luck.
Despite murmurs among politicians that these marriages will become legalized, there has been no progress within the legislature.
Taipei officials said Thursday the city would unveil a "marriage certificate" for foreign couples as a tourism ploy. Couples can pick up their certificates at a government office after applying on a website, which emphasizes its "commemorative and informal" nature. "It is not legally binding," it insists.
"Love without borders" was never suited to be the theme of this year's national prayer breakfast – and while Taiwan has made far more progress than its Asian neighbors, it's not quite there yet, either.