I mentioned recently the elation I feel upon finding a new artist by accident. It's one of my greatest pleasures as an art gallerist—up there with how coffee fans must feel about finding the perfect espresso.
So today, I'd like to share a couple of these joyous experiences I've had:
Re-discovering the minimalist textured prints of Takako Sato
I'd seen her work before, even had a few in the gallery, but had lost touch with her. Then one day I happened to be walking along the main street between the trendy neighbourhoods of Harajuku and Omotesando in Tokyo. I went past a bar with the smallest of windows and still her work, which was being shown at the venue, just jumped out at me.
It moved me to enter—not for a drink—but to see the work, and thankfully there was a lot of it inside. It turns out that Satohad once worked at this bar as a waitress. So, I got her contact details, met with her and started showing more of her work in the gallery.
This happened just by accident and we were both thrilled.
A morning encounter with the colourful cars of Tomohiro Todoroki
It was also by accident that I recently found the work of Tomohiro Todoroki, who had an exhibition in a hair salon in Tokyo along the Naka-Meguro river near my home.
I was on my morning walk, not paying much attention to anything, when I saw his colourful, playful paintings of cars. Now, there's plenty of kawaii (cute) art in Japan and his manga (comic)-like drawings do look cute. But these works were more than cute—they were interesting too. I loved the unusual colour combinations, the energy and the squiggly lines that made his works look like they were moving. They didn't require a lot of explanation either—they were accessible and adorable. Here were brilliant paintings of concept cars, new cars and classic cars with people who looked and dressed like the cars they drove.
All gallerists look for a fresh look and something different and for me, these works passed the 'fresh test.'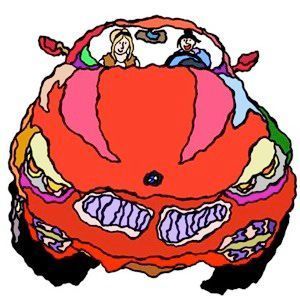 I arranged to meet the artist. I then looked at his portfolio, learned more about him, saw more of his work and liked him and made arrangements to represent him. I was also curious about how he came to paint these works. He explained that he had graduated from Kobe University of Design around the time of the Kobe earthquake 15 years ago, and started painting these happy, colourful works to help people feel better and escape from the tragedy of the earthquake. Here was something good coming from a horrendous event.
Twelve paintings from Tomohiro Todoroki are currently featured in the Summer Drive exhibit at The Asian Collection, open Saturdays and Sundays through summer. Two other Japanese painters, Mario Tauchi and Jun Ogata are also featured at www.theasiancollection.com.