For most galleries, summer is slow, with fewer visitors and very few new shows. The clients are gone for vacation and the galleries and gallery owners (also known as gallerists), take time off too. In New York, some galleries follow the collectors and set up satellite shops in the Hamptons or the Berkshires. But there are no holiday places where Asian collectors congregate for the summer, so it's not yet viable for any gallery to set up a second gallery at the beaches or tourist spots in the region.
But September sets off one of the busiest times in the art business with a full schedule of new shows and exhibitions and many more visitors. After a summer of art deprivation—or at least gallery deprivation—the clients come back and want to 'see what you're showing and what's new.' They may also come back to the galleries because when they return from their holidays, they take a look at the walls of their homes and offices and say, 'now is the time for change.' It's a perfect time to start collecting art.
In the Japanese city of Osaka this summer, one young architect told me that 2010 was his year to start collecting. I had met him before when he told me 'he wasn't ready yet.' He told me he was quite nervous. I wondered why, but he told me he just didn't know where to start.
Here's the advice I gave him about visiting galleries and choosing art when starting an art collection:
1. Start by visiting many galleries—first on the web and then in-person. Get a list by doing a Google search of your area, then take a look at the websites and choose some galleries with art that interest you.
2. The art and entertainment section of your newspaper is another good place to begin. When I lived in Bangkok, I used the Bangkok Post's excellent arts section, with reviews and listings, as a guide for where to go. The Japan Times and the International Herald Tribune also have excellent arts and entertainment sections which you can use in deciding which galleries to visit.
3. Most galleries host a new show every month which starts with an evening reception where you can see new works, drink some wine and meet and talk with the artist and the gallerist. You can fill your calendar with as many openings as you wish to attend. Some people will tell you they never go to openings because it's too busy at these times, but I think it's the best time to go. You can see all the works from the show, meet some people and possibly hear a brief talk by the artist. If there's a catalogue or some special selections, this will be the time when you can find them.
4. If you can't make it to the openings, visit during regular hours. No gallery staff member will pressure you to buy anything, and most are glad to tell you about the art they show. Just ask. If you're serious about choosing an art work, make an appointment to meet the gallery owner or one of the senior staff members. That way, you can learn more about the art and the artist, the gallery, how the art is chosen and get some inside tips on the show. You also might get access to some of the hidden treasures that most gallerists have in the back room. Once the gallerist understands your interests, he or she can make some other suggestions besides what's being shown in the exhibition.
5. If you want your art inspiration in magazine form, I recommend reading or subscribing to the best arts publication in this region, Art Asia Pacific. You'll learn what's going on with art in this area, including museum shows and gallery show reviews.
Also with Art Asia Pacific, you can read interviews with artists, get a behind-the-scenes view of how curators make exhibition decisions and get all the latest 'art world gossip' (Which isn't as juicy as the latest news on Lady GaGa, but still has the necessary ingredients of money and power.) The ads too are likely to fill you with desire, and you'll be tempted to compile a 'must-see list' for any travel you are doing. There's one more added bonus: the magazine is beautifully designed and the writing is superb.
But there's still a lot more to consider when starting out.
So next week, I'll share my ten 'do's and don'ts' for beginning your journey as a collector.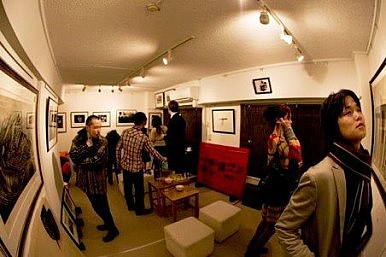 SPECIAL NOTE:
Readers of this blog who are based in or travelling to Japan are invited to the grand opening of the Tobin Ohashi Gallery—our newly named gallery—in the Bakurocho section of Tokyo. The event will be on Thursday September 30 from 6-9pm.
You can find directions on the Tobin Ohashi Gallery Facebook page and the address is: Yokoyacho 1-4, in Nihonbashi, Chuo-ku, Tokyo, Japan.
Also, there will be a 30-page catalogue available at the opening. This catalogue, of $15 value, will be given free at the opening to everyone who brings a copy of this column to the opening.