In China's Corruption Fight, No Citizens Allowed
China's fight against corruption picks up steam, but that doesn't mean whistleblowers are welcome.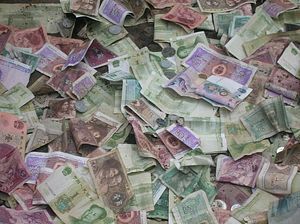 China's national corruption probe has caught another fly (or is it a tiger?) in its web. The South China Morning Post reports that the deputy governor of Hubei  province, Guo Youming, is under internal investigation for "violating party discipline." Such an accusation is almost always code for corruption or graft.
Guo Youming is far from the first official caught by a renewed emphasis on anti-corruption efforts. Xi Jinping has made fighting corruption a major focus of his administration. The most high-profile corruption trial was of course that of Bo Xilai, the former party secretary in Chongqing. While Bo's trial was only held in September of this year, his expulsion from the Party for "serious disciplinary violations" in 2012 helped set the stage for the current anti-corruption crackdown.
Shortly after Xi was officially named General Secretary of the Communist Party of China in fall 2012, Wang Qishan was appointed to head the Party's Central Commission for Discipline. Many observers were encouraged at this sign that Xi's leadership would take corruption seriously — Wang earned the nickname of "Fire Chief" for his proven ability to step in and manage tough political tasks. Wang is also seen as an exceptionally clean figure, making him an ideal candidate to lead the charge against corruption.
Since then, China's government has continued to focus on cutting down corruption and graft. High-profile corruption cases have been started against the mayor of Nanjing, the vice president of China National Petroleum, and now Guo Youming.  The State Council also recently released guidelines to cut down on "waste" within the government. The report laid down specific guidelines on business travel, entertaining, and the use of government cars and buildings. The document called for increased transparency, saying that Party organizations should publish and accept supervision on the funds, property, and resources they use to conduct official business.
This transparency, however, apparently extends only to the Party's internal disciplinarians, not to the general public. At the same time that China's anti-corruption watchdogs were investigating Guo Youming for corruption, a journalist famous for corruption exposés was being pushed out of his job. The South China Morning Post reported that Luo Changping, famous for taking to Weibo (often called China's Twitter) to accuse a high-ranking Chinese official of corruption, had been removed from his post as deputy editor of Caijing magazine. Luo will move to Caijing's research institute, which means that he will no longer be writing news reports.
Maybe Luo should consider himself lucky. Another journalist, Chen Yongzhou, was arrested and charged with defamation after publishing a report accusing a partially government-owned company of over-reporting its profits. Chen's paper ran headlines asking for him to be released, until a conveniently timed on-air confession by Chen removed most of the public pressure.
In an ironic twist, an official push-back against online or journalistic "rumors" (many of which involve accusations of corruption) has kept pace with the Party's efforts to root out graft. After Luo and others used Weibo to expose official corruption, Beijing moved swiftly to take back control of social media. New rules say that a Weibo poster can be jailed if a "slanderous" message is forwarded 500 times or read 5,000 times — whether or not the message is true. Around the same time, China arrested influential microblogger Charles Xue on charges of having sex with a prostitute, which many observers saw as a thinly veiled warning to China's other online celebrities.
The end effect of these policies, if Beijing has its way, will be to silence unofficial (read: outside the Party) accusations of corruption. This may be good for Party control, but is not beneficial to Xi's efforts to root out corruption. No matter how determined the leadership is, it will be difficult to weed out corruption without having help from whistleblowers, both ordinary citizens and journalists. In fact, according to analysis by the Voice of America, most of the 40 corruption cases reported between 2012 and Sept. 2013 were sparked by media reports or online exposés. The government has set up an officially sanctioned website people can use to report corruption, but it's still unclear how the site would be managed, and many are reluctant to use it because it requires people to identify themselves before making complaints.
In recent remarks, Wang Qishan told Party corruption investigators to be vigilant. "With prominent status and concentrated powers, Party and state organs are in need of comprehensive supervision more than other department, and the inspection work can only be strengthened, not weakened," Wang said. However, it will be hard to achieve "comprehensive supervision" if the government refuses to accept help from its citizens.