Understanding China's Arctic Policies
China is playing a prudent long game in the region, with economics the driving factor.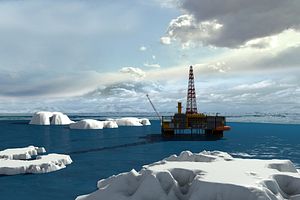 Within the last seven years 11 countries (Poland (2006), Russia (2008), Finland (2009), France (2009), Sweden (2010), Iceland (2011), Spain (2011), Denmark (2012), Singapore (2012), Canada (2012) and Japan (2013) have realized the need to appoint their own Arctic ambassadors. These ambassadors are used for analysis and situational assessments in the emerging "grand Arctic game," with the ultimate aim of exploiting mineral resources and using the Arctic route for shipping cargo from Europe to Asia. In 2008, the U.S. Geological Survey released an assessment revealing that the Arctic accounts for about 13 percent of the world's undiscovered oil, 30 percent of its undiscovered natural gas, and 20 percent of its undiscovered natural gas liquids. In other words, 90 billion barrels of oil, 1,669 trillion cubic feet of natural gas and 44 billion barrels of natural gas.
The potential commercial benefits of cargo transportation through the Arctic in comparison to the Suez Canal also seem appealing. In August and September 2009 two German heavy-lift vessels, MV Beluga Foresight and MV Beluga Fraternity carried a cargo of steel pipes from Arkhangelsk (Russia) to Nigeria using the Northern Sea Route. The new passage shortened the distance for 3000 nautical miles and reduced fuel consumption by 200 tons per vessel, resulting in savings of 600 000 U.S. dollars. A year later, the Hong Kong vessel MV Nordic Barents transported iron ore from Kirkenes (Norway) to Shanghai using the same route and cut expenses on $180,000. In 2012, 46 vessels carried more than 1.2 million tonnes of cargo through the Northern Sea Route, up 53 percent compared with 2011. In 2010, only four vessels used the route. Some researchers predict that 30 million tones of cargo will be shipped via the Northern Sea Route to 2020
China is the largest consumer and importer of energy resources in the world but its vast geographical distance from the Arctic limits Beijing's opportunity – at least in contrast to Arctic Council members (Canada, Denmark, Finland, Iceland, Norway, Russia, Sweden and the U.S.) – to set the agenda and form a strategy for taking advantage of new Arctic opportunities. Nevertheless, China was the first Asian state to show interest and it has begun efforts to become a full member of the Arctic Council. Beijing argues that under the United Nations Convention on the Law of the Sea the Arctic Ocean is a shipping commons, and that climate change has negative consequences for Chinese food security, particularly with the flooding of its coastal regions.
In the meantime, China has stepped up Arctic and Antarctic research. Between 1985 and 2012, Beijing initiated five Arctic and 28 Antarctic expeditions. It has also built the state-owned Arctic Yellow River Station, and entered into an agreement with Finnish company Aker Arctic Technology to construct a second ice breaker by 2014, joining the MV Xuě Lóng that Beijing bought from Ukraine in 1993. Moreover, Chinese representatives take part in the Arctic Science Committee, Arctic Science Summit Week, Ny-Ålesund Science Managers Committee, and the International Polar Year project. However, "scientific" diplomacy alone will not seem to be helping China join the most influential and important Arctic organization ( the Arctic Council) as a permanent member state.
At present, China's Arctic initiatives suggest that Beijing is eager to camouflage its true interests in the region with environmental monitoring, Arctic life protection and concerns about indigenous peoples. Beijing's rhetoric aims at defining the Arctic as an international zone where changes must make sense for all countries and climate change is a problem for the highest levels of diplomacy. Alongside France and Germany, China sees an oil spill in the Arctic similar to that which occurred in 2010 in the Gulf of Mexico would have disastrous outcomes for global security. So it is spending around $60 million annually on polar research, is building a China-Nordic Arctic Research Center in Shanghai, and plans to increase the research staff by a factor of five, to 1000.
At the same time, Beijing is dropping hints that China is not satisfied with the current balance of power in the Arctic region. The most striking issue in the polemic that represents Beijing's ambitions in the Arctic race is the identification of China as a "near-Arctic" state. This concept has already become ingrained in the lexicon of Chinese scientists who are responsible for Arctic research.
In fact, this approach looks rather prudent and far-sighted given the U.S. and Canadian obsession with Russian deeds in the region, such as its announcement of a new Arctic strategy, the presence of Russian air and naval assets in the frontier zone, and the planting of a Russian flag at the North Pole in 2007. Beijing has left it to Moscow to convey the image of dangerous neighbor, while it maintains the pattern of a peaceful state focused on neutral topics: sponsoring expeditions, conducting climate changing surveys, supporting the development of indigenous peoples, preserving local cultures, promoting sustainable development, campaigning against environment pollution, and promoting tourism.
 By developing strong positions in these areas, China will not only be able to tap the knowledge of the international scientific community and put forth arguments to support the theory of climate change influence on China; it will also be able to collaborate with six organizations (Arctic Athabaskan Council; Aleut International Association; Gwich'in Council International; Inuit Circumpolar Council; Russian Association of Indigenous Peoples of the North; Saami Council) that represent indigenous peoples and have the status of permanent members of the Arctic Council. Thus, Beijing can lobby its interests in the Council not on a direct basis, but using a special channel that has already shown itself to be effective.
This scientific approach is a path for China to achieve its true goals in the Arctic, which lie in the economic realm. To start with, Beijing seeks a diversification of supply routes. The main route for China – the Strait of Malacca – is susceptible to piracy and terrorism. An Arctic Route would let China, first, reduce transportation expenses, second, diversify and secure its shipments, and third, diminish the risk of a U.S. Navy closure of the Strait in a conflict. Former chairman Hu Jintao was well aware of China's supply vulnerabilities. According to Chinese analysts, by 2020 between 5 to 15 percent of Chinese foreign trade will be transported through the Northern Sea Route. Experts at the Norwegian transport company Tschudi Shipping Company estimate that the route from Kirkenes or Murmansk to Shanghai will reduce total sailing time by 16 days.
Meanwhile rising consumption is forcing Chinese companies to invest heavily in oil exploration and shipment, for example, from Africa and Brazil. Assumptions about Arctic natural resource deposits are thus attractive to Beijing. China National Petroleum Corporation became the third Rosneft partner (with Eni and Statoil) in the exploration of Zapadno-Prinovozemelsky (the Barents Sea), Yuzhno-Russky and Medynsko-Varandeysky structures (the Pechora Sea). It is evident that China will seek not only to get access to new oil fields but also to acquire modern drilling technology it currently lacks.
The second strategic resource for China is iron ore. Sinosteel and China Communication Corporation are already investors in the Isua project in Greeland, which will mine 15 million tonnes per year of iron ore pellets from 2015.
The third element in the Chinese economic strategy in the Arctic is a share of maritime resources, especially fish.
The U.S. National Oceanic and Atmospheric Administration has shown the region's potential in this regard. Access to fisheries is crucial for countries like Greenland and Iceland, which depend heavily on maritime resources for export earnings, and China has been very active in establishing bilateral economic contacts with these smaller members of the Arctic Council to ensure support for its permanent membership bid. These same tactics worked well in the Asia-Pacific, where China built strong investment relations with ASEAN members to help conclude a free trade agreement with ASEAN. In 2010, China provided Iceland with a $500 million-plus currency swap to support the struggling Iceland bank system. Also in 2010, Denmark signed deals with China worth $740 million in the areas of power, the green economy, agriculture and food security. In 2011, Denmark's ambassador in China made a statement in support of a Chinese bid for permanent membership of the Arctic Council. The same position was expressed by the leaders of Greenland and Iceland. In January 2013, Swedish and even Norwegian (the spat of dissident Liu Xiaobo notwithstanding) representatives on the Arctic Council meeting in Tromsø declared a desire to start the process of discussing China's role in the Council.
In addition, China's financial aid to small countries will let Beijing participate in the Arctic infrastructure development that will be crucial for the year-round functioning of the Arctic Route. This encompasses port building, ship repair stations, transport hubs (for example, Ísafjörður in Iceland) and rescue centers.
Chinese international strategy in the Arctic will pursue solely pragmatic goals. Not only is economic prosperity as stake but also China's image as a potential global leader. While it talks up the impact of global warming on Chinese environment and food security, Beijing systematically and purposefully continues to encourage the economic dependence of small Arctic states on China (such as the recent free trade agreement with Iceland) to earn support for a permanent member seat on the Arctic Council. Moreover, the high cost of projects to develop new oil infrastructure in the region force states to attract investors. This opens opportunities for China to develop influence and locks in future energy access. Next up, look for Beijing to begin negotiating route transit fees with Moscow.
Arthur Guschin is a postgraduate student at Saint-Petersburg State University (International Relations Department).