Japan and Russia: Arctic Friends
Increasingly close ties offer both countries potential benefits in the Arctic and elsewhere.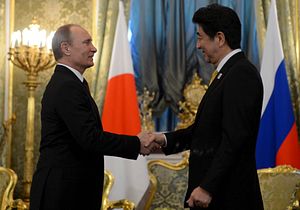 The Arctic region has moved to the center of world politics in 2014, siting high on the energy security agenda of most East Asian countries, including China and Japan. The latter has recently been stepping up its efforts to build a stronger foothold in the area. Those efforts have been given a boost recently by Tokyo's discovery of a new friend with a prominent role on the Arctic chessboard: Russia. A successful Japan-Russia rapprochement has the potential to serve as a game changer for both countries.
In September 2012, Arctic sea ice reached its lowest point ever. This has of course triggered very real fears about climate change, but it has also transformed the region into an energy hotspot. The Arctic is believed to contain 30 percent of the world's undiscovered gas and 13 percent of its undiscovered oil. At the same time, the Northern Sea Route through the Arctic offers alternative passage for energy transportation, offering both energy importers and exporters the opportunity to reduce their dependence on unstable waterways such as the Strait of Hormuz and the Strait of Malacca.
Not surprisingly, Arctic littoral states and East Asian countries have been fixated on the geopolitical merits of the region. In May 2013, Japan, China and South Korea were admitted as permanent observers to the Arctic Council, enabling them to sit in on meetings and promote their own Arctic strategies. Of these three countries, China has been particularly active in pursuing economic, political and scientific initiatives.
Notwithstanding its early engagement in the region, Japan is considered a latecomer to the Arctic race. Although its involvement in the region dates back to the early 20th century, only recently has it adopted a more comprehensive strategy. That Japan would have an interest in the Arctic should come as no surprise, given its scarce natural resources and its reliance on imports for about 84 percent of its energy needs. Japan is currently the world's third largest oil consumer and importer and the world's largest importer of liquefied natural gas. This dependency on energy imports has only grown in the aftermath of the 2011 Fukushima nuclear disaster. As a result, Tokyo simply cannot ignore the vast energy resources of the Arctic. In parallel, with one of the world's largest merchant fleets, Japan can derive tremendous benefits from the Northern Sea Route — also called the Northeast Passage — which cuts the travel time from Hamburg to Yokohama by about 40 percent compared to the Suez route, with fuel savings of 20 percent.
While taking care not to challenge the sovereignty regime of the Arctic, Japan has been trying to increase its presence in the region. For instance, it has held frequent bilateral talks with Arctic littoral states, and most particularly with Russia. Japan's relations with Russia reached their lowest ebb in years in November 2010, when then-President Dmitry Medvedev visited the disputed Kunashiri Island, but began to thaw following the election of President Vladimir Putin. Both sides have found reason to be concerned about the rise of China and have been seeking ways to hedge against it. When the icebreaker Xue Long (Snow Dragon) became the first Chinese vessel to navigate the Northern Sea Route in 2012, Moscow strongly supported Japan's candidacy for observer status at the Arctic Council, ignoring China's similar bid. Moreover, in May 2013 Japanese energy company Inpex Corporation reached a deal with Russian oil giant Rosneft to jointly explore two Russian oil fields. The same year Moscow championed Tokyo's candidacy for the 2020 Olympic Games.
Japan and Russia have also benefited from frequent high-level contacts, with Prime Minister Shinzo Abe meeting with Putin on multiple occasions, including a visit by Abe to Moscow in April 2013, the first by a Japanese prime minister in a decade. Also last year, Japan and Russia held their first-ever "2+2" meeting, at which their foreign and defense ministers discussed security cooperation. Although the meeting failed to make headlines, it was a significant step, given that Japan has held similar meetings only with the United States and Australia. For Russia, this was its first "2+2" meeting with an Asian country.
To be sure, Japan and Russia could hardly be considered natural security partners. Issues such as the status of the Kuril Islands (known as the Northern Territories in Japan), the U.S.-Japan security alliance and the two wars in 1904-1905 and again in 1945 still pose significant challenges to their partnership. Still, both sides appear willing to cooperate, anticipating considerable benefits from this relationship.
But what exactly can this romance bring to both sides? Through its warming ties with Russia, Japan seeks to exploit the Arctic's potential and to win support in standing up to what it regards as China's assertive policies. Working with Russia is a great opportunity for Japan to strengthen ties with the most important player in the Arctic and gain leverage within the Arctic Council. It will also give Japanese energy and maritime corporations and scientific institutions valuable Arctic access. That in turn would help Tokyo diversify its energy suppliers and its transportation routes. Meanwhile, Japanese ports will have a competitive advantage compared with rivals such as Singapore, Shanghai and Hong Kong. Finally, working with Russian sailors and infrastructure workers who have experience operating in harsh weather conditions will be of great assistance for Japanese companies.
Closer relations also offer benefits for Russia. As its strategic interests have shifted from Europe to Asia, Russia feels compelled to hedge against China and establish strong partnerships with other countries in Asia. Although Beijing is Russia's most important customer in East Asia, Moscow is still keen to diversify its energy sales in East Asia, especially as the balance of needs tilts in favor of China. While Beijing has developed a wide network of energy suppliers in the Middle East, Africa, Central Asia and the Asia-Pacific, Russia has constructed extensive energy infrastructure that services only China. This gives it a strong incentive to expand its customer base to encompass additional East Asian countries.
Moreover, despite the dependency of the Russian economy on energy exports, the country lags behind its main competitors in the technology that is considered necessary for Arctic operations. Japanese know-how in energy extraction and maritime operations could be a vital aid to Russian firms.
Sino-Japanese tensions and more recently Sino-Russian relations have been grabbing the lion's share of attention of late, while the growing warmth of Japan's ties with Russia has been very much under the radar. If Moscow and Tokyo manage to overcome the admittedly considerable impediments to their dialogue, they could profit in both the Arctic and East Asia, and perhaps nudge the balance of power back into their favor.
Stratos Pourzitakis holds a Master of International Public Policy from Osaka University and is an Asia-Pacific researcher focusing on energy security topics.