Deutsche Bank Divests Stake after Report on Vietnamese Land Grabs
Scathing report by Global Witness likely influenced the bank's decision to abandon HAGL.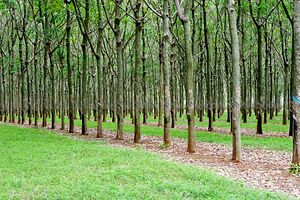 Global Witness has claimed a major victory and Deutsche Bank has bolstered its moral beacon in Indochina after the German financial institution reportedly divested its investments in the Vietnamese rubber company Hoang Anh Gia Lai (HAGL).
Global Witness spokesman Megan MacInnes said the environmental watchdog had been informed of the decision, although Deutsche Bank had declined to say whether its decision was linked to a Global Witness report on land grabbing by Vietnamese companies in Laos and Cambodia.
"Deutsche Bank has refused to explain why it has dropped its stake in HAGL, but we were informed of its decision just six days after making our recommendation that they divest," she said. "This move sends a clear message to HAGL and other companies that lack of action to stamp out this kind of abuse is unacceptable and poses a financial and reputational risk to investors."
Deutsche Bank's HAGL investments date back many years and Global Witness said its subsidiary Deutsche Bank Trust Company Americas had acted as HAGL's depository bank when the company listed on the London Stock Exchange in 2011.
In May 2013, a Global Witness report titled "Rubber Barons" detailed how HAGL – among Vietnam's biggest companies – and others were illegally bulldozing land and clearing large tracts of forest. HAGL rejected those allegations while the Cambodian government said the reports were exaggerated.
Global Witness has had significant success in exposing government corruption involving the environment. A report on operations by the Sarawak government in East Malaysia provided a watershed moment in exposing the depths of corrupt practices at government levels.
As a result, land grabbing has also become an increasingly sensitive issue in Southeast Asia, particularly Indochina, where it became an election issue for Cambodian Prime Minister Hun Sen. He suffered a substantially reduced majority at the July poll.
The Vietnamese and Laos governments do not hold democratic elections.
Western corporation have become increasingly aware of the issue. U.K. sugar giant Tate & Lyle has found itself in trouble amid allegations it acquires sugar from producers tied up in massive land grabs in Cambodia. Similar tales of the poor being pushed of their land in Laos by a secretive group of Chinese companies have also made headlines.
MacInnes said Deutsche Bank had confirmed that it no longer held any significant stock in HAGL, retaining only "minor residual holdings."
"Deutsche Bank's decision is good news, but it won't bring justice to the people who have lost their farms to HAGL's plantations," she said. "HAGL must stop breaking the law, resolve its disputes with communities and publish details of its holdings."
Luke Hunt can be followed on Twitter at @lukeanthonyhunt.