The New Cold War: China vs Japan
China and Japan's war of the words reveals a larger struggle for regional influence akin to a mini Cold War.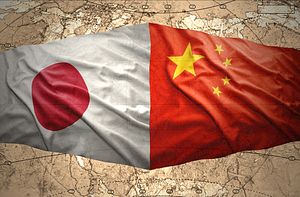 Lately, it seems that Japanese officials can't sneeze without incurring the wrath of the Chinese — and vice versa. So it's no surprise that even conciliatory statements from Shinzo Abe have been soundly rebuffed. On Thursday, Abe wrote a message, published in local Chinese-language papers, conveying greetings for the lunar new year. According to Reuters' translation of the Japanese-language version, Abe insisted that Japan has "taken the path of peace" since World War II, and "nothing has been changed in the policy of continuing to uphold this position."
Friday, Abe further extended the olive branch. According to Channel NewsAsia, Abe told a parliamentary session that "Japan and China are inseparable." He also expressed his desire for the two countries to restart diplomatic meetings. "Instead of refusing to hold dialogue unless issues become resolved, we should hold talks because we have issues," Abe said.
China flatly rejected these overtures. Responding to earlier requests for a bilateral dialogue, Qin Gang responded with bitter sarcasm: "Such kind of dialogue will be of no effect. Chinese leaders are very busy. Let them spend more time on things useful and effective." China has repeatedly expressed its position that no diplomatic meetings between China and Japan can be held until Shinzo Abe proves his sincerity. During Friday's press conference, Qin Gang laid down a specific path for restarting dialogue: Abe should declare that "I will pull back from the precipice, immediately admit and correct mistakes and make no more visits to the Yasukuni Shrine."
As I wrote earlier, at this point it seems impossible that anything Abe will do will satisfy Chinese leaders (the things he could do, like apologizing for his visit to Yasukuni and/or Japan's imperialistic past, are incredibly unlikely). To Chinese officials, Abe is "self-contradictory," as an editorial in China Daily put it. Unless Abe apologizes for and refrains from repeating actions that upset China (from visiting Yasukuni to building up Japan's military), China will dismiss as insincere his rhetoric about dialogue and peace. Meanwhile, from the Japanese perspective, were Abe to devote the rest of his administration to proving his friendship to China, it would have obvious negative repercussions for Japanese interests.
So we have two countries, each building up their militaries while insisting they must do so to counter the threat of their regional rival. Added to this, a deep distrust of each other's different political systems coupled with a history of animosity makes the two nations deeply suspicious of each other. Each country insists it loves peace, and uses scare tactics to try to paint its opponent as a hawkish boogeyman. Sound familiar to anyone else?
Ever since the Cold War ended, strategists have been warning leaders to drop the "Cold War mentality." But it apparently hasn't worked, because that is exactly what we have right now between China and Japan. The two countries identify so strongly as rivals that it's impossible for either country to do or say anything without triggering a response from its counterpart. The tensions pop up in the most unexpected places – during Abe's Africa tour, during a global economic summit in Switzerland.
Even the strong economic ties between China and Japan haven't helped forestall tensions. In fact, it's the other way around – tensions are eroding the economic relationship. The Telegraph recently reported that, according to a poll, 60 percent of Chinese business leaders are unwilling to work with Japanese firms. In 2012, China-Japan tensions even erupted into outright calls to boycott Japanese products, with rioters targeting Japanese businesses and restaurants. While Japan's business view of China is less affected (according to The Telegraph, 80 percent of Japanese are willing to continue trade with China and South Korea), economic interests are shifting to other regions, notably Southeast Asia. Economic ties are likely to continue worsening. It's certainly hard to see the next round of negotiations on a trilateral China-Japan-South Korea free-trade agreement going off as planned in February 2014.
As with the Cold War, part of the problem is that both China and Japan willfully read each other's every move as a challenge or threat. For all the distrust between China and the United States, the problem hasn't reached this level (yet). The U.S. has too many potential enemies (Russia, Iran, North Korea) and too many global interests for China to realistically interpret every diplomatic or strategic maneuver as somehow anti-China (although certainly some hawks within China do try). Japan, with its more limited global presence and strategic interests, is a different story. Meanwhile, as China is currently limiting its military build-up and strategic goals to the near seas, it's easy for Tokyo interpret each move (for example, a new air defense identification zone) as directly aimed at Japan.
My colleague Zachary wrote Friday that one byproduct of the United States' decline could be the emergence of regional hegemons. We might be seeing the beginning of this process now, with China and Japan in a Cold War-style battle, not for global power but for regional dominance. The territorial dispute highlights this by increasing the possibility of military conflict, but even if the Diaoyu/Senkaku Islands were to sink into the ocean tomorrow (one possible benefit of global warming) the tensions would remain. It's a regional Cold War, currently being fought with words but with an arms race looming on the horizon. And, like the Cold War, tensions are unlikely to end until one country claims victory.