US, China Talk Korean Denuclearization, Maritime Disputes
Deputy Secretary of State William Burns was in Beijing this week to discuss Asia-Pacific security issues.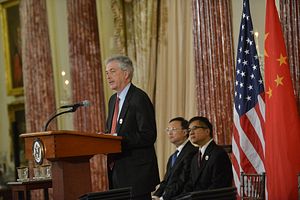 U.S. Deputy Secretary of State William Burns was in Beijing this week as part of a larger trip to Northeast Asia. According a statement from the U.S. Embassy in Beijing, Burns held separate meetings with Chinese leaders and participated in an "interim round of the U.S.-China Strategic Security Dialogue." While in Beijing, Burns met with Chinese Vice President Li Yuanchao, State Councilor Yang Jiechi, Executive Vice Foreign Minister Zhang Yesui (formerly Beijing's ambassador to the U.S.), and PLA Deputy Chief of General Staff Wang Guanzhong.
Yonhap News Agency reported that Burns urged China to work closely with the U.S. to encourage North Korea to take "meaningful and early steps" to dismantle its nuclear program. How to handle the North Korea problem seems to have been one of the major areas for discussion. According to the Beijing Embassy's statement, Burns called for North Korea to "negotiate complete and irreversible denuclearization as called for the in the September 2005 Six-Party Joint Statement."
The reference towards the six-party talks alludes to an important disagreement between the U.S. and China on the North Korea issue. Chinese leaders consistently push for the U.S. to agree to restart the talks, which were discontinued in 2009. Chinese experts argue that only negotiations (whether under the six-party format or another configuration) will result in real progress on the nuclear issue. Washington, however, refuses to restart the talks until North Korea takes concrete steps towards fulfilling the promises made during previous negotiations. Until then, the U.S. prefers to use sanctions to pressure the Kim regime.
With signals now that North Korea might be interested in restarting the six-party talks, look for continued arguments between the U.S. and China about the role of negotiations in reining in Pyongyang's nuclear program. The ground-breaking deal over Iran's nuclear program might encourage the Chinese side to push harder in favor of negotiations.
Before traveling to Beijing, Burns visited Seoul, where he reiterated "the strong continuing commitment of the United States to work closely and consult closely with our partners and allies in the Republic of Korea in dealing with the challenges posed by the DPRK leadership." The Chinese government is well aware that North Korean provocations are likely to cause increased military cooperation between Washington and Seoul. In his book Obama and China's Rise, former Obama administration official Jeffrey Bader wrote that U.S. officials often use this as leverage — China can either rein in North Korea or face an increased U.S. military presence in the region.
As expected, Burns also touched on the territorial disputes in the South and East China Sea. According to the Beijing Embassy's statement, "Burns stressed the importance of all sides avoiding unilateral action to assert territorial and maritime claims and for China to work constructively with its neighbors to reduce tensions." Again, the diplomatic language masks tensions, as China and the U.S. have very different ideas of what constitutes an "unilateral action."
Secretary of State John Kerry, for example, called China's new ADIZ a "unilateral action [that] constitutes an attempt to change the status quo in the East China Sea." In response, Foreign Ministry Spokesman Hong Lei retorted that it was in line with international law, and demanded that the U.S. "stop making irresponsible accusations against China." China, meanwhile, would accuse Japan on making unilateral actions that ratchet up tensions in the region.
The tensions between China and Japan in particular are a growing source of concern for U.S. officials, and will likely be on the agenda with Burns travels to Tokyo, the next and final stop on his Asia tour. While the United States maintains a firm commitment to its ally's defense, administration officials were "disappointed" with Abe's December visit to the Yasukuni Shrine. Burns will likely want to persuade Japan not to repeat such a move.
According to U.S. State Department Spokesperson Marie Harf, while in Beijing, Burns also met with China's Taiwan Affairs Office Minister, Zhang Zhijun. There were no details available on what specifically the two discussed, but the meeting itself shows that Taiwan continues to be an issue of concern in U.S.-China relations.
While Burns met with Chinese officials, U.S. Assistant Secretary of State for East Asian and Pacific Affairs Daniel Russel was also in Beijing for the fifth U.S.-China Consultation on Asia-Pacific Affairs. After Russel's meeting, the U.S. State Department released a list of areas that have been pegged for "practical cooperation" between the U.S. and China, including disaster relief, food security in Timor-Leste, and a training program for "young Afghan diplomats."
Chinese Foreign Ministry Spokesman Qin Gang said that Burns and Russel's visit to Beijing "fully reflects the importance attached by the two countries to the development of bilateral relations as well as to the communication and coordination on major international and regional issues." There have also been suggestions that U.S. Secretary of State John Kerry might visit China in the near future, or even that President Barack Obama will stop in China during a planned April visit to Southeast Asia, although Qin declined to confirm either rumor.