US, China to Jointly Pressure North Korea Over Nuclear Program
The United States and China may come together to increase pressure on Pyongyang to back off its nuclear program.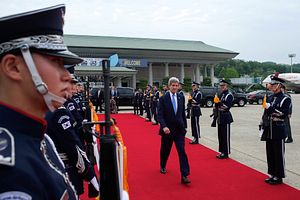 The United States and China are considering imposing additional sanctions on North Korea, which continues to refuse any concessions on its nuclear program. U.S. Secretary of State John Kerry confirmed that talks are underway with Beijing when he spoke in Seoul, South Korea on Monday. Kerry visited China over the weekend, meeting with senior Chinese officials, including President Xi Jinping and Foreign Minister Wang Yi. (The Diplomat's Shannon Tiezzi covered that visit in greater detail here.)
Kerry's comments in Seoul suggested that the United States had grown weary of waiting for North Korea to demonstrate any bona fide attempt at freezing development on its nuclear program. He emphasized the United States' long-standing offer to return to negotiations in a multilateral setting—perhaps a revival of the long-stalled Six-Party Talks—after Pyongyang showed that it was willing to denuclearize. "To date, to this moment, particularly with recent provocations, it is clear the DPRK is not even close to meeting that standard," Kerry noted, standing beside South Korean Foreign Minister Yun Byung-se at a press conference. "Instead it continues to pursue nuclear weapons and ballistic missiles."
Interestingly, Kerry emphasized that the United States' ongoing participation in international negotiations over Iran's nuclear program could serve as a model for North Korea. In the press conference, Kerry noted that he and Wang had "agreed that a mix of negotiations and pressure are needed to address this challenge, and North Korea needs to live up to its international obligations and commitments." He added that "it is obvious that North Korea needs to recognize that it will not succeed in developing its economy or breaking out of diplomatic isolation if it continues to reject denuclearization."
This latter statement represents the second prominent instance of the United States and China jointly agreeing that they cannot abide North Korea's Byungjin line—the notion that Pyongyang can pursue its economic goals while also continuing forward with its nuclear program. (This first appeared in February 2015 when U.S. National Security Adviser Susan Rice and Chinese State Councilor Yang Jiechi "agreed that North Korea would not succeed in its twin pursuit of nuclear weapons and economic development.")
Kerry's remarks came in the wake of sensational and apocryphal news reports that Kim Jong-un had purged and executed his defense minister, Hyon Yonh-chol, with the use of an anti-aircraft gun. Additionally, North Korea recently carried out an ejection test of its KN-11 'Polaris-1' submarine-launched ballistic missile (SLBM), prompting concern in both Seoul and Washington. "I think never has the international community been as united as we are now that, number one, North Korea needs to denuclearize," Kerry said.
At a time when the United States and China are increasingly at odds over security issues, including China's land reclamation activities in the South China Sea and cyber issues, North Korea presents a significant area of convergence. The extent of agreement between the two sides is limited, however. In recent years, though Chinese officials have noted the urgency of the nuclear situation on the Korean peninsula, China has been eager to restore negotiations without insisting that North Korea demonstrate its bona fide intent to denuclearize first.
Relations between Beijing and Pyongyang have cooled over the past 18 months amid an increasingly insular and intransigent outlook from Pyongyang. China has refused, however, to criticize North Korea's record on human rights at international forums, including the United Nations. The United States, however, has been more outspoken. Kerry minced no words in Seoul when he described Kim Jong-un's regime as "one of the most egregious examples of reckless disregard for human rights and human beings anywhere on the planet."
In fact, if, as Kerry notes, the United States and China are looking to add additional sanctions to the already broad set of targeted UN, EU, and U.S. sanctions against Pyongyang, China and the United States may be starting to stand shoulder-to-shoulder on the North Korean issue. Kerry noted that, for the moment, details on how the two great powers will cooperate on the North Korean issue remain in flux: "With respect to the methodology for boosting sanctions and other things, we are discussing all of that now. China has obviously an extraordinary leverage."