In Beijing, Kerry Focuses on North Korea, Climate Change
Kerry's trip was intended to highlight potential areas for U.S.-China cooperation.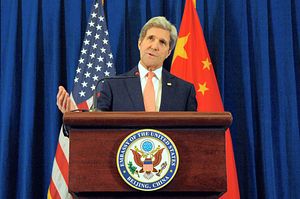 U.S. Secretary of State John Kerry is in Beijing today and Saturday as part of his trip to Asia, which also includes stops in South Korea and Indonesia. The trip, Kerry's fifth since assuming office last year, was held up by the Obama administration as further proof of a renewed U.S. focus on Asia. While in Beijing, Kerry focused on two main issues: the long-standing problem of how to roll back North Korea's growing nuclear program, and the newer question of how the U.S. and China can work together on climate change.
As my colleague Zachary Keck pointed out earlier this week, all signs indicate that North Korea is gearing up for another round of provocations, possibly including a missile and/or nuclear test. Naturally, then, North Korea was high on Kerry's list of issues to discuss. According to a background briefing by a senior State Department official, the United States is attempting "to translate denuclearization from a noun to a verb." This effort centers on getting China to lean harder on its neighbor, using what the State Department official called its "leverage with North Korea" to push for concrete steps towards dismantling the nuclear program.
The U.S. also emphasized the importance of "what more we can do as the five of the Six Party Talks" — in other words, what impact China, Japan, Russia, South Korea, and the U.S. can have in pressuring North Korea to dismantle its nuclear program. During a press conference in Seoul, Kerry emphasized that the U.S. "will not accept talks for the sake of talks … the D.P.R.K. must show that it will negotiate and live up to its commitments regarding denuclearization." This has been the stumbling block between the U.S. and China, as Beijing wants to restart the Six Party Talks immediately, without setting preconditions.
In his remarks to reporters on Friday, Kerry seemed upbeat about progress made on this issue. He noted that the U.S. and China have a shared interest in seeing the Korean peninsula denuclearized, and said that the Chinese officials he spoke with "could not have more forcefully reiterated [China's] commitment to that goal."
As for the means, Kerry admitted that China still is committed to solving the issue through dialogue, especially a return to the Six Party Talks. As proof, Chinese Foreign Minister Wang Yi said that the "top priority at the moment is to grasp the opportunity and resume talks as soon as possible." However, Wang also emphasized the any dialogue should be "sustainable, irreversible and effective," three traits that have not been a hallmark of diplomatic talks with Pyongyang to date. Kerry told reporters that if North Korea doesn't "live up to an agreed-upon set of standards" then China is "prepared to take additional steps."
According to Kerry, the nature of those "additional steps" is still under negotiations. There's no doubt that the U.S. would like to see China implement stricter sanctions against North Korea. Beijing has been reluctant to crack down too harshly on Pyongyang, instead valuing regional stability over denuclearization. Most experts don't think this is likely to change, as CSIS's Victor Cha argued in a recent interview with The Diplomat.
The second major issue on Kerry's agenda, rather surprisingly, was climate change. Back in 2009, the Obama administration made a concerted effort to work with China on climate change, but was still unable to push through a deal at the Copenhagen UN Climate Change Conference. Now it seems the issue is back towards the top of the United States' to-do list. Kerry made it clear in his remarks that his talks in Beijing were focused on paving the way for "an ambitious international climate agreement" at the 2015 UN Climate Summit. However, Kerry also mentioned the increasing U.S.-China bilateral cooperation climate change, including last year's agreement to phase out hydrofluorocarbons (HFCs).
During his meeting with Kerry, Chinese President Xi Jinping agreed with the focus on climate change. He pointed out that China is making progress "not at others' demand but [because of] our own will." Xi also expressed a desire to cooperate with the U.S. on emission reduction, energy saving, and transitioning to a low-carbon economy. It's a step in the right direction. The U.S. and China have both been reluctant to give up domestic economic advantages by taking drastic action on climate change. The more closely they can work together on this issue, the more likely it is that they will make progress.
Kerry's remarks and official State Department comments made it clear that North Korea and climate change were his top two priorities. It's a bit surprising that maritime disputes weren't higher on the list, considering the almost-daily flood of news stories on the deteriorating China-Japan relationship, and vocal U.S. warnings against a Chinese air defense identification zone in the South China Sea. Kerry mentioned that his talks in Beijing touched upon these issues, including "the question of how an ADIZ might or might not come about." But he only got around to discussing maritime disputes after outlining the progress made on other subjects.
For this visit, the U.S. decided to focus on the potential for U.S.-China cooperation. Despite differences of opinion on North Korea and climate change, the U.S. and China do share similar goals, making these areas tools for potentially lowering tensions between Beijing and Washington. That's definitely not something we can say about maritime disputes in the South and East China Sea, where the U.S. and China have completely divergent opinions on both the end goal and the means of handling the disputes. For Kerry's visit, Washington and Beijing were making an effort to keep ties friendly by relegating this issue to the back burner — at least in public.