Beijing Strikes at Hong Kong With APEC Move
The decision to move the APEC meeting from Hong Kong to Beijing comes amidst PRC disdain for Hong Kong protests.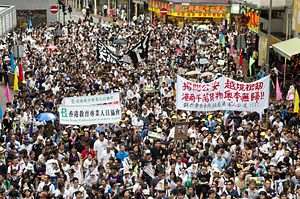 The decision to move the Asia-Pacific Economic Cooperation (APEC) Finance Minister's Meeting (FMM) from Hong Kong to Beijing last week passed with a small controversy and little real comment. However, yesterday, the state media struck out at Hong Kong's liberal view toward protesters. Everyone from PRC Foreign Ministry spokeswoman Hua Chunying to Financial Secretary John Tsang in Hong Kong says the meeting's move has nothing to do with possible disruptions in Hong Kong. But that doesn't mean Beijing won't use the opportunity to take a few shots at the free "special administrative region" to the south.
"The central government has made a wise decision to change the conference venue in case Hong Kong gets mired in a catastrophic demonstration and shrouded in an unfavorable atmosphere for the Finance Ministers' Meeting," read a Global Times editorial based on an interview with Zhang Dinghuai from the Center for Basic Laws of Hong Kong and Macao at Shenzhen University. While it's hardly news that the Global Times, simultaneously the central government's lapdog and pit-bull, believes the CPC's decisions are wise, it comes as a direct strike at Hong Kong's pro-democracy and pro-universal suffrage camps from the state media. Coupled with the move of the meeting, interested parties in Hong Kong may be questioning what actual leverage they have against a growing and increasingly bold China.
Last week, Bloomberg quoted Michael Degolyer, a political scientist at the Hong Kong Baptist University, as saying, "I don't think there's any other way to read it than a political reaction." If that is true, then Beijing's public political reaction came a little late and on the heels of vitriol over the anti-locust protests.
Another piece, also in GT, didn't directly blame protests in Hong Kong for the APEC move, but it stated: "the incident provides an opportunity for Hong Kong to reflect on the costs that social and political movements such as Occupy Central might have on the society, and how these movements may deter international investment." With this and recent blows to Hong Kong's famous free press, the "cost" of freedom of expression in Hong Kong appears to be Beijing's ire—an increasingly expensive price tag.
John Tsang Chun-wah, Hong Kong's financial secretary, denied claims last week that the APEC move was in any way related to possible demonstrations in Hong Kong, saying, "I think Beijing understands that Hongkongers enjoy freedom of expression, and if the meeting were held in Hong Kong, reference must be drawn from the way we did things in the past." Indeed, many associate the move with U.S. President Barack Obama's insistence that the meeting be moved back to November.
A piece in South China Morning Post by Curtis Chin, a former U.S. ambassador to the Asian Development Bank, said the APEC meeting could be a chance for China to let go of its stranglehold on the media, also stating, "Whatever the full reason… revoking of Hong Kong's chance to host the ministerial-level meeting does not bode well for the call for greater transparency and openness in the overall APEC process under China's reins."
Beijing is certainly safe from such protests, any protest for that matter. As to that, and the suggestion that the protests hurt business, Stephen Vines said in an SCMP piece entitled "APEC's Beijing move no skin off Hong Kong's nose": "As it happens, most really big corporations see freedom of expression as a plus." If this is the case, then China can expect no plaudits for hosting the FMM in the capital.
While the reasons for the move might forever be shrouded in a lack of credible specificity, Beijing's attitude toward Hong Kong's liberal camp is not: if Hongkongers want universal suffrage, Beijing is going to make sure they suffer for it. The balancing act between Hong Kong, a relatively free and open society, and the PRC, generally opposed to all forms of democracy and suffrage, has become a trifle one-sided.