China Reacts to the Crimea Referendum
China is trying to avoid being caught in the middle of the West and Russia's battle over Ukraine.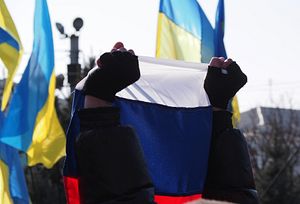 The much anticipated referendum in Crimea on whether to become part of Russia took place as scheduled on March 16. According to Crimean leaders, over 96 percent of voters were in favor of seceding from Ukraine. As a result, Crimea's parliament has formally proposed that the region be admitted to the Russian Federation "as a new subject with the status of a republic." In response, the U.S. and EU continue to call the referendum illegal, and have moved to implement sanctions on selected Russian and Ukrainian officials.
China, meanwhile, is trying to tread a fine line on the issue. When asked at a press conference if China would recognize Crimea as part of Russia, Foreign Ministry Spokesperson Hong Lei gave a carefully noncommittal response: "China always respects all countries' sovereignty, independence and territorial integrity. The Crimean issue should be resolved politically under a framework of law and order. All parties should exercise restraint and refrain from raising the tension."
Over the weekend, China abstained from voting on a UN Security Council draft resolution that would have condemned the referendum in Crimea as illegal. Russia, as expected, vetoed the proposal, and many observers took China's choice to abstain rather than join in a veto as tacit disapproval of Moscow's actions in the Ukraine. The BBC's UN correspondent said that Western diplomats "got what they wanted when China abstained."
Western diplomats did seem to take China's abstention as a sign of victory. America's UN ambassador, Samantha Power, described Russia as "isolated, alone, and wrong" on the Ukraine issue. She further emphasized that "only one country voted 'no'" on the resolution, citing this as proof "that the world believes that international borders are more than mere suggestions." Mark Lyall Grant, the UK's ambassador to the UN, made similar comments about Russia's isolation. "Russia alone backs this referendum. Russia alone is prepared to violate international law, disregard the UN Charter, and tear up its bilateral treaties," he said after the vote. "We trust that Russia will take notice of its isolation."
For his part, China's UN Ambassador Liu Jieyi distanced himself from the very idea of voting on such a controversial UN resolution. "The vote on the draft resolution by the Security Council at this juncture will only result in confrontation and further complicate the situation, which is not in conformity with the common interest of both the people of the Ukraine and those of the international community," Liu said, explaining why China chose to abstain.
Foreign Ministry Spokesman Qin Gang elaborated on this in a special statement issued over the weekend. "China disapproves of confrontation … Under the current circumstances, China calls on all parties to keep calm, exercise restraint and refrain from raising the tension," Qin said. He added that "no party should take any actions that deteriorate the situation." The request would apply equally, in China's mind, to the West's provocative UN resolution and to Russia's movement of troops within Ukraine.
Clearly, China is uncomfortable with its position as the "tiebreaker" vote in the battle between Russia and the West—a position where even abstaining from voting is taken as a sign of support for one and disapproval for the other. Liu Jieyi attempted to carve out China's position as a neutral third party by offering a three-point plan: establishing "an international coordinating mechanism … to explore means to a political settlement," having all parties refrain from taking escalatory actions, and asking international financial institutions "to explore how to help maintain economic and financial stability in Ukraine."
Chinese media outlets continued to highlight the West's culpability in the Ukraine situation, one way to demonstrate that China is decidedly not on the same page as the U.S. and its allies. An op-ed in the Global Times by Yu Bin, a senior fellow at the Shanghai Association of American Studies, argued that the West is hypocritical in expressing its concern for Ukraine's sovereignty. As with many Chinese articles, Yu placed the blame for the current tensions squarely on the West for supporting the original protests against ousted president Viktor Yanukovych. "Ukraine's sovereignty, therefore, was raped repeatedly long before Russia's recent move into Crimea," Yu concluded. He explained Ukraine's situation as part of the Western history of interference in the name of "humanitarian intervention, regime change, and nation building."
Clearly, the Western vision for Ukraine is not an initiative China can get behind. Yet it's also dangerous for Beijing to go on record as supporting the secession of a piece of territory based on ethnic, cultural or linguistic differences. In fact, according to China Digital Times, China's propaganda department has explicitly ordered Chinese media outlets not to "connect the [Crimea] story to our own country's issues with Taiwan, Tibet, or Xinjiang." Due to these warring concerns, China has little choice but to remain officially neutral, allowing its state-run media to tackle the customary denunciations of the West.
The Global Times noted that the situation is largely a renewal of Cold War tensions, and thus does not directly involve China. However, the article added that the crisis has the potential to reshape China's external security environment, and thus demands a response from Beijing. The editorial recommended that China "should play a mediating role between the West and Russia and help find opportunities to ease tensions," a position similar to the one outlined by Liu Jieye's three-point plan.
In addition, the Global Times also took a more cynical lesson from the situation—that Russia's military power is its trump card. As a result, the article concluded, "China should speed up its military modernization, and especially develop its long-range nuclear strike capabilities" in order to be ready for potential confrontations with the West in the future. In the end, China's takeaway from the Ukraine crisis may be simply a reinforcement of an old truism: might equals right.