Germany Rebukes China's Anti-Japan PR Campaign
Berlin strongly rebuffed Beijing's efforts to use Germany's wartime past to shame Japan during Xi's trip to Germany.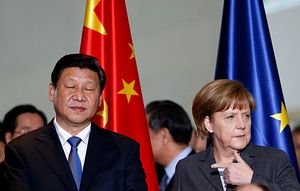 Germany has strongly rebuked China's attempts to use Berlin in its ongoing public relations campaign against Japan.
As my colleague Shannon has reported, Chinese President Xi Jinping visited Germany earlier today as part of a larger swing through the European continent that began with the Nuclear Security Summit in the Netherlands earlier this week, and also included stops in France and Belgium.
Before Xi's trip was even officially announced, there had been reports that Xi was hoping to use his time in Berlin to advance China's oft-made claim that, in contrast to post-WWII Germany's sincere atonement for the actions of the Nazis, post-WWII Japanese leaders have not made a large enough effort to apologize for Imperial Japan's horrendous actions in neighboring countries like Korea and China. These earlier reports also made clear that Germany had strong reservations about going along with President Xi's ploy.
For example, last month Reuters quoted an anonymous diplomatic source, whose national identity was not revealed, as saying that: "China wants a strong focus on World War Two when Xi visits Germany and Germany is not happy." Reuters went on to note that "the diplomatic sources said Germany did not want to get dragged into the dispute between China and Japan and dislikes China constantly bringing up Germany's painful past." It went on quote an unnamed German diplomat as saying: "The Germans are really uncomfortable with this kind of thing. They don't like China constantly comparing them with Japan and going on about the war."
The same report said that China had proposed that President Xi visit the Holocaust Memorial in Berlin during his trip. Germany had immediately rejected that proposal, however, saying that the "Holocaust is a no-go area." This led China to counter by proposing that Xi visit the Berlin's Neue Wache memorial, which honors German war dead but—in contrast to Japan's controversial  Yasukuni War Shrine—not any of the war criminals from the Nazi regime.
The German magazine Der Spiegel reported earlier this month that Berlin had told China that German Chancellor Angela Merkel would not accompany President Xi on a visit to the Neue Wache memorial but he was welcome to visit it on his own time. It doesn't appear that Xi took Germany up on the latter offer, although South Korean President Park-Geun-hye did lay a wreath at the Neue Wache memorial during her visit to Berlin this week (interestingly, Park's trip sought to use Germany's unification as a model for Korea's future, similar to China's demands that Japan use German atonement as a model for its own contrition).
After Germany rejected a joint visit to the war memorial, China began denying the reports that Xi had wanted to make WWII a major focus of his trip to Berlin. For example, on the sidelines of the National People's Congress this month, China's ambassador in Berlin, Shi Mingde, said that claiming that Xi wanted to make WWII a central part of the trip "did not accord with reality." At the same time, Shi disputed claims that Berlin was uncomfortable with China's efforts to use Germany's past to shame Japan. "The Germans have never kicked up a fuss … This is the difference between Germans and Japanese, how they face up to history. The whole world knows that," Shi said at the time.
Things seemingly came to a boil for Germany just as Xi was arriving in the country earlier today. Around the time of Xi's arrival, South China Morning Post published an article that was based on an interview it conducted with Michael Clauss, Germany's envoy in China. In the interview, Clauss more or less blasted China's attempts to drag Germany into the bilateral dispute Beijing has with Tokyo. While saying that Berlin welcomed China's interest in how Germany dealt with its past, Clauss stated, "We do not want to see our approach to history exploited to stir up tensions between Tokyo and Beijing. That is a different matter." He added that Germany had close ties with both China and Japan, and saw "no reason why we should be drawn into their bilateral territorial conflict."
Seemingly questioning China's position on Japan's history, Clauss also pointed out that reconciliation in Europe had been a two-way street, with both Germany's apologies and its former adversaries' acceptance of them playing an important role.
"After all the catastrophes of the 20th century, Europeans finally realized that they had to find a different way… Germany had to come to terms with its wartime history, and at the same time it was essential that other European nations took steps towards reconciliation and accepted Germany's sincere apologies."
This comment seemed to suggest that China should do more to accept the numerous apologies Japan has offered the region in general, and China in particular, about its past war crimes. In what appeared to be another passive-aggressive criticism of Beijing, Ambassador Clauss also emphasized that reconciliation in Europe was facilitated by the establishment of rule of law across the region, which allowed countries to settle disputes through mechanisms like the European Court of Justice. China strongly opposes the use of international arbitration to settle its myriad ongoing territorial disputes with its neighbors, and instead insists that all disputes be handled bilaterally, where China's clout is greater.
From all these developments, it seems to me that German leaders also suspect that Chinese leaders are trying to exploit the issue of Japan's history for strategic gain, and want absolutely no part in helping Beijing to succeed in this endeavor. One thing seems certain, this must have made for an awkward meeting between Xi and Merkel today.