2022: The Year Japan and Germany Became 'Normal' Countries
Japan and Germany rediscovered their geopolitical voice in 2022, making parallel efforts to develop more assertive national security postures.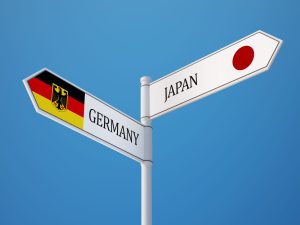 The Russian invasion of Ukraine in February 2022 can be seen as an epilogue to the Cold War, with Russian President Vladimir Putin seeking to renew the country's former glory by reasserting its Soviet-era sphere of influence. Putin after all referred to the disintegration of the Soviet Union as the "greatest geopolitical catastrophe" of the 20th Century, which he has sought to correct by pushing back on NATO expansion and so-called Western-sponsored color revolutions in its near abroad over the last two decades. The invasion also reaffirmed the relevance of NATO, a Cold War-era collective security organization that found renewed purpose (and new members – Finland and Sweden) following Russia's belligerent actions.
However, the Ukraine conflict is also important in the context of another significant historical moment as it has helped Japan and Germany break free of the legacy of World War II. As the defeated and demilitarized nations of the war, both countries have historically maintained self-imposed restraints in the conduct of their foreign and defense policies. However, recent developments prompted both countries to abandon this timidity as they have independently (but in parallel) sought to develop more assertive national security postures. 
Changing Defense Budgets, Exports, and Strategies
The most notable example of this is a pledge by both countries to increase their defense budgets to at least 2 percent of GDP. This will be easier said than done: Germany's defense budget last hit 2 percent of GDP in 1990 and despite a pledge to do so again, the government missed the target this year. In Japan the government is employing controversial tax increases to reach the 2 percent target by 2027, abandoning a previous policy that capped defense spending at 1 percent of GDP. 
Both countries are also seeking to build up their defense export capabilities. While Germany was already a major arms exporter, it maintained restrictions on the terms of its arms exports. Days before the Russian invasion the German foreign minister defended her country's decision not to provide military aid to Ukraine. Revisions to this policy shortly after the invasion led Germany to emerge as the second-largest provider of military aid to Ukraine in the first 11 months of this year (behind the United States but ahead of the United Kingdom and France). 
Meanwhile, Japan lifted a ban on weapons exports in 2014, which has led to arms transfers to several countries, including the Philippines, Vietnam and Indonesia (but also several setbacks as deals have fallen through with Australia and the UAE). Tokyo is seeking to strengthen its defense-industrial complex by diversifying its defense partnerships beyond the United States. This became evident during the recently concluded Global Combat Air Program with the U.K. and Italy, which seeks to develop sixth-generation fighter aircraft.
Undergirding these developments is a renewed political commitment to a more muscular foreign and national security policy in both countries. In Germany, Chancellor Olaf Scholz has referred to the world (and Germany) as being in the midst of a "Zeitenwende" (or turning point). Shortly after the Russian invasion, Germany approved the establishment of a 100-billion-euro special fund to bolster the country's military, the Bundeswehr, as the country seeks to shore up its eastern flank.
Meanwhile, Japan, while geographically separated from the Ukraine conflict, has been no less impacted by developments in Europe. Japanese Prime Minister Kishida Fumio made this clear by noting in a keynote speech at the Shangri-La Dialogue this past summer his "strong sense of urgency that Ukraine today could be East Asia tomorrow." Reflecting a shift away from a largely defensive posture embedded in the country's longstanding commitment to the Yoshida Doctrine are changes to Japan's military strategy, policy, and acquisition policies. 
This became evident in the recently released National Security Strategy (NSS), National Defense Strategy (formerly known as the National Defense Program Guidelines) and Defense Buildup Program (previously known as the Medium-Term Defense Program). The NSS was revised for the first time since 2013 while the Defense Buildup Program sets out the country's defense expenditure and acquisition goals over the next decade. Among the key changes are efforts to strengthen the country's long-range counterstrike capabilities. 
To be sure, this assertiveness did not begin with the Russian invasion of Ukraine. The Kishida government's actions are rooted in the policies of former Prime Minister Abe Shinzo who had long pushed for Japan to take a more prominent global role. For example, today's Quad and Indo-Pacific strategic geography have its roots in Abe's "Confluence of the Two Seas" speech in 2007 in which he referred to the prospect of a "broader Asia" rooted in the "dynamic coupling" of the Indian and Pacific Oceans. This continued to mature under various Japanese narratives (including the "Arc of Freedom and Prosperity," "Democratic Security Diamond" and most recently, the "Free and Open Indo-Pacific"). 
However, the Ukraine conflict has accelerated these efforts and overcome key bottlenecks, particularly concerning public opinion. This has been undergirded by domestic political developments in both countries. In the case of Japan, the Kishida government's strengthened mandate following elections for the upper house in July 2022 and the lower house in October 2021, has allowed the ruling Liberal Democratic Party (LDP)-led coalition to consider more radical reforms, including amending the country's so-called pacifist constitution. With respect to Germany, the ruling traffic light coalition comprising the Greens and Free Democrats has forced Scholz's Social Democrats to consider reorienting the country's foreign policy, including taking a harder line toward China. 
Differing (but Convergent) Threats and Priorities
Despite the parallel development of more assertive foreign policy and national security postures, both Japan and Germany have focused on differing threat actors. For Japan, the threat emanates first and foremost from China (followed by North Korea and Russia). Japan's NSS refers to China as Japan's "greatest strategic challenge." This comes as the Sino-Japanese rivalry has become more multi-dimensional. Aside from their unresolved territorial dispute over the Senkaku/Diaoyu islands in the East China Sea, Japan has become more vocal about coming to the defense of Taiwan as noted in its 2021 defense white paper. Japan's direct interests in a potential Taiwan Strait conflict became evident in August when several missiles fired by China following the visit by U.S. House Speaker Nancy Pelosi to Taiwan landed inside Japan's exclusive economic zone. 
This complements a well-entrenched geoeconomic rivalry between both countries, which has become more pronounced in recent years. Japan's role in assuming the mantle of leadership on regional trade after the Trump administration withdrew the U.S. from the Trans-Pacific Partnership in 2017, its role in spearheading regional initiatives such as the Supply Chain Resilience Initiative aimed at reducing reliance on China in transnational production networks, and the Kishida government's establishment of a new economic security ministry — all of these developments allude to a Sino-Japanese rivalry that expands beyond traditionally defined notions of security.
By contrast, for Germany it is Russia that is the first priority followed by China. Scholz abandoned the country's long-standing commitment to "Ostpolitik," which tied the prosperity and security of Europe to rapprochement with Russia. This included a policy of "Wandel durch Handel" ("change through trade"), which came to an end days before the Russian invasion when Germany suspended certification of the Nord Stream 2 gas pipeline after Moscow recognized the breakaway Ukrainian regions of Donetsk and Luhansk. 
Meanwhile, Germany maintains a more cautious and conciliatory approach toward China than the United States and other European states. Some of this is a function of an ideological proclivity for "strategic autonomy" in its foreign policy, but more practically it reflects the interdependence of key German industries (such as the automotive sector) on China-based supply chains and markets. The decision to allow Chinese company COSCO to acquire a stake in the port of Hamburg (albeit a smaller stake than initially proposed) illustrates the continued symbiosis of the Sino-German relationship. This contrasts with the U.S. push toward decoupling supply chains in strategically-important sectors. 
At the same time, it is important to recognize that both countries' threat perceptions are showing signs of convergence. Russia is also a key security concern for Tokyo: Japan's recurring efforts to resolve a territorial dispute over the southern Kurils/Northern Territories came to an abrupt halt following the start of the Ukraine conflict and Japan has emerged among the most vocal critics of Moscow's actions in Asia. Meanwhile, Germany's policy guidelines on the Indo-Pacific unveiled in 2020 and the deployment of a German frigate to the South China Sea in 2021 indicate a maturing German outlook towards the Indo-Pacific. The German government will also publish the country's first China strategy next year. The fact that Scholz's visit to China this year coincided with a visit by German President Frank-Walter Steinmeier to Japan and South Korea alludes to a German foreign policy towards China that is more hawkish, but also a China policy that is no longer equated with Germany's broader Asia policy.
A Work in Progress
To be sure, Japan and Germany's more assertive foreign and defense policies remain a work in progress. Germany is in the process of drafting its first National Security Strategy. In Japan, while the Abe administration reinterpreted Japan's Constitution to allow for collective self-defense, Article 9 of the constitution, which renounces "war as a sovereign right of the nation and the threat or use of force as means of settling international disputes," remains intact. Moreover, despite the LDP now holding the requisite two-thirds majority in the Diet to initiate the constitutional amendment process, public opinion remains divided on the issue. This raises uncertainty about the outcome of a national referendum that will eventually be required to approve any constitutional changes.
Japan and Germany have rediscovered their geopolitical voice in 2022 after decades of viewing the world largely through the lens of economic engagement and commercial interactions while outsourcing their foreign and security policies to allies (namely the United States). While both countries' enhanced strategic capabilities and clout will be welcomed by the U.S. as it contributes to greater burden-sharing in their alliance commitments, it is also increasing their autonomy to act on the world stage. Over the longer term, this may also contribute to a new worldview as both countries become more responsive to strategic developments on opposite ends of the Eurasian landmass (with Japan responding to Russian aggression in Europe while Germany becomes more aware of Chinese assertiveness in the Indo-Pacific).