Xi Jinping and Social Media: Harnessing the People's Voice
China's president uses social media to attract public support, while cracking down on social media users.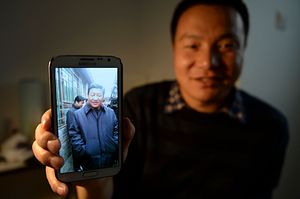 Last year, an article published in The Diplomat described Xi Jinping as China's first social media president. At the time, Xi appeared to be using the internet as a means of social mobilization for his anti-corruption campaign by encouraging the public to continue exposing corrupt officials via the popular Chinese micro-blogging site, Sina Weibo. However, the power of Chinese censors was simultaneously increased while foreign media outlets were punished for critical stories about the wealth of Chinese officials. This paradox prompted David Cohen, the author, to exclaim that he was "honestly not entirely sure how to reconcile these two trends."
The puzzle that Cohen described is explicable through the following lens: Xi's support for social media is but one component of a larger media strategy to ensure that the CCP stays in power while at the same time shoring up his own political position within the party. This has become particularly important as China's economy is slowing, corruption remains a problem and Xi needs to deliver on his ambitious promise to eradicate it at all levels. The manipulation of the masses for political ends is not unprecedented, and is in fact reminiscent of what Chinese leaders have done in the past whenever their policies required broad-based public support or their own position within the party had been tenuous. What's newsworthy is the clever use of modern media technologies to achieve these goals.
Indeed, riding the wave of public sentiment against official corruption through social media platforms like Weibo has the advantage of defusing resentment toward the CPC at such a delicate moment. This may explain why Xi has framed the anti-corruption drive in much more appealing, colorful rhetoric than his predecessors, calling it a fight against "tigers and flies." From the very start, it was apparent that repairing the party's public image was an important goal of the anti-corruption drive. In admonishing local officials, Xi has said, "The style in which you work is no small matter." Harnessing the power of public sentiment to discipline local officials, whose lavish lifestyles most visibly mock the rule of law, makes sound sense.
It also has practical use in widening the scope of the campaign to include important institutions such as the People's Liberation Army, and to address corruption at high levels of government, where the campaign may become politically intractable. If there is resistance within the PLA, or if "tigers" like Zhou Yongkang are to face trial for corruption, Xi might indeed be glad for broad-based public support in the event of political fallout. The fact that others closely linked to Zhou have lost their party positions and have come under investigation signals to all associated with him that they are not safe.
Pitched battles amongst the political elite might well already be underway since the Central Commission for Discipline Inspection and the Ministry of Supervision have investigated and punished up to 31 top officials since last year. The fact that the CPC publicly commented on Zhou's rumored investigation in an unprecedented fashion in early March this year, stating that "anyone who violates the party's discipline and the state law will be seriously investigated and punished, no matter who he is or how high ranking he is" is an example of how the savvy use of social media is but one dimension of the Xi administration's overall media strategy to rejuvenate the party's image and consolidate his leadership. The CPC pulled off a media coup when the South China Morning Post roundly concluded that the CPC's unwritten rule that members of the Political Standing Committee can be exempted from investigation had come to an end, thus suggesting that Xi might indeed be making significant progress in establishing the rule of law.
Since late 2012, Xi has also attempted to increase his popularity through a full-scale public relations campaign that presents him as a "man of the people." His Weibo account contains photo images that downplay his political heritage as a "princeling" by showing him working as a "sent-down youth" during the Cultural Revolution in the 1970s and as a low-ranking party cadre in the 1980s. More recently, unannounced public appearances have been a key part of this campaign. In late December, he sparked a social media frenzy with an unexpected visit to a local restaurant. Patrons reported that Xi stood in line to order, paid for his meal and ate and chatted with fellow restaurant goers. More recently, Xi made a surprise visit to a popular location in Beijing. Like the restaurant appearance, it also garnered much social media attention. Xi was praised for braving the smog-ridden Beijing air without a face mask. Reform from the top down requires convincing Chinese netizens that those who have stood to gain most from the current rules of the game are genuinely willing to change them.
Yet social media is a double-edged sword that needs to be wielded skillfully. Thus, in less than a year, there has been a significant effort to manage China's netizens. Key moves include requiring users on micro-blogging sites like Weibo to use their real names and implementing the "five-strikes-and-out-rule" by which users who post "sensitive" materials are deleted. The social media crackdown reached its height when users became subject to potential arrest for posting "rumors" online. Although there is limited information about the content of the rumors, hundreds of users have in fact been arrested. This ambiguity has encouraged self-censorship and resulted in a dramatic decrease in Weibo use.
There has also been a surge in the number of Chinese netizens detained or arrested on charges like "gathering a crowd to disturb public order in a public place," "illegal assembly," and "inciting subversion to state power." The most prominent victim of such recent crackdowns is Xu Zhiyong, a legal activist and co-founder of the New Citizens' Movement. Sentenced in January to four years in prison on the grounds of "gathering a crowd to disturb public order," Xu has played a central role in the grassroots call for greater transparency of officials' assets. Xu's case is interesting precisely because the movement's calls to disclose the assets of government officials appear to be consistent with Xi's anti-corruption efforts. The crackdown has prompted observers to lament the insincerity of Xi's anti-corruption rhetoric and doubt the extent to which he will go to fulfill his promise of a "great rejuvenation of the Chinese nation."
However, Xu's approach is particularly problematic for the CPC for two reasons. First, Xu frames official corruption as a symptom of one-party rule and calls for systemic change. Such discourse highlights the fact that China has difficulty establishing the rule of law and eradicating corruption precisely because of one-party rule. Encouraging netizens to challenge the power of the CPC was not Xi's intention in supporting a social media crusade against official corruption. Second, the New Citizen Movement was fast becoming more than just an online rant against the official abuses of power. Instead of helping to defuse resentment against the party, Xu's online movement was moving to the streets precisely at a time when it was calculated that grassroots pressure could impress upon an incoming leadership the imperative of political liberalization. Moves to silence these calls demonstrates that Xi is not about to allow his endorsement of the social media campaign against official corruption widen his reform agenda and eventually bring down one-party rule, making him China's Gorbachev. As Xi's anti-corruption campaign progresses, he might well require broader public support. The seemingly inexplicable crackdown on activists like Xu can be explained by the fact that the New Citizen Movement constituted the kind of social mobilization with the potential to derail Xi's plans to strengthen the party.
Yet, these crackdowns can cause deep disillusionment at the grassroots, undermining Xi's media efforts to shore up the CPC's legitimacy and consolidate his position within the party. Simultaneously crushing dissent and increasing popularity is a hard task. Social media is therefore an unwieldy sword that requires more than one or two simple "tricks," as Cohen asserts, to make him an "exceptionally powerful president." Indeed, social media is a battleground in and of itself where the state does not necessarily win just because it has a monopoly on violence or resources to shape public opinion. Inherent in Xi's media strategy to harness the power of public opinion is the following danger: the masses do not always think what you want them to think and unintended outcomes do develop. Just as Mao lost control of the Red Guards during the Cultural Revolution and Deng's politically expedient support for the "counterrevolutionaries" of 1976 would come back to haunt him in 1989, Xi might well find that he will fail to tame the voices that call for a new political system that can guarantee the rule of law through the empowerment of the Chinese people.
Su-Mei Ooi is assistant professor of political science at Butler University. Brittanie Redd is a senior student at Butler University.