Beijing's Censors Ban Hong Kong Short Film
A short online video revealing Hong Kongers' worries for their future was banned by China's censorship bureau.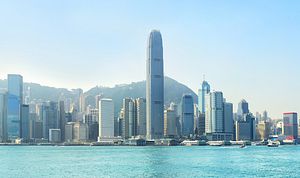 The seven minute and 28 second video, Hong Kong Will Be Destroyed After 33 Years, from GVAcreative appeared without much comment in early March. It currently has over 600,000 views on YouTube (which is blocked in mainland China) and is hardly the stuff of legend. But, on March 25, it was leaked that the great might and majesty of the Middle Kingdom and its modern economic miracle could not abide this satirical science fiction. An order from the State Council Information Office showed somewhat comically how long and how petty the arm of the propaganda authorities can be.
After telling the relevant media organizations to delete "information related to supporting and rescuing Tang Jitian and other missing lawyers," the message from the propaganda authorities ordered the deletion of "video, text, etc. that advocates the short sci-fi film about Hong Kongers 'saving themselves' titled Hong Kong Will Be Destroyed in 33 Years."
Yik Kan Cheung, a VFX artist and post-production supervisor with GVAcreative told The Diplomat, "The reason the video is being censored by authorities is, we believe, that they think what they're doing is keeping the society peaceful. But, what we think they are doing is keeping people away from knowing the truth, that China is trying to suffocate Hong Kong to death by importing Mainland Chinese into Hong Kong until there's enough people for them to control the elections. After that, there will be no open elections in Hong Kong."
The video itself features apathetic Hong Kongers indifferent to an approaching meteor, set to hit in 2047 — not entirely coincidentally the year in which China's capitulations to Hong Kong expire.
China's state media has done little to allay these fears, and has, indeed, felt a new found righteous indignation in light of the anti-locust protests. After U.S. Vice President Joe Biden's visit with Anson Chan and Martin Lee this week, The Global Times commented in an editorial: "Pan-democracy forces had better face reality and think how they can play a constructive role in making Hong Kong a better place."
Beijing's increasingly loud propaganda ranks are fast gaining a reputation as an anti-democracy force, in addition to the nation's already less than stellar human rights record and lack of a free press. Indeed, democracy is the enemy of the world in China's bleak, warped planet of propaganda, which uses any troubles in democratic countries as evidence that democracy is not only wrong for China, but wrong for the world. The editorial went on to state: "Thailand, Ukraine, and Taiwan have run into trouble in their election processes. The Chinese government will not allow such trouble to take place in Hong Kong."
The dreaded year 2047 is a long way off, and, perhaps, by then the PRC won't be a place that needs to ban a seven minute video by a small media company whose most recent production is called Zombie Guillotines. That said, it's already been a pretty long wait. For now, many pan-democrats and those enjoying Hong Kong's free media worry there is little hope of avoiding Beijing's fist: "They don't want people to be awake," says Cheung. "We can't stop them, but at least we want to let the world know: we're dying. Soon, there will be no more Hong Kongers."