Japan Loosens Restrictions on Arms Exports As China Looks On
Japan's decision to allow more arms exports leads to caution and suspicion in China.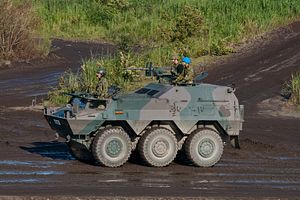 On Tuesday, Japan announced a relaxation of its long-held restrictions on arms exports. Under the original "Three Principle on Arms Exports," Japan was not permitted to export arms to any "communist bloc countries," to countries under arms embargos by the UN Security Council, or to any countries "involved in or likely to be involved in international conflicts." As my colleague Ankit wrote earlier, Prime Minister Shinzo Abe has been pushing for a change to these regulations as part of his policy of "proactive pacifism."
The new policy allows Japan to export arms and participate in joint weapons development and production when such moves will serve international peace and Japan's security. The requirement to serve international peace is obviously vague and open to fairly broad interpretation by Tokyo. Japan is expected to focus most of its exports on non-lethal, defense-oriented equipment, but there is already speculation that the new policy will allow Japan to join in production of the United States' new F-35 fighter jets. Japan's Defense Ministry has proposed that Japan serve as the Asia-Pacific maintenance hub for F-35s.
Predictably, the United States praised the move by its ally to loosen restrictions on arms exports. State Department Deputy Press Spokesperson Marie Harf told reporters, "We welcome this revised Japanese policy on defense equipment exports. It expands opportunities and simplifies processes for defense industry cooperation with the U.S. and other partner nations." Harf added that the changes will "allow Japan to modernize its defense industry and processes so it can participate in the 21st century global acquisition marketplace."
This latter point, that the easing of arms export restrictions will help boost Japan's military industry, is exactly what worries China about the move. An increased ability to export arms will help Japanese defense contractors (such as Mitsubishi Heavy Industries, Kawasaki Heavy Industries, and IHI Corporation), which were caught between a virtual ban on arms exports and a steadily decreasing Japanese defense budget. Soon after the new policy on arms exports was revealed, Japan's Defense Ministry presented a strategy to "boost the competitiveness of the domestic industry," revealing high hopes that the loosened restrictions will bring concrete gains to Japan's defense industry.
A revitalized Japanese defense industry is exactly what China does not want to see. Given these concerns, Foreign Ministry Spokesman Hong Lei took a fairly mild tone in response to a question about Japan's new arms export policy. "What policy Japan pursues in the military and security fields reflects where Japan is headed. It also has a bearing on the security environment and strategic stability of the region," Hong said. He also repeated China's usual call for Japan to learn from history and "do more to uphold peace and stability of the region."
Xinhua's coverage was less restrained, although not as rhetorically sharp as previous articles on Japan. The article concluded that "recent moves by Abe leave little doubt that the hawkish leader is edging closer to lifting the nation's self-imposed ban on exercising the right to collective self-defense."  Xinhua called this "a potentially dire scenario" that threatened to make a mockery of Japan's pacifistic constitution.
Global Times went even further, calling the new arms exports principles "a major move by Japan to step away from its postwar pacifism."  The article posited that Japan plans to use the policy to increase arms exports to countries that have territorial disputes with China, although the piece also said that "there is no need for Beijing to feel unease" given its own rising power. Instead, the piece emphasized that Japan's latest move cements its status as "the trouble-maker in East Asia." GT, following China's typical official rhetoric, saw the easing of arms exports restrictions as one of many "incremental steps to untie [Japan] from the postwar order."
GT concluded that China has "no other option but [to] resort to our strength to curtail the aggressiveness of Japanese politicians like Abe." This follows the rhetoric of "peace through strength" that has been appearing more frequently in Chinese leaders' proclamations—the idea that China should seek to forestall conflict by building up unchallengeable military dominance.
This idea has interesting parallels with Abe's new formula of "proactive pacifism." Both China and Japan argue that their military build-ups are in pursuit of peace—providing both countries with an excuse to indulge in an arms race.