Japan's Defense Industry Is Hindered by Self-Imposed Constraints
It's been nearly a decade since Japan widened the scope for arms exports, but there is little to show for the policy change.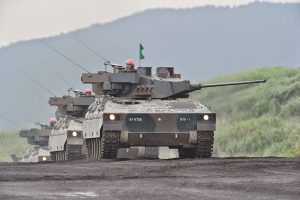 The biennial Defense and Security Equipment International (DSEI) exhibition was held in London from September 12 to 15, with over 2,800 defense-related companies exhibiting. Eight Japanese companies, including leading manufacturers such as Fujitsu and NEC, participated for the first time since 2017, along with representatives from Japan's Ministry of Defense. They showcased cutting-edge technologies and products, from software that employs AI to detect and classify vessels to a mobile medical unit that can be installed in a transport aircraft to perform surgery on the wounded and sick.
Just as significantly, for three days in March, the DSEI was held in Japan for the first time in four years, with over 250 companies participating, a jump of 50 percent over the previous event.
These pushes for international exposure are aimed at revitalizing the country's defense industry, both through expanding sales of equipment to governments and defense companies overseas, and by strengthening international partnerships through technical cooperation and trade. Against the backdrop of a destabilizing security environment in East Asia, Japan is now endeavoring to fortify its defense industrial base. 
However, Japan's defense industry faces challenges stemming from the country's long-standing pacifist stance and historical aversion to being seen as encouraging international conflict.
In 1967, the Japanese government established the "Three Principles on Arms Exports," assuming a stance that it must avoid encouraging international conflict. A 1976 government statement subsequently led to a de facto total ban on arms exports. 
However, recent instability in East Asia has raised concerns in Japan, especially with regard to China's growing military power and potential threat of invasion of Taiwan, and North Korea's continuing development of nuclear weapons and frequent missile tests. Both the Japanese government and, increasingly, the broader public, are sensitive to the risk of being caught up in these threats. In December 2022, the government announced its plan to increase total defense spending over the next five years to approximately 43 trillion yen ($315 billion), 1.6 times the current level.
Japan has steadily been working to develop self-sufficiency regarding supplies of equipment and ammunition to ensure the country's Self-Defense Forces can maintain operations in the event of a crisis. Replacing previous rules, in 2014 the government introduced the "Three Principles on Transfer of Defense Equipment and Technology," lifting the ban on exports in five specific categories: rescue, transport, warning, surveillance, and minesweeping. 
Almost one decade on, however, export of finished products remains limited to a single 2020 contract between Mitsubishi Electric Corporation and the Philippine Department of National Defense for four units of air surveillance radar, worth approximately $100 million. Clearly, something has been lacking in efforts to promote the strengthening of the defense industry.
The past two decades have seen more than 100 Japanese companies withdraw from the defense sector. This has included not only small- and medium-sized companies but also the defense-related operations of major manufacturers, such as Komatsu's withdrawal from light armored vehicle production and Sumitomo Heavy Industries' withdrawal from machine gun production.
Underlying these withdrawals is the fact that Japanese contractors have essentially been limited to conducting business with the SDF. In sharp contrast to the United States, where the defense sector accounts for around 90 percent of major defense contractors' total sales, in the majority of cases in Japan this figure stands at less than 10 percent. With the vast majority of sales for civilian use, it is difficult to focus resources on defense use, so Japanese contractors lack economies of scale and cost efficiencies. As a consequence, while major U.S. contractors enjoy operating profit margins of 10 percent or more, in Japan they essentially fall below 5 percent.
Another factor has been that, in recent years, at the request of the U.S. government, Japan has procured increasing amounts of equipment from the United States., putting downward pressure on domestic procurement. One Japanese executive said, "We're engaged in the defense business to maintain trust with the government, but it's not attractive as a business." 
The obvious solution to these profitability woes is to increase exports, but that's easier said than done. Japan's long-standing restrictions have hindered the accumulation of effective know-how to compete in the global market.
Behind the defense industry's current predicament lies Japan's enduring postwar remorse for World War II. The country's stance as a pacifist nation has restrained any buildup of defense capabilities. According to a poll conducted this February by NHK, Japan's public broadcaster, those in favor of and opposed to an increase in defense spending were split evenly among respondents at 40 percent each. As for the government's proposal to raise taxes in order to fund increased defense spending, only 23 percent were in favor, while 64 percent were opposed.
As such surveys indicate, many Japanese citizens remain cautious about increasing defense spending despite growing awareness of the military threat posed primarily by China, North Korea, and Russia. Japanese defense contractors understand this somewhat unique situation, and so many choose not to actively publicize their involvement in the defense business. An executive at another defense contractor told me, "Expanding our defense business runs the risk of damaging our company's reputation."
To fortify the defense industrial base, the Japanese government is now considering a relaxation of the operational guidelines of the three principles on defense equipment transfer, and there are ongoing deliberations within the ruling coalition to allow the export to third countries of equipment jointly developed with other countries. There is also the possibility that exports of lethal defense equipment to countries with which Japan cooperates on security issues could be allowed within a defined framework.
Based on these political discussions, an expansion of equipment exports seems likely to accelerate in the future. In addition to cross-border perspectives of security cooperation, including the provision of equipment to other countries experiencing conflict as well as partnerships with other countries on security matters, it is also essential for Japan itself to strengthen its defense industry. However, with many cautious voices heard among expressions of public opinion, it is incumbent on the government to engage in a transparent process of discussion and policymaking and remain firmly accountable to the Japanese public.