North Korea's Punggye-ri Nuclear Test Site Shows Signs of Activity
North Korea tested its weapons in 2006, 2009, and 2013 at Punggye-ri. Is another test in the works?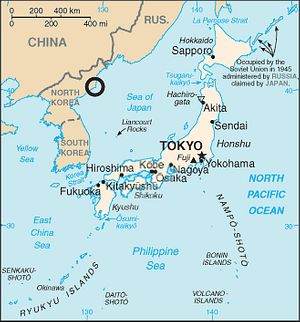 According to reports from South Korea's defense ministry, North Korea could be heading toward the "new form" of nuclear test that it threatened earlier this year. South Korean intelligence has picked up an increase in activity at the Punggye-ri nuclear test site in Kilju County, North Hamgyong Province. Punggye-ri was the host of the 2006, 2009, and 2013 nuclear tests by the North and is likely to be the origin of its next test. Should North Korea test nuclear weapons this year, it would be the first time it has done so in consecutive years.
South Korean Defense Ministry spokesman Kim Min-seok noted that a special taskforce had been set up in the South to react to a potential underground detonation by the North. "We plan to thoroughly prepare for a fourth nuclear test or any other form of provocation," he added. Kim notes that the South Korean Defense Ministry is not ruling out the possibility that Pyongyang might "fake a test" to coincide with U.S. President Barack Obama's arrival in Seoul. Obama's visit to Seoul is part of a four-country Asia tour that also includes Japan, the Philippines, and Malaysia. In Seoul, Obama and President Park Geun-hye will discuss their approach to North Korea.
Kim did not specify what sort of activities in particular the South had observed in North Korea. According to an anonymous South Korea official, North Korea had draped a large screen over the entrance of Punggye-ri to conceal its activities from the prying eyes of Western spy satellites.
Deciding to conduct a nuclear test at this time would not be a straightforward decision for the North. Any potential nuclear test would not only raise the ire of the United States, South Korea, and Japan, but also distance North Korea significantly from China — its only major ally. Beijing has been keen on resuming the multilateral Six Party Talks over North Korea's nuclear program and any nuclear test would be a significant step back on that front. Recently, U.S. and Chinese diplomats met to discuss the conditions under which the talks could resume.
The United States had previously demanded that North Korea demonstrate its sincerity by making an overt policy change with regard to its nuclear program, such as inviting the International Atomic Energy Agency (IAEA) for an inspection. But Washington has recalibrated its position following talks with China. The United States now needs a guarantee from Pyongyang that it would return to the Six Party Talks acknowledging the 2005 joint statement that the United States, South Korea, and North Korea all signed. North Korea, under Kim Jong-il, then "committed to abandoning all nuclear weapons and existing nuclear programs and returning, at an early date, to the Treaty on the Nonproliferation of Nuclear Weapons and to IAEA safeguards." It does not appear likely that Kim Jong-un would be ready to accept that statement anytime soon.
In 2013, North Korea detonated a device that was estimated to be in the 8-12 kiloton range at Punggye-ri. This was roughly twice the yield of the device tested in 2009. It remains to be seen if a future North Korean test would attempt to test a higher-yield weapon yet. Generally, a higher-yield test would be more provocative and result in a significant extension of already-severe international sanctions against the pariah state. In the case of a higher-yield test, Jeffrey Lewis over at 38North speculates that Punggye-ri would be inadequate as a test site. He writes that this raises the possibility that North Korea may be looking to conduct an atmospheric test (a type of nuclear test categorically forbidden by the Comprehensive Nuclear Test Ban and Limited Test Ban treaties). The public opinion ramifications of such a test across the region — including most significantly China — are bound to restrain North Korea.
Currently, North Korea is at a crossroads. The U.S. and the South Korea could be willing to reduce their preconditions for returning to the Six Party Talks, but it remains to be seen if Pyongyang is willing to agree to any conditions at all. On the other hand, if Pyongyang does follow up with its threat to conduct a "new form" of nuclear test, the setback to the Six Party process and regional stability will be massive.