Shinzo Abe's Biggest Enemy: the LDP
Internal party discord shows the narrative of Japan's rightward shift under Abe is not as simple as it might appear.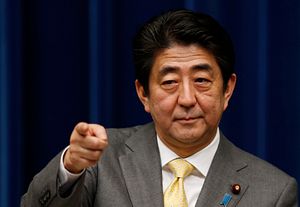 The announcement by Japan's Prime Minister Shinzo Abe that Japan would not revise the 1993 Kono Declaration on comfort women is a relief to those worried that the Abe government would go into full-blown nationalist mode after Abe's visit to Yasukuni Shrine last December. Examining why Abe pledged to honor the Kono Declaration, however, requires examining growing criticism of Abe within his Liberal Democratic Party (LDP), hinting at a divide between his administration and the ruling LDP-New Komeito coalition. Abe may be on far thinner political ice than he suspects, and he may face serious problems managing his own party should he fail to manage tensions in an upcoming cabinet reshuffle seen as long overdue.
LDP Pushback on Gaffes
On February 19, the Japanese press reported that Eto Seiichi, a prominent advisor to Abe, had posted a YouTube video accusing the United States of kowtowing to China in expressing its "disappointment" in Abe's visit to Yasukuni Shrine. The press promptly jumped on the story, forcing Chief Cabinet Secretary Suga Yoshihide to demand that Eto withdraw his comments, while publicly denying that Eto's statements reflected official Japanese opinion. But given the silence over recent controversial statements delivered by Abe's appointees to the NHK's Board of Directors over comfort women and the Nanjing Massacre, the incident might have simply been forgotten.
The next day, however, former Chief Cabinet Secretary Machimura Nobutaka, head of the LDP's influential Machimura Faction, openly criticized Eto's comments, remarking that they created "a hundred problems and not a single benefit." He went further and commented that the crisis could hurt the government, inviting the question: "What kind of prime minister appoints these sorts of people?"
Machimura didn't criticize Abe directly, but his frustration with the prime minister's appointees – which had endangered not just relations with Japan's neighbors, but with the United States itself – was clear to anyone who listened.
How LDP members will view Minister of Interior Affairs Shindo Yoshitaka's visit to Yasukuni Shrine on April 12 remains an open question, although the fact that Shindo's grandfather commanded Japanese defenses at Iwo Jima during World War II illustrates the complexity of the Yasukuni Shrine for many Japanese legislators, as opposed to Eto's criticisms of the United States, which drew rapid condemnation.
Open Discord on Collective Self-Defense
The Executive Council (somukai) is the highest decision-making organ in the Liberal Democratic Party, and was once feared as the greatest test a piece of legislation would face. Recently, however, the Abe government has been accused of taking a "government high, party low" approach to the legislative process, sidelining the LDP. Frustration is not limited to the LDP: Its coalition partner, the New Komeito, has seen its influence severely tested over controversial proposals on collective self-defense.
When Abe declared that he "was ultimately responsible" on matters of reinterpreting the Constitution, a key step in allowing Japan to engage in collective self-defense, LDP lawmakers saw this as another example of Abe taking the LDP less seriously than he should. An LDP Executive Council meeting on February 21 saw veteran lawmakers openly question Abe's intent to take a Cabinet decision on the constitutional issue of collective self-defense without thoroughly consulting the party first. This, combined with longstanding concerns over the merits of allowing Japan to engage in collective self-defense, led Executive Council Chairwoman Seiko Noda to announce that a "consultative meeting" of the Executive Council would be held on March 17 on the issue.
This was an extraordinary step that underscores how divisive collective self-defense remains within the LDP; a "consultative meeting" of the LDP's Executive Council has not been convened since the debate over postal privatization during the Koizumi administration – nine years ago. That debate ultimately led the party to fracture, with several LDP members, including Noda, leaving the party.
The New Komeito and other grey eminences of the LDP have called on the government to engage in thorough discussions with the ruling coalition on collective self-defense, among them former Prime Minister Yasuhiro Nakasone in an op-ed published in the Sankei Shimbun, calling for the government to clearly explain to the ruling parties and the Japanese people why Japan needs to engage in collective self-defense and under what conditions Japan would do so. Other elder statesmen of the LDP have not given Abe the benefit of the doubt; retired LDP Secretary-General Koga Makoto, called the prime minister's plans to reinterpret the Constitution "the thinking of a foolish child."
The divisiveness of the collective self-defense issue can also be seen through the plethora of "study sessions" within the LDP. The Kishida Faction of the LDP, known for its dovish bent within the LDP and represented by Foreign Minister Fumio Kishida and Defense Minister Mitsunori Onodera, has announced it will hold a study session on collective self-defense. Meanwhile, each of the LDP's three senior leaders – the Secretary-General, the Executive Council Chairperson, and the Policy Affairs Research Council Chairperson – have announced that they will also hold study sessions on the subject, an unusual display of disunity among LDP leaders.
The depth of disagreement was such that the consultative meeting of the LDP Executive Council on March 17 settled nothing. In the face of this criticism, Abe was left mulling postponing any decision on collective self-defense until after the current Diet session ends in June, while establishing a forum within the LDP to discuss collective self-defense and directing LDP leaders to unite LDP opinion before entering into negotiations with the New Komeito. This hardly suggests that Abe has free reign on issues of foreign policy.
In more recent days, the prime minister has managed to mollify many of his colleagues. LDP legislators are increasingly accepting new arguments made by Abe and senior officials limiting Japan's ability to engage in collective self-defense to the immediate vicinity of Japan, providing only the minimum leeway necessary for Japan's defense as demanded by Article 9 of the Japanese Constitution. Former LDP Secretary-General Koga, who had dismissed Abe's proposals as "foolish" in March, has indicated that he would accept these constraints, as have members of the LDP's Kishida Faction.
Despite this, however, concern remains within the LDP that these limits to Japan's exercise of collective self-defense could erode over time, to say nothing of how a decision on collective self-defense could negatively affect relations with China and South Korea. In light of this, roughly twenty members of the LDP – including party heavyweights such as former LDP Vice-President Oshima Tadamori and former Minister of Finance Nukaga Seishiro – have indicated they plan to revive the Asian-African Affairs Research Group, which had consistently pushed for friendly relations with Asian countries since its inception in 1965.
The Asian-African Affairs Research Group had ceased operations after its two leaders, Motegi Toshimitsu and Kishida Fumio, were given Cabinet posts within the Abe government. The fact that the group is restarting operations while both men remain Cabinet ministers has left the Japanese press speculating that the LDP's doves are regrouping and attempting to secure political leverage ahead of a planned Cabinet reshuffle this summer. Although the group's membership is much reduced from its peak strength of more than 100 legislators, it remains to be seen whether the Abe administration will be able to fully satisfy LDP members who remain skeptical about his government's defense policies.
The Kono Declaration and Abe's Volt-Face 
On February 28, Chief Cabinet Secretary Suga Yoshihide announced that the Japanese government would begin privately re-examining the process behind the creation of the 1993 Kono Declaration on comfort women.
The announcement was met with predictable anger, with South Korea President Park Geun-hye asserting that relations between Japan and South Korea would worsen if Japan revised the Kono Declaration, stating that "leaders who cannot recognize mistakes will be unable to open the door to a new future." This new low in Japan-South Korea relations set the U.S. racing to try to repair relations, even as the Democratic chair of the Senate Foreign Relations Committee's East Asia subcommittee increasingly faulted Japan for compromising the relationship and as former Deputy Secretary of State Richard Armitage stated that "Japan cannot win this [comfort women] argument."
But this news was greeted with joy in some quarters – namely, among Japan's nationalists, viewed as a political support base for Abe. In response to Suga's announcement, the Japan Restoration Party held a rally calling on the government to revise the Kono Declaration, where Japan Restoration Party lawmakers called the comfort women "a complete and total lie."  It's important to note that even though cooperation with the Japan Restoration Party is politically toxic after Toru Hashimoto's statements on comfort women last year, the Japan Restoration Party matters: it has the seats to potentially replace the New Komeito as the LDP's coalition partner, giving Abe important leverage in discussions with the New Komeito.
So what does Abe's decision to uphold the Kono Declaration mean, in this context? It means that not only has he completely ruled out cooperation with the Japan Restoration Party, consigning himself to messy coalition politics with the New Komeito, but that he has also alienated one of his most prominent political bases after having stoked their hopes with his visit to Yasukuni Shrine. It is a choice that imposes large domestic costs for Abe for as-yet uncertain gains: despite hopeful steps towards Japan-South Korea rapprochement, it remains to be seen whether Japan and South Korea will reach any agreement at high-level diplomatic talks on comfort women on April 16, even as Japan, South Korea, and the United States are set to hold trilateral defense talks on April 17-18 after an initial trilateral summit at the Nuclear Security Summit in March.
If Abe is really as nationalist as this WikiLeaks cable makes him out to be – a "true believer" in the comfort women denial cause – then he has zero interest in upholding the Kono Declaration. So why the about-face? U.S. pressure could have played a role, especially if Washington could promise that it could bring South Korea to the diplomatic table – but as evidenced by the restrained U.S. response to Yasukuni Shrine, the U.S. has difficulty strongly criticizing Japan at a time when the two countries are working closely on revising U.S.-Japan Defense Guidelines. Given how we already see elements of the LDP showing unease about Abe's leadership in managing the U.S. alliance, an attempt to head off internal pressure within the LDP over Abe's handling of foreign policy may also have had something to do with it, combined with a carrot-and-stick approach from the United States.
Forestalling a Revolt: Cabinet Reshuffle
On top of all of these pressures, Abe has yet to reshuffle his cabinet, leaving more than forty LDP veterans waiting for their turn in the cabinet. Personal ambition – or at least, frustration over going unrewarded for "doing one's time" – is beginning to build within the LDP, though nobody has shown House of Cards levels of dissatisfaction. When these ambitions are combined with growing frustration with the Abe government over political appointees, policymaking, and collective self-defense, the fault lines are emerging in the foundation of Abe's government – his own party.
In an effort to keep the LDP united, Abe has announced that he will reshuffle his Cabinet in the summer, after the current Diet session ends in June. But each Cabinet minister replaced returns the former minister to the party's benches – whose faction leaders may or may not appreciate having their influence reduced in Japan's chief executive, and might even act against the government if they are sufficiently piqued. Such internal rebellions are nothing new in Japanese politics, having played a quiet but powerful role in the revolving door of prime ministers over the past decade in both the LDP and DPJ administrations.
If Abe does not carefully manage the upcoming Cabinet reshuffle and tend to the demands of LDP legislators on party and policy issues, he could quickly find the LDP is even more uncooperative or, in a worst-case scenario, outright hostile – especially if his economic policies fails to deliver economic growth or steady inflation in the wake of the April 1 tax increase. Recent weeks should have been a wake-up call for the prime minister – and an enlightening experience for Asia specialists who are wont to believe that Japan's "rightward shift" dominates Japanese political discourse, especially in light of an emasculated and divided official opposition.
Abe's honeymoon period is officially over in Japan – and in the absence of obvious political enemies, he may want to keep his friends very close indeed.
Shunsuke Hirose is a Master of International Affairs candidate at Columbia University's School of International and Public Affairs (SIPA).