China, Russia Fail to Close Gas Deal
Hopes that China and Russia would finish decade-long negotiations on a natural gas deal proved premature.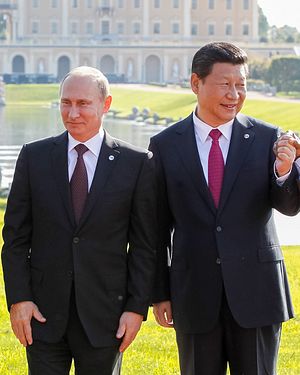 The long-awaited meeting between Chinese President Xi Jinping and Russian President Vladimir Putin came and went without agreement on a massive natural gas deal that reportedly would have seen Gazprom supply China with 38 million cubic meters of natural gas each year.
Both sides remain optimistic that the 30-year, $400 billion deal will be finalized in due time. Putin said he was pleased to hear that "the two sides have made significant progress in the price negotiation of the east-route of the natural gas project." He also expressed Russia's hope for closing the deal at an early date. A joint statement between China and Russia promised to deepen their bilateral energy cooperation, including what Xinhua called a promise to "kick-start Russia's supply of natural gas to China as soon as possible."
However, given widespread expectations that the deal would be signed during Putin's visit to China this week, talk of "significant progress" in negotiations comes as a let-down. "We are just one digit away," Gazprom CEO Alexey Miller had said late last week before heading to China to continue negotiations. Apparently that one digit was a larger hurdle than Miller had expected. The price point of the natural gas has been the main hang-up in talks, with many assuming that China is playing hardball on price as it senses increasing desperation in Moscow to reduce reliance on the West.
Despite indications last week from China Daily that the final price would be "close to Russia's demands," it seems Beijing and Moscow are still far away on this issue. Reuters, citing sources at Gazprom, reports that the current hang-up involves a Gazprom request for China to pay $25 billion in advance to secure the deal, even though the flow of natural gas is not expected to begin until 2018.
Putin's spokesman, Dmitry Peskov, tried to hold out hope that the deal could still be reached during the remainder of Putin's stay. "Talks are going on today, it can happen absolutely any moment," he told reporters. But the failure to reach a deal in time for the summit meeting between Xi and Putin reveals that even a sense of urgency wasn't enough to bridge the price gap between China and Russia. When asked at a press conference when a deal should be expected, Foreign Ministry spokesman Hong Lei would only say that the two sides were intensifying negotiations and that he hoped a deal could be reached as soon as possible. He did not comment on the reporter's speculation that the deal had "failed."
Despite the hang-up on the natural gas deal, which has been under negotiation for a decade, China and Russia promised to expand their cooperation in other areas. Xi and Putin both agreed that the two countries should increase their military ties, with Xi identifying joint drills and training as well as anti-terrorism as potential areas for cooperation. They also "agreed to hold activities aimed at safeguarding the achievements of World War II and the post-war order," a promise that seem designed to hold Japan in check. China and Russia held a joint naval drill in the East China Sea during Putin's visit.
China and Russia also discussed the on-going crisis in Ukraine, with both sides expressing "grave concern" over the situation. Putin and Xi called on all sides "to exercise restraint, avoid escalating the conflict and seek a peaceful and political settlement for the current problems." Russia also gained a commitment from China to "reject unilateral sanctions rhetoric" at a time when Russia faces sanctions from the U.S. and European nations over Moscow's annexation of Crimea.