Xi Jinping, Vladimir Putin Meet Ahead of SCO Summit
Ahead of the SCO summit, Xi and Putin discussed energy ties, the Ukraine crisis, and regional affairs.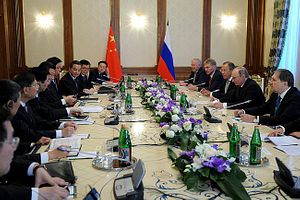 On Thursday, Chinese President Xi Jinping arrived in Tajikistan for the Shanghai Cooperation Organization (SCO) summit, a regional multilateral gathering that includes leaders from China, Russia, Kazakhstan, Kyrgyzstan, Tajikistan, and Uzbekistan. Before the summit proper began, Xi met with his Russian counterpart, Vladimir Putin, for bilateral talks.
The meeting in Dushanbe was the fourth between Xi and Putin so far this year, and the ninth since Xi took office in 2013. Xinhua pointed to the frequency of these meetings as proof of "the high level and distinctiveness of China-Russia relations." Close ties between Xi and Putin in particular has raised speculation that China and Russia might be moving toward an alliance. The two countries have promoted their bilateral relationship to a "comprehensive strategic partnership," and hope to work together to create a "more just" (i.e., less Western-dominated) international order.
In their meeting on Thursday, both Xi and Putin stressed China-Russia energy cooperation. In May, the two countries signed a massive natural gas deal after a decade of negotiations. Part of that deal involved the construction of the China-Russia East Route pipeline from eastern Siberia to China, a task that began on September 1. Xi thanked Putin for his personal attendance at the ground-breaking ceremony for the East Route natural gas pipeline and expressed hope for quick progress on a corresponding West Route natural gas pipeline. Putin and Xi agreed that the two countries will continue to work together on major energy cooperation projects — fulfilling China's growing energy needs and offering Russia an alternative market as Europe continues to sanction Russia over the Ukraine crisis.
Speaking of the Ukraine crisis, it was a major subject of discussion in the Xi-Putin meeting, according to Xinhua. Putin said that Russia "attaches importance to and appreciates China's stances and proposals on the Ukraine issue." He said that Russia was willing to continue to communicate with China over the situation in Ukraine. Xi, meanwhile, repeated China's call for a political solution, calling for Ukraine "to launch inclusive dialogues at an early date."
Putin also suggested that China and Russia should "enhance coordination on international and regional affairs." For one example, China and Russia agreed to "vigorously enhance" cooperation among SCO members, a necessary step if the organization is to become a major player in regional security as envisioned by Xi Jinping. Russia, as the host of next year's SCO summit, will have a major role in spearheading new initiatives over the next year. Promoting the SCO fits China and Russia's shared goal of creating an Asian security architecture independent of the United States and its allies.
In addition to their bilateral meeting, Xi and Putin participated in trilateral talks with Mongolia's president, Tsakhiagiin Elbegdorj. Elbegdorj proposed the idea of a trilateral summit during an August meeting with Xi Jinping, who welcomed the suggestion. At the meeting, Putin suggested making the trilateral summit into a regular occurrence, noting that it is "important, feasible and useful to establish a regular dialogue" between these three countries. Energy cooperation is a major point of emphasis for this trilateral relationship; Mongolia, like Russia, is rich in natural resources that China needs.
Putin also confirmed that both China and Mongolia's leaders were invited to Moscow to mark the 70th anniversary of World War II, known as the "Great Patriotic War" in Russia. The idea of a China-Russia joint commemoration of the war is likely to cause some worry in Japan, where leaders hold out hope for a revitalized relationship with Moscow.