Philippines, Vietnam Reject Xi's Warning Against Military Alliances
Vietnam and the Philippines are growing closer together over Beijing's claims and provocations.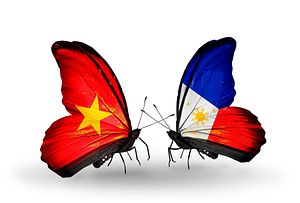 "To beef up military alliances targeted at a third party is not conducive to maintaining common security in the region," Xi Jingping said at Shanghai's CICA, a veiled reference to military alliances forming to stop China's expansion in the South China Sea. But Vietnam and the Philippines were not listening; Vietnam's Prime Minister Nguyen Tan Dung stated in Manila on Wednesday that both his country and the Philippines "are determined to oppose China's violations," with a view to strengthening diplomatic and defense ties to keep China at bay.
With other diplomatic endeavors falling flat and China's seemingly perpetual stranglehold over the Association of South East Asian Nations (ASEAN), Vietnam and the Philippines have few options left in curbing China's expansion. However, considering China's constant spats with many of its neighbors and endless claims to territory, this could be a novel way to combat China's expansion.
Xi may have been riding a wave of resentment from the violent clashes in Vietnam last week (sparked by China drilling in contested waters) that led to the exodus of 3,000 Chinese nationals. But Vietnam and the Philippines appear unmoved by Beijing's condemnations and threats and are growing closer over Beijing's claims and provocations. Carl Thayer, from the Australian Defense Force Academy, told Reuters that this strategic partnership is altogether new: "It's unprecedented for Vietnam to join a U.S. ally and appeal directly for international support."
This strange show of diplomatic camaraderie against a common adversary is indeed rare, but, frankly, China has left them little choice. As The Diplomat pointed out yesterday, Vietnam and the Philippines can not look for help directly from the ASEAN, as some of the nations involved do not have pressing territorial problems with China, and the Middle Kingdom's righteous indignation is a force to be feared indeed. But, despite claimant nations being shouted down at the ASEAN and passed over at CICA, they can still give Beijing headaches by working together.
Though Vietnam and the Philippines have been, by far, the most vocal concerning China's claims in the South China Sea, it is not unlikely to expect a few other nations may want additional protection — both militarily and diplomatically — from China. President Benigno Aquino said, "I believe that continued cooperation with Vietnam as well as other members of ASEAN in defense and security will only contribute to promoting regional stability. It is not an overstatement when I say that I look forward to increased collaboration between our respective defense agencies."
China, however, rejects this view, claiming that further cooperation between Southeast Asian nations to counter China's claims would be harmful to regional security.
Diplomatically, China has no trouble condemning, dismissing, and lambasting criticism on all sides by every nation in Southeast Asia, but accomplishments within the ASEAN sphere are not the only option for the many nations annoyed by China's increased aggression. In the realm of public opinion — considering the only items China has in its diplomatic tool kit are a hammer and ear plugs — claimants can make ground and lose little by banding together on these disputes.
Currently, all parties are talking peace, and there's no reason to think that should change, but there are knock-on effects to ratcheting up tensions, not the least of which is the economy. Dung said on Thursday, "The risk of conflict will disrupt these huge flows of goods, and have unforeseeable impact on regional and world economies. It may even reverse the trend of global economic recovery."
Amid Xi's warning at CICA — which was made in front of a number of claimant nations, including Vietnamese Vice President Nguyen Thi Doan and representatives from the Philippines and Japan — the Philippines and Vietnam have managed to become odd bedfellows in the diplomatic mêlée to keep China out of the South China Sea. If their gambit has a positive effect, others may want to follow suit.