First Xi-Modi Meeting Sets Tone for China-India Relations
The first meeting between Xi Jinping and Narendra Modi continued to positive momentum in China-India relations.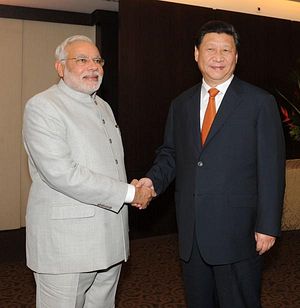 Before the opening of the BRICS summit in Fortaleza, Brazil, Chinese President Xi Jinping and Indian Prime Minister Narendra Modi held their first meeting since Modi assumed office earlier this year. China has rolled out the diplomatic red carpet ever since Modi was elected, hoping that China-India relations can enter a new phase under the Bharatiya Janata Party. Modi described the talks as "very fruitful" in a tweet after the meeting.
Tellingly, the two leaders' first meetings were with each other, in talks held only a few hours after each man arrived in Fortaleza. Indian Ministry of External Affairs spokesperson Shri Syed Akbaruddin pointed to this as a sign of the importance attached to the meeting. Akbaruddin also said that the meeting had gone "well beyond" the schedule time of 30 to 40 minutes, lasting around 80 minutes. He described the meeting as "very cordial, very warm, [and] based on personal rapport."
The talks between Modi and Xi touched on many of the same issues that were under discussion when Chinese Foreign Minister Wang Yi visited India in June. During that trip, Wang spoke broadly of a closer China-India partnership that could "contribute to the national resurrection" of both countries. Xi kept up this theme, telling Modi that "China and India are long-lasting strategic and cooperative partners, rather than rivals," according to Xinhua. Xi noted that both countries are chasing the dream of "national rejuvenation," and he argued that working together will be the fastest way for both to achieve their goals. China and India could have more influence combined than they currently have separately, Xi said: "If the two countries speak in one voice, the whole world will attentively listen."
In terms of specifics, however, the focus remains largely on economic cooperation. In particular, both countries are keen to push forward what Xinhua called "exemplary projects" in industry and infrastructure. India and China are aiming to establish special industrial parks to encourage Chinese investment within India. Modi will also likely welcome Chinese investment in India's railways, which desperately need upgrading. Concerns remain in India about the growing trade deficit between the two countries, a problem Xi acknowledged and pledged to pay attention to. Modi has suggested increased Chinese investment within India as one way of combating the trade deficit.
The major political issue between China and India remains the on-going border disputes. Xi and Modi agreed that peace along the border is essential for both parties. There were also vague promises to solve the issue. An Indian official told Livemint that Modi and Xi had pledged to resolve the border dispute, and Xinhua said that Xi called for "negotiated solutions to the border issues… at an early date." Until then, both countries agreed to work together to ensure "peace and tranquility" in the border regions. Modi told Xi that solving the border dispute would set an example for the world on peacefully settling disputes — a bit of positive diplomatic PR that China could use to its advantage in the ongoing maritime disputes in the South and East China Seas.
While this was Xi and Modi's first meeting together, another two are already in the works. Xi is scheduled to visit India in September, while Modi was officially invited to attend the APEC summit to be held in Beijing this November. If Modi attends, it will not only be his first visit to China as prime minister — it will also mark the first time India has participated in an APEC summit. India has long sought to join APEC, and thus China's invitation is an important diplomatic signal from Beijing. Xi also invited India to increase its participation in the Shanghai Cooperation Organization, where India is currently an observer.  That may indicate that India will be invited to become a full-fledged member of the SCO in the near future.