Is a Silent India the Best India?
India's policy of non-interference will continue to serve it well in today's volatile international climate.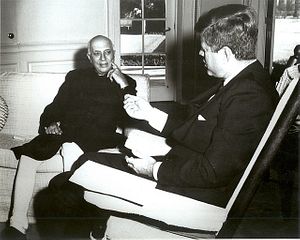 These are turbulent times for the world, at least based on this month's events in Ukraine, Iraq, and Israel. For India's recently elected Prime Minister Narendra Modi, these crises can only be an added headache. With fervent lobbying from both key strategic allies Israel and Russia, India is now seeking to use Switzerland's methods of international relations, where neutrality supposedly leads to better relations among all global powers. It would be hard to see India hosting diplomatic summits to resolve these issues among nations, but we can expect a particularly pronounced silence on these international affairs, to encompass New Delhi and any Indian with a significant political position.
A quick glance at history can tell you that India's foreign policy strategy has changed little since it gained independence in 1947. Save for the Indo-Pakistani conflicts during the Cold War, which garnered Soviet support for India and U.S. support for Pakistan, there hasn't been much need for India to be vocal on the global stage. Despite a plethora of international conflicts to choose from, what we have continued to see in India's upper political echelon is an unwillingness to play a role as the world's largest democracy in the most hostile areas in the world.
As a principle founder of the Non-Aligned Movement, former Prime Minister Jawaharlal Nehru's foreign policy doctrine still seems to hold sway over India's current policies, even fifty years after his death. The Non-Aligned Movement, which has seen its fair share of international conflict, represents India's interpretation of international relations.
True, this lofty goal of creating a political atmosphere that allows nations to reap the rewards of forming economic partnerships and avoid the responsibility of supporting those economic partners in other affairs is becoming something of a gimmick. But it is difficult to find alternative policies in either the Bhartiya Janata Party or the Indian National Congress. Every Indian administration, from Prime Minister P.V Narasimha Rao to Prime Minister Manmohan Singh, seems to agree that keeping quiet as the rest of the world makes noise is the best foreign policy approach for India.
This knack for not making headlines condemning diplomatically sensitive issues, from the Syrian Civil War to the Iranian nuclear program, has kept unnecessary attention away from India. It has also allowed Indians to focus on domestic crises, even if it has not always pleased the West.
Using just the conflicts in Ukraine, Iraq, and Israel, we can see this phenomenon in play. Russia and Israel, which encompass two of those issues, are India's most important partners when it comes to defense, combined accounting for more than 75 percent of India's military purchases. It becomes hard to condemn the nations that supply your military hardware. Even supporting these allies has its drawbacks however, as much of the West has become frustrated with the actions of Israel and Russia.
As for Iraq and the fall of Saddam Hussein, with whose regime India had a surprisingly warm relationship, it could have been an opportunity for India to cement itself as a guardian of sorts in the Middle East. Instead, we have seen almost no discussion of the rampant and growing threat of the Islamic State of Iraq and the Levant (ISIL) beyond Iraq's borders, an issue that should be of great concern to Ajit Kumar Doval, Modi's national security advisor, especially if ISIL manages to expedite its influence in neighboring Middle Eastern nations where India has worked hard to maintain extensive diplomatic and economic ties to counteract Pakistan's influence in the area.
Perhaps this type of mindset is not sustainable in the contemporary international community: being non-aligned can alienate strategic partnerships in the key areas of defense, trade, and collaboration. Yet for India, this strategy has worked brilliantly when it comes to maintaining steady relationships and avoiding making new enemies. Outside of Pakistan and China, it is difficult to find world powers that have a rocky relationship with India. As much as it may bother the rest of the world, Modi's strategy in this situation is not to speak up, but to sit and quietly circumvent the potential for costly, added responsibility that comes when you choose sides in contemporary global controversies.
Arman Sidhu is studying Computer Information Systems & Global Politics at Arizona State University. He is a former Reagan Fellow at the Goldwater Institute, a public policy think-tank, and was a researcher at the Center for Law & Global Affairs at ASU.