Here's What India Thinks About Russian Air Strikes in Syria
"The Indian position is that Russian military involvement in Syria is to halt the advances of the Islamic State."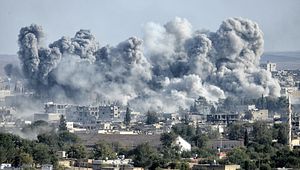 Speaking in Jordan, where the Indian president, Pranab Mukherjee, is currently on a state visit, a senior Indian external affairs ministry official clarified India's stance on Russia's recent military intervention in the Syrian civil war. Though the official noted that India continued to support the Geneva I peace process toward a political solution in the Syrian conflict, he noted that "The Indian position is that Russian military involvement in Syria is to halt the advances of the Islamic State." He also noted that "There's no military solution to the Syrian crisis. The long-term solution should be political."
The Russian air force began air strikes in Syria early last week with the justification that it was fighting the Islamic State. Open-source intelligence analysts and Western officials have criticized Russia for instead striking the non-Islamic State regime opposition in Syria to buttress the position of the government of Bashar al-Assad and effectively render the Syrian conflict a two-party struggle between Assad and the Islamic State.
As Kabir Taneja recently wrote in The Diplomat, "India's stance on the Syrian crisis has been subtle yet expected." In fact, nothing about the Indian statement should be surprising. New Delhi noted as early as 2013 that "There can be no military solution to this conflict." Though observers in the west may be disappointed to see New Delhi's acceptance of Russia's line on the air strikes in Syria, this too is unsurprising. Owing to a strong historical relationship and continued bilateral closeness, India has been hesitant to strongly criticize Russia over actions that have been met with exasperation and anger from the West. When Russia annexed Crimea in early 2014, New Delhi noted that "there are legitimate Russian and other interests involved" there. Russia, for its part, called for India's inclusion in the Geneva process on Syria, which New Delhi accepted.
The Indian position on Russia's air strikes is remarkably similar to China's. Though the Chinese government was closed for the Golden Week holiday as Russia began its strikes–thereby delaying the release of an official response–Chinese Foreign Ministry Spokesperson Hua Chunying noted the following when asked about China's position on the Russian strikes:
We have noted that the relevant military action, as the Russian side put it, is taken at the request of the Syrian government with the purpose of combating terrorist and extremist forces inside Syria.

The protracted Syrian issue has led to the rapid spread of terrorist and extremist forces in Syria and made the humanitarian crisis there worse. The Chinese side, in support of the international counter-terrorism efforts, hopes to see all relevant parties work as one through enhanced communication and coordination.
The subtlety that sets apart the Chinese answer from the Indian one is that China emphasizes that the action was taken at the invitation of the Assad government, making the Russian intervention somewhat legitimate. China generally opposes all forms of intervention and interference in the affairs of other countries as part of its foreign policy, stemming back to the Mao-era "Five Principles of Peaceful Co-exsitence" (which, truth be told, have fallen out of vogue in Chinese foreign policy somewhat these days). The Indian position makes no mention of the Assad regime, instead taking the Russian's assertion about their intervention in Syria at face value.
For the moment, India's approach to the Syrian crisis remains unchanged, despite the commencement of Russian military operations in the country.