Reports: 5 Tibetans Dead After Police Fire on Protestors
Tibetan rights groups say five men died in police custody after a protest in Garze, Sichuan.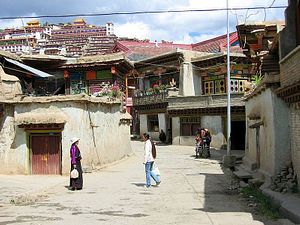 Tibet's government-in-exile and Tibetan rights groups are reporting that five Tibetans died in police custody following a protest last week. According to reports, police opened fire on a group of unarmed protestors in Garze Tibetan Autonomous Prefecture, located in western Sichuan province. The protests were in response to the arrest of a local leader who has since been charged with embezzlement. Police allegedly used tear gas on the crowd as well as shooting at protestors. However, the International Campaign for Tibet said the shots fired were likely not live ammunition, but "some form of anti-riot projectiles."
Still, dozens were reportedly injured by police actions during the protests, and both ICT and Radio Free Asia reported that the wounded were being denied medical treatment. The five deaths, according to the Tibetan government in exile, occurred while the men were in police custody, having been detained after taking part in last week's protest. Four died of untreated wounds, while the fifth reportedly committed suicide while in detention. According to RFA, the suicide came after torture from the police force.
Reports of the recent bloodshed in Garze have not been confirmed by Chinese officials or the state-run media. They have also not been independently verified by foreign reporters, who are often denied access to sensitive regions.
Much of the recent unrest involving ethnic Tibetans has taken place outside of Tibet proper. For example, many of the over 100 Tibetans who have self-immolated since 2009 did so in Tibetan majority regions in other provinces, such as Sichuan. According to ICT, ethnic Tibetans in Garze have a particularly strong sense of ethnic identity. As Professor Barry Sautman of Hong Kong University of Science and Technology told the South China Morning Post, "In the Tibet autonomous region, there's nowhere near the level of manifested discontent as there is in Garze."
While China's crackdown on terrorism in Xinjiang has put the Uyghur minority in the headlines, problems persist in Tibet. As minority rights advocate Wang Lixiong (husband of Tibetan author Woeser) told the New York Review of Books* in a recent interview, many were hopeful that Xi Jinping would be willing to alter Beijing's policies towards minorities, including Tibet. Instead, Wang said, there has been "no change at all. In fact, it's even harder."
Some Tibetans, like Uyghurs, say that Beijing's repressive policies toward minorities and their cultures (including religious practices) has caused the current levels of discontent. Woeser, in the ChinaFile interview, also cited massive state-sponsored Han migration to minority areas as a major cause of concern for Tibetans and Uyghurs alike.
* A previous version of this piece cited ChinaFile as the source for this interview, which was originally published by NYRB.