Yasukuni May Be Out, But Does a Meeting With Abe Help Xi?
Even if Abe doesn't visit, Xi will have to decide how much a summit will cost him at home.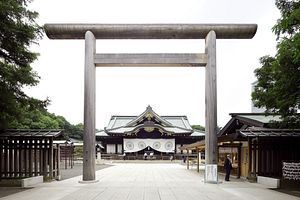 The Jiji Press reported on Monday that "informed sources" told the publication that Prime Minister Shinzo Abe will not be revisiting the controversial Yasukuni Shrine this Friday, to commemorate the 69th anniversary of Japan's defeat in the Second World War. Abe's visit to the shrine last December, where 14 Class-A Japanese war criminals are interred, produced an immediate and visceral reaction across the region (with even the U.S. expressing "disappointment"), particularly among those nations Japan had formerly subjugated. Even if Abe does not visit, it will be important to monitor which (if any) of his Cabinet members or senior LDP officials visit the shrine.
The sources also indicated that Abe will refrain from visiting the shrine in the hope that a meeting with Chinese President Xi Jinping at the Asia-Pacific Economic Forum (APEC) summit in November will happen. Indeed, China has made it known through several channels that Abe would have to abstain from going to the shrine again, while recognizing that there is a territorial dispute over the Senkaku/Diaoyu Islands.
Yasukuni Shrine is a lightning rod for controversy, given its strong association with Japanese nationalism. It was founded during the Meiji Restoration by the then emperor, and has been a memorial to Japanese war dead (now numbering almost 2.5 million) since it was opened. Aside from Class-A war criminals, it has memorialized 1,054 Class-B and Class-C war criminals since 1978. Shrine officials on Monday, in response to written requests, have said that the removal of any remains is impossible, "Once-enshrined deities can't be removed." The officials also said that Japan's engagement in previous wars was for "self-existence and self-defense."
Abe's statements over the last few weeks, combined with both formal and informal visits and requests between Japanese and Chinese officials, show that he in all likelihood will not visit on Friday. However, that may not be enough to appease China, and particularly Xi Jinping, who likely see no real benefit in handing Abe a diplomatic victory without something substantial in return. Visits to Yasukuni by other Japanese officials, especially Cabinet members, will also hurt Abe's chances of a meeting. Shrine officials have said they welcome such visits, and the Japan Times reported that some Cabinet members, in particular National Public Safety Commission Chairman Keiji Furuya, are planning on commemorating the anniversary at Yasukuni.
As for China's other stipulation to a bilateral meeting, that Japan recognize that there is a dispute over sovereignty with the Senkaku/Diaoyu, it is highly unlikely that Abe will make any concessions. Japan insists the islands are an inherent part of its territory. If Abe can keep most of his Cabinet away from Yasukuni on Friday, and also keep them from making inflammatory nationalist speeches, there may be room to negotiate a meeting. The final answer will rest on Xi's calculus of the domestic cost of meeting with Abe, compared to the possible benefits – both economically and in terms of regional stability.