China Running out of Room in 'Luxury Prisons' for Corrupt Officials
Special prisons for high-ranking Party officials are filling up fast thanks to Xi's anti-corruption crackdown.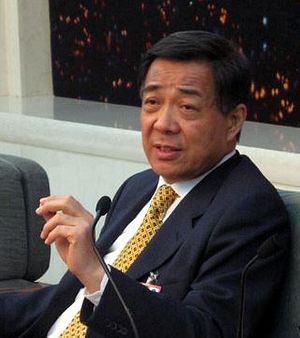 Xi Jinping's anti-corruption drive is world-famous by this time. Under Xi's policy of targeting both "tigers and flies," high-ranking officials have been targeted alongside low-grade bureaucrats. And the take-down of high-ranking Party members is apparently causing a shortage of room in the "luxury prisons" where top officials are traditionally imprisoned.
Earlier this year, former Politburo Standing Committee member Zhou Yongkang became the highest-ranking Chinese politician to ever be officially placed under investigation for corruption. Zhou may be the biggest name to become ensnared, but he's far from the only elite politician to be brought down by Xi's anti-corruption drive. All told, nearly 40 officials at the vice-ministerial level or higher have been placed under investigation since Xi assumed control of the Party in 2012. But such high-ranking officials are not simply thrown into prison alongside average criminals. Instead, they are housed at so-called "luxury prisons" — and these posh cells are filling up quickly.
The most famous such prison is Qincheng, located in the Changping district of Beijing. Unlike other prisons, Qincheng is not part of China's judiciary system, but is under the direct control of the Ministry of Public Security. This prison, built in the late 1950s, has historically served as the main prison for China's high-ranking officials — from the "Gang of Four" held responsible for China's Cultural Revolution to officials imprisoned after the Tiananmen protests of 1989.
Today, Qincheng's inmates include a who's who list of toppled Chinese politicians: Bo Xilai and his former police chief Wang Lijun, former railroad tsar Liu Zhijun, and former deputy public security minister Li Jizhou. And that's not including any of the officials placed under investigation under Xi Jinping. Once shuanggui or intra-Party investigation is over and officials' cases are turned over to the police, many of them will be transferred to Qincheng. Those who are sentenced to prison terms will likely call the prison their home for the duration of their sentence.
According to those who have spent time within Qincheng, it's a far cry from most prisons. One former inmate, Bao Tong, told South China Morning Post that Qincheng was "like a five-star hotel." The rooms are around 20 square meters in size, and include a private bathroom, a comfortable bed, a sofa, and a desk. Even the food is rumored to be prepared by top-notch chefs, and prisoners are regularly allowed to receive gifts of food and clothing from relatives on the outside. Former inmates also note that prisoners are often released early on the pretext of "medical parole."
Despite the amenities, Qincheng's inmates won't be able to forget they are, in fact, in prison. According to former prisoners, all inmates are under constant monitoring. This may in part be due to concerns that imprisoned officials will commit suicide — some reports indicate that the cells have been specifically designed to prevent suicide attempts.
High-ranking Chinese officials have long been given special treatment even in their prison cells. But now, thanks to the influx of officials detained in Xi Jinping's anti-corruption drive, Qincheng appears to be running out of room. There have already been attempts to increase the number of suitably luxurious prison cells: Qincheng reportedly underwent expansion in 2012, just before Xi's anti-corruption probe officially kicked off. Around the same time, the government also constructed a new "luxury prison" called Yancheng in Hebei province. Gu Kailai, Bo Xilai's wife is thought to be imprisoned here — and rumor has it Yancheng is even more posh than Qincheng, with a cocktail lounge and basketball court.
Despite the expansion of Qincheng and the addition of a new "luxury prison" at Yancheng, Qincheng is reportedly filling up. When Yancheng was built, many speculated that it would replace Qincheng entirely but it now appears that the two combined aren't enough to handle the increase in convicted officials. Overseas Chinese publication Boxun says that Beijing plans to expand Qincheng, as the prison is full and Xi and Wang have no plans to show down their anti-corruption drive. Boxun often reports on political rumors, but this report makes sense given the historic nature of Xi Jinping's anti-corruption campaign. As a comparison, the prison was also majorly expanded and renovated in the 1960s, when the flood of "counterrevolutionaries" imprisoned during the Cultural Revolution outgrew Qincheng's capacity. China's state media outlets have often highlighted how extensive Xi's anti-corruption crackdown has been — the lack of space in China's "luxury prisons" is a by-product of that success.