China Triples Peacekeeping Presence in South Sudan
China will send a battalion of 700 troops to join the U.N. peacekeeping mission in South Sudan.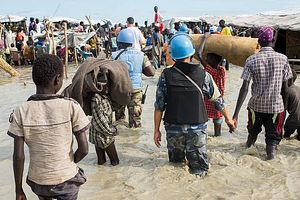 China's defense ministry confirmed on Thursday that Beijing will send an additional 700 troops to join the U.N. peacekeeping mission in South Sudan (UNMISS). The new battalion will triple the number of troops China currently has deployed with UNMISS.
Speaking at the Ministry of National Defense's monthly press conference, spokesperson Geng Yangshen announced that China will send "a 700-personnel infantry battalion" to act as U.N. peacekeepers in South Sudan. According to the U.N., this marks the first time China has contributed a battalion to a peacekeeping mission. Geng said the troops would "protect civilians, U.N. employees and humanitarian workers, and … perform patrol and security duties." The battalion will be equipped with light weapons for use in self-defense, armored vehicles, and bullet-proof gear. The location of the troops, as well as the timing of their deployment, is still under discussion.
The U.N. peacekeeping mission in South Sudan was established in July 2011, with a limit of 7,000 troops. In May 2014, in response to increased fighting between political factions in the country, the U.N. authorized raising the troop levels to 12,500. As of July 31, there were a total of 10,316 peacekeeping troops from over 50 countries in South Sudan, including 350 from China. That makes UNMISS the third largest U.N. peacekeeping mission in the world, after missions in the Democratic Republic of the Congo and Darfur.
China is fairly active in contributing to peacekeeping missions. Although it only ranks 14th on the list of largest contributors, China far outranks the other four permanent members of the U.N. Security Council (as Foreign Ministry spokesperson Hua Chunying pointed out in a recent press conference). For comparison, as of August 31, 2014, the U.S. had 117 troops deployed with the U.N.; Russia had a mere 91. On the other end of the scale, the largest contributor of troops is Bangladesh, with 8,455. China currently has 2,192 troops, police, and military experts deployed on U.N. peacekeeping missions around the world, of which 1,984 are security forces. That's not bad for a country that only began sending troops (as opposed to police and observers) on U.N. peacekeeping missions last summer.
Given these figures, China's deployment of an additional 700 troops to UNMISS is significant. As of August 31, China had 350 troops in the UNMISS, along with 13 police and 36 military experts. The additional 700 troops will triple the size of China's contingent, making UNMISS by far China's largest contribution to UN peacekeeping missions. Currently, the U.N. mission in Liberia is home to the largest number of Chinese peacekeeping troops and police, 725.
The decision to massively upgrade China's presence in UNMISS has led to cynical comments that China is more interested in protecting its investments in South Sudan than in the actual peacekeeping mission. The Wall Street Journal reported earlier in September that China was sending the new battalion to "to ensure the safety of its workers and assets in Africa and guarantee a steady flow of energy for domestic consumption." WSJ notes that oil production in South Sudan has dropped by a third since fighting broke out in late 2013. China, which accounts for over 80 percent of South Sudan's oil exports, would be especially nervous about the drop-off in production.
China does have a lot on the line in South Sudan and takes measures accordingly. In addition to its peacekeeping contributions, Beijing has been unusually active in mediating between the warring political factions in South Sudan. "We have huge interests in South Sudan so we have to make a greater effort to persuade the two sides to stop fighting and agree to a ceasefire," Ma Qiang, the Chinese ambassador to South Sudan, told Reuters.
Still, spokespeople from both the Foreign Ministry and the Ministry of National Defense underlined that the Chinese troops would not undertake any special missions outside of their U.N. mandate. "The Chinese peacekeeping troops will strictly abide by the international law and stick to their mandate," Geng told reporters. He added that the troops "will not get directly involved in the armed conflicts of the mission country."