UN Report: China Sold $20 Million in Arms and Ammunition to South Sudan
A UN panel says such arms sales, while legal, are prolonging the conflict and facilitating human rights violations.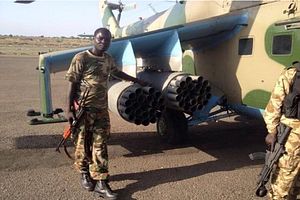 On Tuesday, the UN Security Council held a "briefing and consultations on the UN Mission in South Sudan (UNMISS) and on the work of the 2206 South Sudan Sanctions Committee." The meeting discussed the situation in South Sudan, including the role of foreign-produced military supplies in the conflict. According to a report from the UN Panel of Experts on South Sudan, China has been one of the top sources of arms and ammunition for the South Sudan government.
The conflict in South Sudan pits President Salva Kiir against former Vice President Riek Machar, whom Kiir accused of plotting a coup. Violence has since spread along ethnic lines – Kiir is part of the majority Dinka ethnic group, while Machar belongs to the Nuer ethnic group. The ethnic dimension of the conflict is particularly worrying to observers.
According to the UN Panel of Experts report, which was introduced at the UNSC meeting yesterday, China North Industries Corp. (Norinco) sold $20 million worth of "arms, ammunition, and related materiel" to the Sudan People's Liberation Army (SPLA), the government's armed forces. The shipment included 100 HJ-73D anti-tank guided missile-launchers (plus 1,200 missiles), 9,574 automatic rifles with 2 million rounds of ammunition, 2,394 grenade launchers, and 40,000 "type-69 high-explosive anti-tank rockets."
The sale was made in July 2014, while the conflict was in full swing. However, the report noted that South Sudan's government claimed the arms sale had been finalized before the conflict began, and that assertion was confirmed by documentation viewed by the panel.
The panel also noted a September 2014 Bloomberg report that China had halted arms exports to South Sudan. "No more weapons are heading to South Sudan," an official at China's embassy in South Sudan told Bloomberg, saying it would be "inappropriate" to continue shipments. According to that story, the total arms deal would have seen Norinco deliver military supplies worth a total of $38 million to South Sudan.
China is far from the only party believed to be supplying arms to one or another of the South Sudanese factions. The report says that Israeli-produced automatic rifles are being used by SPLA soldiers, and that Sudan is accused of supplying rebel forces with arms.
The report also notes that the South Sudan government has somehow attained "at least four Mil Mi-24 helicopters," worth "at least $10 million." It's unclear where South Sudan obtained the helicopters, which are a widely-used Russian design. Likewise, SPLA recently announced the acquisition of 10 "amphibious tanks," which the panel report identified as "GAZ-34039 tracked amphibious vehicles," but it's unclear how these vehicles were obtained.
There is currently no arms embargo in place on South Sudan, meaning it's entirely legal to sell arms to the country's government (as the UN report points out). However, the panel describes the devastating consequences such arms sales have had, particularly on South Sudan's civilians.
The report says that "all parties to the conflict have been targeting civilians as part of their military tactics… Scores of civilians have been killed, maimed, tortured, burned alive inside their homes, displaced, raped and abducted, and children have been recruited and used as part of the war effort." In addition, there are more than 1.6 million internally displaced persons (IDPs) in South Sudan, and around 4.6 million people are "facing severe food insecurity."
The report notes that "the supply of arms and ammunition to the Sudan People's Liberation Army and the Sudan People's Liberation Movement/Army in Opposition, as well as to affiliated forces, has been instrumental in prolonging and escalating the war."
The situation has deteriorated dramatically since April 2015, when South Sudan's military began a major offensive in the oil-rich Upper Nile region.  "Since the offensive in the greater Upper Nile area began in April 2015, the intensity and brutality of the violence aimed at civilians are hitherto unseen, even in what has already been, without a doubt, an exceedingly violent conflict," the report says. The report suggests that South Sudan's government was emboldened by access to new military technologies – specifically helicopters and amphibious vehicles – and was trying to overwhelm the rebel forces.
The panel promised to continue to investigate the source of all the arms supplies and their role in human rights violations.
China has a unique interest in South Sudan, compared to other extra-regional actors. South Sudan is rich in oil, and China is its major customer – as of 2012, China was reportedly consuming over 80 percent of South Sudan's oil exports. But the conflict has taken a predictable toll on oil exports, with the UN panel saying oil production had dropped from 245,000 barrels per day in late 2013 to 163,000 bpd in July 2015.
With an energy supply at stake (and no other major global powers particularly keen to intervene), China has been unusually active in seeking to keep the peace in South Sudan. That includes mediating peace talks as well as sending a record number of peacekeepers to join the UN Mission in South Sudan (UNMISS).
The UNSC is currently discussing proposed sanctions against South Sudan. The sanctions, which will be avoided if South Sudan's government signs a peace agreement by September 1, would include an arms embargo, as well as targeted asset freezes and travel ban.