Top Leaders From China, India to Skip UN Climate Change Summit
Xi Jinping and Narendra Modi will be absent from the September 23 world leaders' summit on climate change.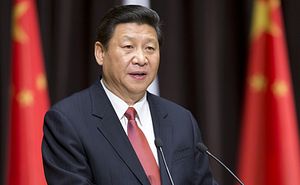 Reports indicate that neither Chinese President Xi Jinping nor Indian Prime Minister Narendra Modi plan to attend a U.N. summit of world leaders on climate change. The Climate Summit 2014, to be held on September 23 in New York, was organized by U.N. Secretary General Ban Ki-moon "to galvanize and catalyze climate action." U.S. President Barack Obama, as well as other leaders from developed nations, are expected to attend, but the absence of leaders from the world's two largest developing nations has some worried that the summit will fall flat.
The environmentally-focused site chinadialogue argued that Xi and Modi's absence will hamper efforts to make real progress at the summit. While not an official negotiating session (the next such world-wide session will be held in Lima this December), the Climate Summit was envisioned as a catalyst for future action. According to the summit's official webpage, the idea is "to show that leaders across sectors and at all levels are taking action, thus expanding the reach of what is possible today, in 2015, and beyond." In other words, the summit was supposed to function as a form of international peer pressure.
The summit's two main sessions act as a forum for announcing "action and ambition" on both a national and multilateral level. With Xi and Modi not planning to attend, it could be a hint that neither China nor India will announce a particularly ambitious plan for emissions reductions — and that in turn could affect ongoing negotiations for a new climate deal set to be unveiled in Paris in 2015. Chinadialogue noted that the "absence of China and India at the highest level will take some of the sheen off" the summit, but is not necessarily a cause for panic. Beijing and New Delhi may simply be waiting to see what commitments developed countries are willing to make before revealing their own plans.
The developing world has long held that developed nations should shoulder the lion's share of the responsibility for climate change, an argument enshrined in the Kyoto Protocol's division of Annex I Parties (developed countries that took on binding emissions reductions commitments) and non-Annex I countries (developing countries that avoided binding commitments). That division grew increasingly contentious as China and India continued to develop — China is now the world's largest emitter of greenhouse gases, with India ranked third (the United States is second). As a result, many developed nations argue that Beijing and New Delhi should face binding commitments along with the rest of the world. The developing world continues to argue that their governments should be allowed to place more emphasis on development than on environmental factors — and that the developed world has a responsibility to foot the bill for the costly process of adapting to climate change.
Despite these serious differences, there were positive signs lately that progress was being made. For one thing, China's own domestic focus on environmental issues (and a move away from seeking economic growth no matter the cost) created a more conducive atmosphere for international climate change negotiations. Beijing has even announced that it will cap carbon dioxide emissions for the first time in its next five-year plan, although the cap isn't expected to come into effect until 2030.
With Xi and Modi absent from the upcoming climate summit, however, it sends a signal that the developing world and developed world still aren't seeing eye-to-eye on climate change issues. As noted above, it's possible that developed nations could make serious commitments on September 23, encouraging China and India to follow suit. But it's also possible (and, if precedent holds true, more likely) that the perceived lack of commitment from China and India will make other countries think twice about announcing their own cuts. This has been particularly true of the U.S.-China dynamic — Washington often refuses to commit to emissions reductions unless China does so as well, fearing a loss of economic competitiveness. This stand-off has wrecked U.N. climate change negotiations in the past, most notably at the 2009 Copenhagen conference.
For its part, China still has not officially revealed who will attend the summit (nor have they announced that Xi will not be attending). Thursday, China's Foreign Ministry responded sharply to implications that Xi's predicted absence indicated a lack of commitment on China's part. "Be it at home and abroad, China has been working vigorously to promote energy conservation and emission reduction and make important contributions to the global efforts of combating climate change," spokesperson Qin Gang told reporters. He further rejected the idea that one could "predict how the summit will turn out based on who will participate."
It's true that Xi and Modi's decision not to attend doesn't automatically doom the climate change negotiations process. But it's certainly not a positive sign.