Trial Set for Human Rights Campaigner Guo Feixiong
Guo Feixiong becomes the latest human rights activist to be tried for "disrupting social order" in China.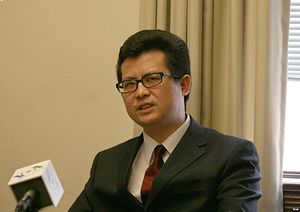 The trial of human rights campaigner and lawyer Yang Maodong, better known as Guo Feixiong, is set to begin on Friday under that catch-all charge of "gathering a crowd to disrupt social order." As the list of arrested human rights activists in China grows, Guo cannot expect a fair trial by any stretch of the imagination.
Guo has had a number run-ins with the authorities and has suffered greatly. In 2006 he was arrested for participating in a "hunger strike group" for another imprisoned human rights activist, Gao Zhisheng (who was released last month). Guo, detained for his support of Gao, was tortured in the Guangzhou No.1 Detention center with sleep deprivation for seven nights and beatings and restraints for 40 days; afterwards, he was transferred to Liaoning Province to be strapped to a "tiger bench" (a horrific torture device that puts immense pressure on the legs), shocked with cattle prods in his extremities, and beaten severely. He attempted suicide soon after. After serving a five-year prison term on woefully trumped-up charges of "illegal business operations" (i.e. publishing a book about government corruption) in 2011, he was arrested again in 2013 on the current charge in his support of yet another human rights activist, Xu Zhiyong (currently in prison) as well as his support for the Southern Weekly incident in 2013 and anti-corruption and civil rights campaigns.
Sadly, Guo once again faces years in prison with his upcoming trial so well stacked against him. The "gathering a crowd to disrupt social order" charge is often leveled against pro-democracy or human rights activists and is difficult if not entirely impossible to defend. What's more, in blatant violation of Chinese law, they forbade Guo access to lawyers until three months after his detention and two months after his "formal arrest". The lawyers themselves will be restricted to submitting their arguments on paper and are only allowed to use computers provided by the court.
There is hope that Guo will simply be released on bail. For example, of 19 "public order" cases against human rights activists and dissidents from March 2013 to September 2014, 11 were released on bail, many with controls and conditions to their release such as the deprivation of political rights. However, given Guo's relative fame and cause, it appears unlikely that this will be the case. The Party authorities are likely to encourage stiff penalties. Zhang Xuezhong, one of Guo's lawyers, told the New York Times, "This doesn't amount to a crime, but taking into account the current political situation, I can only say that I'm not at all optimistic about the outcome."
"Gathering a crowd to disrupt social order" is a hard charge to defend because what disrupts social order is arbitrarily defined by the authorities. In practice, the charge applies largely to any political discourse they deem inappropriate. There is also the matter of a lack of judicial independence, a subject even China's top courts acknowledge as a systemic problem — a system that almost never ends well for defendants because the court follows the interference of Party officials with little regard for the law and without repercussions.
The indictment of Guo and his partner in "crime" Sun Desheng can be read in full, detailing their dangerous plans to "hold signs and give speeches" outside of the Southern Weekly building and publish "several items on overseas media sites commenting on the 'Southern Weekly New Year's Greeting Incident.'"
Song Ze, Zhang Xiangzhong, Gu Yimin, Yuan Dong — the list of human rights and anti-corruption prisoners of conscience in China is getting almost comically long, and that list consists only of those known to the press. Beijing's game of whack-a-mole with human rights activists has intensified in recent years, banishing any hope that Xi Jinping's government would be in any way tolerant of political expression.
How is the arrest and trial of Guo being seen in the Chinese media? Well, it isn't, as one might expect — what with absolutely no press freedom and every human rights website in English and Chinese roundly blocked from China's controlled online world. However, the Global Times did run an editorial back in 2013 saying that the human rights lawyer and torture victim has "extreme political views" and poses "a danger to the current social governance system and long-term social stability." Everyone from Freedom House to Amnesty International have urged Guo's release, but their pleas fall on deaf ears — ears that consider international human rights organizations "anti-China forces".
It's little trouble for the authorities to control and arrest dissidents, especially considering that the media is so tightly-controlled and the courts are firmly in pocket. With the inundation of claims of activists "gathering crowds to disrupt social order" and "creating a disturbance" one might expect that places like Beijing are being rocked by Ferguson-style upheaval every week. It is, however, just the well-worn, dictatorial version of rule of law.