Why Is China Building Islands in the South China Sea?
A BBC report confirms China's extensive land reclamation projects in the South China Sea. What does Beijing gain?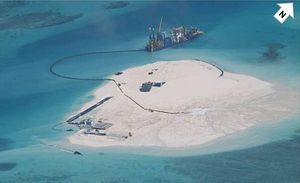 The BBC has published a multimedia report on the scramble for control over the South China Sea, with a particular focus on the clash between China and the Philippines. In the BBC report, entitled "China's Island Factory," reporter Rupert Wingfield-Hayes describes his journey on a Filipino fishing boat to visit "new islands" created by Chinese land reclamation in the South China Sea. He then visits two Philippines outposts in the Spratlys (Pagasa Island and the Sierre Madre, a Philippine Navy vessel grounded on Second Thomas Shoal) that Manila uses to legitimize its claims.
The Philippine government has been doing its best to call attention to China's land reclamation projects in the South China Sea, part of Manila's attempt to win over international opinion. The Philippines calls such actions provocative, a unilateral attempt to change the status quo. Back in May, the Department of Foreign Affairs protested the land reclamation in a statement and released before-and-after photos of the construction. At the recent ASEAN Regional Forum, Manila proposed a freeze on provocative moves in the South China Sea, including land reclamation projects. Beijing dismissed the proposal before the ARF even convened.
Traveling on a Filipino fishing boat, Wingfield-Hayes visited two previously submerged reefs that now host brand-new islands. He described the activity at Johnson South Reef as follows:
Millions of tonnes of rock and sand have been dredged up from the sea floor and pumped into the reef to form new land.

Along the new coastline I can see construction crews building a sea wall. There are cement-pumping trucks, cranes, large steel pipes, and the flash of welding torches.
According to the report, China "is building substantial new islands on five different reefs." Wingfield-Hayes notes that no one is certain what China plans to do with the new islands. The Philippine government has expressed concerns that one, Johnson South Reef, will be the home to a new South China Sea airbase. However, it's equally possible that China plans to install civilian populations on the new islands to bolster its sovereignty claims. China, the Philippines, and Vietnam all maintain small civilian outposts in the South China Sea as a way of legitimizing their claims (and deterring military actions by other claimants).
It's also possible that building the "islands" is an end unto itself. Under the U.N. Convention on the Law of the Sea, submerged features (such as shoals) cannot be claimed by any party. The Philippines' request for arbitration on the South China Sea disputes is in part based on this fact; Manila requested clarification as to whether or not China (or any other state) can claim submerged or partially-submerged features under UNCLOS.
In addition, Part VII of UNCLOS specifies that "Rocks which cannot sustain human habitation or economic life of their own shall have no exclusive economic zone or continental shelf." Under this provision, even if China were to gain control over the Spratlys, its control would be limited to the 12 nautical mile territorial waters, without an accompanying exclusive economic zone.
If, however, China can create "islands" on top of previously submerged features and create conditions for these new islands to "sustain human habitation," then China would have strongly bolstered its claims to the South China Sea. This is exactly what the Philippines objects to. In an interview for the BBC report, Department of Foreign Affairs spokesman Charles Jose called China's claims in the South China Sea "outrageous," "excessive," and "without basis under international law." He also accused China of trying to change the status quo to strengthen its claims before the arbitration court hands down its ruling on the Philippines' case.
When asked about the BBC report, Foreign Ministry spokesperson Hua Chunying reiterated China's position that "China's activities on relevant islands and reefs of the Nansha Islands fall entirely within China's sovereignty and are totally justifiable." When pressed on the purpose of the construction, Hua said that the work was "mainly for the purpose of improving the working and living conditions of people stationed on these islands."
What followed was a shockingly testy exchange for a Chinese press conference. A reporter fired back at Hua: "Given the fact that those islands China works on are new islands, there is no way that construction on them is for improving the living conditions of inhabitants on those them. What are the true purpose and intention of China for doing this? [all sic]"  Hua's response was both short and unenlightening: "I have already answered your question."
If there is anything to be gleaned from Hua's response, it is that China does expect to have people living and working on the islands. Whether these people will be civilians or whether the newly-constructed islands will house military bases remains to be seen.