China's Xi Prepares to Visit Russia
Xi will seek to further cement China-Russia ties as he attends Victory Day celebrations in Moscow.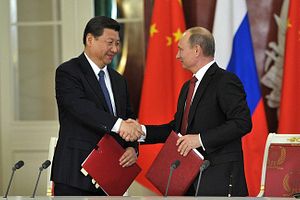 Chinese President Xi Jinping will travel to Russia this week to attend celebrations marking the 70 anniversary of Victory Day (the end of the World War II in the European theater). According to China's Foreign Ministry, Xi will visit Kazakhstan on May 7 then spend May 8-10 in Russia. He will end his trip with a state visit to Belarus from May 10-12. With this trip, Xi will have visited Russia every year since being officially named president in 2013.
Xi and Russian President Vladimir Putin have long had plans to attend each other's commemoration ceremonies, a point of particular importance as many Western countries are not expected to attend either China or Russia's events due to existing tensions. Chinese Vice Foreign Minister Cheng Guoping told reporters on Monday that Xi will attend the military parade to be held in Moscow's Red Square, lay a wreath at the Tomb of the Unknown Soldier, and attend a welcome banquet.
Cheng emphasized that China and Russia "made huge sacrifice and great contribution to the victory of the WWII [sic]." Both China and Russia have also laid claim to being the true protectors of the post-war international order, accusing the West (and, in China's case, Japan) of seeking to undermine the post-war achievements.
Of course, Xi's visit to Russia will do more than look at the past — it's designed, in Cheng's words, "to comprehensively advance China-Russia relations." During meetings with Putin and Russian Prime Minister Dmitry Medvedev, Xi will discuss regional and global cooperation, particularly on China's major diplomatic priority: the Silk Road Economic Belt. In particular, Xi will talk with Russian leaders about how to link China's "One Belt and One Road" with the Russian-led Eurasian Economic Union.
Cheng also said China and Russia were expected to sign cooperation agreements "covering energy, aerospace, taxation, finance, investment and other fields." China and Russia reached a major breakthrough in the energy field last year, finalizing a $400 billion natural gas deal after 10 years of negotiations. Russia's estrangement from Europe, traditionally a major destination for its energy exports, in the wake of the Ukraine crisis has spurred Moscow to seek alternative markets; energy-hungry China fits the bill perfectly.
Interestingly, Xi's trip to Moscow comes just days after China and the European Union celebrated the 40th anniversary of their diplomatic relationship.  EU foreign affairs chief Federica Mogherini was in Beijing to help celebrate the anniversary. While there, she held talks with her Chinese counterparts on various security issues, including the situation in Ukraine, with Mogherini stressing the need for "full respect for international law, especially full respect for Ukraine's sovereignty, territorial integrity and independence."
Though China professes support for those same values, it has consistently refused to criticize Russia for annexing Crimea, instead blaming European countries and the United States for failing to respect the complexities of the historical situation and Russia interests in Ukraine.
While the world will be watching Xi's trip to Russia, his stop in Kazakhstan could actually have more lasting consequences for the China-Russia relationship. As Arthur Guschin pointed out in a recent piece for The Diplomat, Kazakhstan may become "the frontlines of the tussle between China and Russia for regional influence" in Central Asia. Russia is determined to keep its political sway over former Soviet states in the region, but China is increasingly gaining clout thanks to its Silk Road Economic Belt and corresponding plans for investment in Central Asia.
China's own security concerns regarding unrest and terrorist activities in its western Xinjiang province dictate closer attention to China's western neighbors, something Beijing has been quick to do since Xi came to power. As Cheng noted in his press briefing, this will be Xi's second trip to Kazakhstan in two years, a clear sign of the importance Beijing places on this Central Asian state.  In his September 2013 state visit to Kazakhstan, Kazakh President Nursultan Nazarbayev told Xi his country hopes to capitalize on China's economic growth to boost its own economy.