Afghanistan Poppy Cultivation at All-Time High
As U.S. and NATO troops prepare to leave Afghanistan, poppy cultivation reaches an all-time high.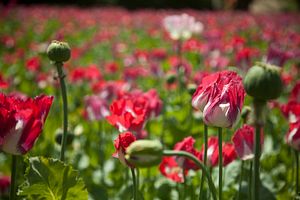 Last year, when news emerged that Afghanistan posted a record poppy harvest, one Western diplomat reacted to the news with an unequivocal sense of defeat: "We have failed, we have lost — that's all there is to it." A year later, Afghanistan has once again demonstrated that poppy production is not going anywhere; this time, the total area used for poppy cultivation in Afghanistan has hit an all-time high. Stemming the production of poppy in Afghanistan was a major strategic objective for international forces in Afghanistan over the last 13 years. The United States alone spent $7.6 billion on efforts to stem poppy production.
News that poppy production reached an all-time high broke in a report released on October 21 by the Office of the Special Inspector General for Afghanistan Reconstruction (SIGAR), an independent U.S. monitoring agency. SIGAR's report was based on data from the United Nations Office of Drugs and Crime. SIGAR noted that poppy cultivation had increased to 209,000 hectares in 2013, passing the previous record of 193,000 which was set in 2007. According to SIGAR, rising opium prices on the global market, falling costs of deep-well technology, and an increase in the supply of cheap labor in Afghanistan all led to an increase in poppy cultivation. The U.S. Embassy in Kabul stated that the news was "disappointing," and that it hoped the new Afghan government under President Ashraf Ghani would take measures to make Afghanistan a leader in counter-narcotics.
For Afghan farmers, poppy is often the only way to make a living. A decade of international occupation and billions spent on countering poppy production has done little to stem this. Despite the fact that poppy is significantly more difficult to grow and harvest than fruits or vegetables, farmers keep at it due to the constant high rate of return on their harvests. As one farmer told an NPR investigator last year, these farmers are aware that opium itself is a vice: "We understand that opium is bad … All drugs are bad. But, it's difficult for us seeing a neighbor with a new car when we are riding bicycles. So, we have to do this to have a better life." Afghanistan continues to produce over 80 percent of the world's opium.
In reacting to SIGAR's report, which claims that the United States government "consider[s] the trends in opium cultivation and the effectiveness of past counternarcotics efforts when planning future initiatives," Michael Lumpkin, the assistant secretary of defense for special operations/low-intensity conflict at the U.S. Department of Defense, pointed the finger at a lack of support from the Afghan government. U.S. forces in Afghanistan play no role in the actual eradication of poppy fields — that responsibility is left up to the Afghan government's Ministry of Counter Narcotics. "Poverty, corruption, the terrorism nexus to the narcotics trade, and access to alternative livelihood opportunities that provide an equal or greater profit than poppy production are all contributors to the Afghan drug problem," he added.
If current trends hold, poppy cultivation will continue to play a major role in the economic livelihood of Afghanistan's farmers. Additionally, with the impending withdrawal of U.S. and NATO forces from the country, eradicating poppy production in Afghanistan will enter the history books as another failed U.S. objective in Afghanistan.