Indian Government Plans Highway Along Disputed China Border
The Indian government announced a proposal for a 1,800 km road along the disputed Arunachal Pradesh border with China.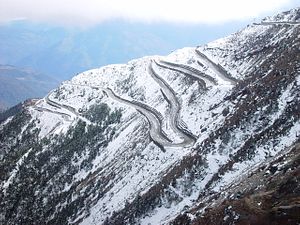 The Indian government will continue a spate of development activity in the northeastern state of Arunachal Pradesh by building a 1,800 km long highway that will run parallel to the Chinese border. Arunachal Pradesh is administered by India, but is the subject of a territorial dispute between India and China — China claims almost the entirety of the state as its territory. The highway — currently a Home Ministry proposal — follows up on recently announced plans by India's new Bharatiya Janata Party (BJP) government to encourage settlements in the disputed region as well as major infrastructure projects amount to $830 million.
According to the Indian Express, the initiative, like other plans for India's northeastern development, was put forward by Home Affairs Minister Kiren Rijiju. Rijiju, a native of India's northeast, has been outspoken about actively countering what he perceives as Chinese attempts to gradually assert a claim to Arunachal Pradesh. Rijiju, in an interview in September, noted that India "will not sacrifice any portion of our territory. Unlike in the past, Chinese military would come inside and we would surrender and keep quiet. It is not like that now. We will not show any weakness." Current reports indicate that the highway would pass through the following border areas of Arunachal Pradesh: Tawang, East Kameng, Upper Subansiri, West Siang, Upper Siang, Dibang Valley, Desali, Chaglagam, Kibito, Dong, Hawai and Vijaynagar.
Rijiju notes that constructing the highway will be a challenge: "The construction of the road will be a huge challenge considering the rough and hostile terrain, mostly snow-fed, through which it would pass, and will be the biggest single infrastructure project in the history of India with an estimated cost of over Rs 40,000 crore (approximately $6.5 billion)." During its second term, India's previous government began a highway construction project in Arunchal that is lagging behind considerably due to these factors. Only 230 km of a planned 2,400 km of that highway has been completed. "The aim is to construct a seamless travel from one part of the state to another. As the terrain is not smooth along the border areas, we will intersect the highway with tunnels so that the link is not broken anywhere," noted another Home Ministry official.
India's decision to construct this highway mirrors China's strategy to bolster its claim to Arunachal Pradesh by constructing highways in southern Tibet. For example, in November 2013, a week after India and China signed a Border Defense Cooperation Agreement to prevent misunderstandings and create deescalation mechanisms on their border, Beijing announced the completion of a highway linking Medog in Tibet with the rest of China. Given New Delhi's historic reluctance to promote infrastructure development in Arunachal Pradesh, particularly under past Congress governments, China embarked on several construction and infrastructure projects on its side of the disputed border to assert a stronger administrative claim to the territory. India's new government seems to see the value in this strategy and is putting considerable capital toward developing Arunachal Pradesh.