North Korea to Engage or Provoke?
North Korea's erratic behavior continues to draw regional diplomatic attention.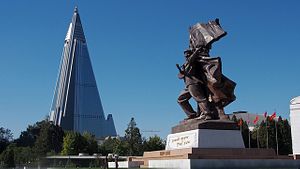 After North Korea's initial response on Thursday to former U.S. Secretary of State Leon Panetta's book, in which he outlined the U.S.'s preparedness to use nuclear weapons in the event of an invasion by the North, Pyongyang made further moves on Sunday and Monday to underline its dissatisfaction with its southern neighbor and Seoul's security guarantor. However, these responses come amidst overt attempts by North Korea to open dialogue with the South, as it appears Pyongyang is undecided on which course to take in extracting concessions. At the same time, Japan continues to seek progress in its bilateral negotiations with Pyongyang, which both South Korea and the U.S. eager for any information from the Hermit Kingdom and its new leader that may come from talks, which could happen as early as this month.
On Sunday South Korea's defense ministry said gunfire was exchanged near their shared border when North Korean soldiers approached, but failed to retreat after warning shots were fired. Both sides then exchanged fire for 10 minutes, although there were no reported casualties or even property damage. This is the third exchange of gunfire between the two countries in October, after two patrol boats engaged each other near Yeongpyeong Island on the 7th and a brief exchange took place on the 10th when activists from South Korea dropped anti-Pyongyang propaganda north of the border.
After the shooting near the border, on Monday Pyongyang's official Korea Central News Agency (KCNA) reaffirmed its commitment to countering U.S. "nuclear aggression" on the peninsula, saying its nuclear arsenal would be boosted "both in quality and quantity" in response to the revelation in Panetta's memoir. It also used the instance as a further excuse to justify its nuclear weapons program as a "precious sword of justice," or deterrent against a potential U.S. attack.
These exchanges have occurred as North Korean officials have made two high-level visits to the South this month. Each visit appeared intended to placate South Korean concerns, first concerning the leader Kim Jong-un's health and later to address concerns over the potential for escalating conflict following the patrol boat exchange.
As these tense and somewhat bipolar last few weeks have unfolded, both South Korea and Japan are seeking to engage Pyongyang on separate issues. Japan has signaled that it intends to take the North up on its offer to allow officials to visit Pyongyang and look into the ongoing investigation of Japan's abducted citizens. "Diplomatic sources" told the Asahi Shimbun on October 18 that South Korea was informed of Japan's plan to have director-general of the Foreign Ministry's Asian and Oceanian Affairs Bureau Junichi Ihara lead a delegation to meet with one or two of the vice ministers in charge of North Korea's special investigation committee. The Japanese government will officially decide on the trip on October 20 after a meeting with lawmakers. The sources reported that "the South Korean government expressed its understanding of Japan's dispatch plan," and that it had asked "Tokyo to offer information about its talks with Pyongyang on the reinvestigation."
South Korea for its part continues to hold out hope that the North will attend the Seoul Defense Dialogue on October 29. The meeting of vice defense ministers from South Korea, the U.S. and Japan is seen as a key chance to engage with Pyongyang's military leadership. South Korean vice defense minister Baek Seung-joo said in an interview that Seoul is hopeful that the North will participate, as "an opportunity for them to understand one another and share (goals)… for (the stability of) Northeast Asia." However, Baek also said "It seems that Pyongyang is making preparations so that it can implement a nuclear test at any time."
While both Japan and South Korea have a different stake in bringing North Korea to the table for dialogue at this time, they also appear willing to cooperate. North Korea is once again the unpredictable outlier in regional geopolitics, acting in seemingly erratic ways in order to extract concessions when and where it can. A trip by Japanese officials to Pyongyang looks increasingly certain, although the chances of progress, even on the abduction issue, appear slim. And while North Korea has engaged in its highest level military exchange with the South in seven years, its attendance at the SDD is far from certain. It is more than likely looking for concessions in return for greater cooperation, much as it has done with Japan since this summer.