Sri Lanka to Hold Early Presidential Elections
Sri Lanka's President Mahinda Rajapaksa will seek a third term in office, despite constitutional ambiguities.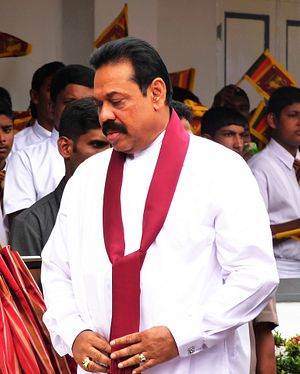 Sri Lanka is heading into a period of political flux. The country will hold presidential elections in January, two years ahead of schedule. Its current president, Mahinda Rajapaksa, who has been in office since 2010 following a landslide victory, will seek re-election. Rajapaksa was president for a first term beginning in 2005. In 2010, Sri Lankan legislators voted to amend the country's constitution to remove presidential term limits, allowing Rajapaksa to run for president again. Opposition politicians and critics of the president have argued that the amendment will lead to a situation of de facto dictatorship.
Sri Lankan Prime Minister D.M. Jayaratne has confirmed that presidential elections will take place in January 2015. The prime minister, in a statement this week, rebuffed opposition critics who claimed that Rajapaksa lacked the legal right to contest the presidency once again. According to Alan Keenan, a Sri Lanka analyst for the International Crisis Group, Rajapaksa's supposed popularity may have been fading, prompting him to seek an early election to seal in another six year mandate. Evidencing a dip in popularity, the latest provincial elections in Sri Lanka yielded a poor result for the United People's Freedom Alliance (UPFA), Rajapaksa's party.
Keenan notes that the confusion over Rajapaksa's ability to contest a third term is due to the language of the 18th amendment to the Sri Lankan constitution which, according to a "growing number of legal experts … did not in fact remove the two-term limit for Rajapaksa, but only for future office-holders." Despite this ambiguity, the Supreme Court is unlikely to address the issue as the current chief justice is known to be loyal to Rajapaksa.
Despite the strong performance of the Sri Lankan economy under Rajapaksa's tenure, he has come under international scrutiny for alleged war crimes committed by his government in the final stages of the country's civil war against the Tamil Tigers. Earlier this year, the United Nations Human Rights Council (HRC) called for an international probe in the country's Northern Province to seek evidence of human rights abuses. Additionally, Rajapaksa's leadership style has been denounced as quasi-authoritarian by Sri Lanka's opposition. Despite international criticism, domestically, Rajapaksa maintains a broad support base across the country's Sinhalese majority for his role in the defeat of the Liberation Tigers of Tamil Eelam (Tamil Tigers).
According to a report by Bloomberg, Rajapaksa's strategy for an election victory in January will hinge on boosting handouts and populist programs. Given the strong performance of the Sri Lankan economy and his government's solid grasp on public finances, Rajapaksa could likely boost handouts without damaging the country's economic well-being in any significant manner in the short-term. Accordingly, the government has increased subsidies for gas and diesel, slashed electricity tariffs, announced free seeds for farmers growing rice, increased farm subsidies and, according to a Eurasia Group estimate, is expected to raise salaries for public employees and delay tax increases. At the same time, Sri Lanka is projected to shrink its budget deficit to a record low of 4.4 percent of GDP.
Eran Wickramaratne of the opposition United National Party (UNP) slammed Rajapaksa's latest budget. "It's an inward-looking, protectionist and giveaway budget. It's full of promises of pensions, subsidies and concessions. [It is] clearly aimed at an election," he said.
In 2010, Rajapaksa's victory was largely described as a landslide. He took 58 percent of the electorate of 10.4 million while his opponent, a former army chief who also played a pivotal role in the conclusion of the civil war, took 40 percent. Coming into January's election, Rajapaksa remains the front-runner and will likely walk away with another six year presidential term. However, should Rajapaksa unexpectedly lose the election, he may be unwilling to leave office without a struggle. Apart from his government's economic performance, his party will look to Sinhalese nationalists to buttress their electoral chances. Regardless of the outcome, both the process and outcome of this election will have important ramifications on Sri Lankan politics and society in the near future.