US General: Our Aerial Encounters with China Largely Safe
The top US Air Force commander in the Pacific said the U.S., China, and Japan largely avoid dangerous midair incidents.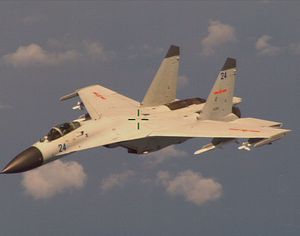 Back in August, the U.S. Department of Defense accused a Chinese jet of conducting a "dangerous intercept" of a U.S. surveillance plane in international airspace near China's Hainan Island. This week, the top U.S. Air Force commander in the Pacific wanted to make it clear that the vast majority of midair interactions between Chinese, U.S., and Japanese planes are safe.
Speaking from the headquarters of the U.S. Pacific Air Forces in Hawaii, General Herbert J. Carlisle told reporters that China, Japan, and the U.S. "have been very good about staying separate and not getting into a case where we are too close or we risk miscalculation," according to the Associated Press. According to Carlisle, encounters like the one in August are the exception rather than the rule.
Carlisle noted that tensions in the East China Sea increased after China's declaration of an Air Defense Identification Zone (ADIZ) in late 2013. Chinese and Japanese planes are coming into far more frequent contact within the area where their ADIZs overlap, Carlisle said. Despite this, he noted that China and Japan have generally been able to avoid dangerous midair encounters, as has the United States.
Interestingly, Carlisle said that the dangerous intercepts, such as the one from August, were mostly confined to one specific area and one particular Chinese unit. Assuming the area is question is indeed the airspace near Hainan, where the August incident occurs, it suggests that China is especially aggressive about defending this region in particular from U.S. surveillance. Hainan is home to Yulin Naval Base, where China's submarines (including nuclear submarines) are stationed. Hainan also hosts a major signals intelligence (SIGINT) base, from which the PLA seeks to trace naval and air activities in the South China Sea. Given its importance to China's military, Hainan Island is of particular interest to U.S. intelligence gathering efforts – and a focal point of Chinese military's efforts to maintain secrecy.
Carlisle indicated that Chinese leaders are aware of the risks of close midair encounters. "They have made statements that they want to be safe, they know the cost of miscalculation and the tragedy that could happen," he said. Since the August incident, the U.S. and Chinese militaries have held talks regarding rules and norms of behavior for military encounters both in the air and at sea.  U.S. Deputy Secretary of Defense Robert Work said China and the U.S. would continue to discuss how to avoid dangerous run-ins, particularly between military aircraft.
Preventing a repeat of the 2001 Hainan Incident should be a top priority of both militaries. The talks could help achieve this by paving the way for long-term agreements on "rule of the road" when it comes to surveillance and military encounters. At the same time, however, Carlisle's remarks emphasize that "dangerous intercepts" are not the new normal for U.S.-China relations. They remain relatively rare events.