US Carrier Conducts Air Wing Sortie Drills in South China Sea
A U.S. carrier strike group showed off its ability to rapidly launch fighters in the South China Sea.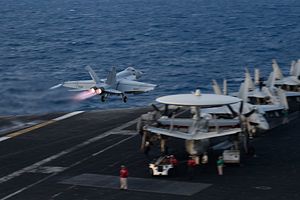 A little more than a week after a massive People's Liberation Army Navy (PLAN) drill in the South China Sea, the U.S. Navy made its presence known.
On Tuesday, USS Theodore Roosevelt, a Nimitz-class supercarrier in the South China Sea, conducted an aircraft sortie exercise. According to Reuters, 20 F-18 Super Hornet fighters launched from the carrier's deck and conducted landings, emphasizing the impressive sortie rate that the United States' experienced carrier aviators can maintain.
The operation came a day after the U.S. Department of Defense publicized China's deployment of electronic warfare equipment to Fiery Cross Reef in the Spratly group.
The USS Theodore Roosevelt carrier strike group entered the South China Sea in the final days of March 2018, taking the place of the USS Carl Vinson strike group, which departed the region to enter the Western Pacific.
Since last year, the U.S. Navy has made its presence clear in the South China Sea and increased the operational tempo on its freedom of navigation operations (FONOPs) within 12 nautical miles of various features held by China and other claimant states in the waterway.
It's unclear if USS Theodore Roosevelt's exercise was planned, but it is certainly not an everyday occurrence for a U.S. carrier strike group to conduct an air-wing sortie drill in the South China Sea.
The PLAN's exercises in late March were unusually large and included the Liaoning, China's sole operational aircraft carrier, which is considerably smaller than a U.S. Nimitz-class supercarrier.
Presence operations in the South China Sea involving U.S. carrier groups are not entirely new.
In March 2016, several months after the Obama administration initiated FONOPs near China's artificial islands in the Spratly group, the USS John C. Stennis carrier strike group transited the South China Sea and conducted replenishment operations.
"The South China Sea has been subject to colonial invasion and illegal occupation and now some people are trying to stir up waves, while some others are showing off forces," Chinese Foreign Minister Wang Yi said at the time.
China points to the U.S. Navy's operations in the South China Sea as evidence of militarization, but the United States holds that military and civilian vessels alike should enjoy freedom of navigation throughout the South China Sea.
China claims most of the South China Sea under its capacious nine-dash line claim, which was found to be invalid in 2016 by a Hague-based tribunal.
Tuesday's exercise came while the carrier strike group was en route to the Philippines, a U.S. treaty ally and South China Sea claimant state, for a port call.