Australia Wants Japanese Sub Propulsion
Size, technology and stealth are proving too great a draw for Canberra.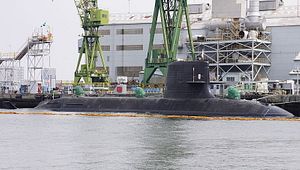 In a deal that has gone back and forth for months now, Australia and Japan again appear to be inching closer to an agreement on the sale of Soryu-class submarines to Canberra, as the Japanese diesel-electric vessel meets the vast majority of Australia's requirements, with the one significant caveat that it appears the subs must be built in Japan. Australia seems to be pursuing a pattern of unofficially announcing specification requirements or details that would favor a deal with Japan, and then publically backtracking when the political costs appear too high. It remains to be seen how effective this strategy will ultimately be, yet it has so far managed to keep the deal moving toward completion.
Reuters reported on Tuesday that one Australian and two Japanese officials told the media outlet that Australia wants a propulsion system that utilizes lithium-ion battery technology, a field the Japanese lead in, and something which the newest generation of Soryu vessels will be equipped with. Tokyo claims the technology will be incorporated into its fleet by the end of the decade, which means Australia could reasonably expect to have lithium-ion propelled subs before its Collins-class submarines are due to be decommissioned by the mid-2030s.
Australia has an A$40 billion ($34.3 billion) budget for its new submarine program. The Soryu sub has a ticket price of $500 million, with an additional cost of $100 million for the lithium-ion air independent propulsion (AIP) system per unit. That means the six new subs Australia wants to order will initially be around $3.6 billion, although that figure does not include other significant maintenance fees that could end up doubling the cost. Still, it seems a relatively cost-effective option for what would be the world's largest and quietest non-nuclear submarine.
Canberra is still under significant pressure to hold a public tender for the project, as several European builders from Sweden, France and Germany have offered to build their variants in Australian naval yards, which would be a significant boon to the country's shipbuilding industry. While the Reuters report indicates that Australian Defense Minister David Johnston formally asked Japan in October "to help develop the new submarines," the government has still not indicated publically whether it will hold the public tender, or even acknowledged the exact specifications that it is looking for in the Collins replacement. Still, the available information points to Japan as the clear frontrunner, despite expressions of interest and even bids from other contractors. Integrating more closely with the U.S. and Japanese alliance structure through hardware compatibility looks as though it may trump the sustainability of Australia's own shipbuilding industry, unless Tokyo and Canberra can figure out a way to incorporate Australia's naval yards.