What Japan Can Learn From Australia's Submarine Decision
If Japan's next overseas defense bid is to succeed, Tokyo needs to make some changes.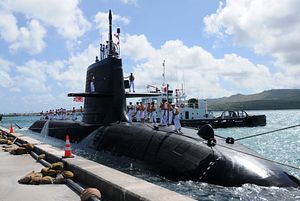 On April 26, the Australian government announced that it has chosen DCNS of France as the partner for joint development in its SEA 1000—Collins-class submarine replacement—program. Australian Prime Minister Malcolm Turnbull said in his joint statement with Defense Minister Marise Payne that the French proposal best met Australia's unique requirements as well as other salient factors, including cost, delivery schedule, and most importantly, the potential for Australian industry's involvement in the program.
Already, Canberra's decision has stirred up considerable conversation. Inside Australia, there is criticism that Turnbull's government used this announcement to win votes in the upcoming election in July. But much of the focus of the discussion is on why Japan, once considered a frontrunner in this bid, lost.
There is a great temptation to blame it on Australia's concern for the potentially adverse impact selecting Japanese Soryu-class submarines would have on Canberra's relations with Beijing. While that may be a convenient reason to fall back on—especially for those who are not willing to think through why Japan's bid has failed—it is worth revisiting some of the major basics associated not only with the SEA 1000 Program but also with the calculus that goes into any government's decision on defense equipment.
First of all, defense acquisition is inherently political. The larger the program is, the more political it gets. Given that the SEA 1000 is the largest defense acquisition program ever in Australia's history, the decision by Canberra was ultimately bound to be political. Particularly where there is no clear winner among the proposals, and the government seeks to find "the best match" (despite some shortcomings in all the bids), the decision is much more susceptible to political considerations.
Secondly, as much as one would like to think that the defense acquisition decision will be made based on the proposed capability, cost-effectiveness, and delivery schedule, the decision is much more complicated than that. Any country that has an indigenous defense industry will always have to balance between the desire to 'buy the best thing out there' and the need to ensure that the country can maintain some level of a defense industrial base on its own. That means, for any proposal being considered by countries that have an indigenous defense industry, the positive impact on the domestic defense industry—whether the transfer of advanced technology or a substantial workshare—is an extremely important factor in the bid.
Finally, and most importantly, unless you are dealing with an authoritarian government that has a long-standing leader whose personal preference will be reflected in his government's decision, the decisions that are to be made will be collective, with each stakeholder bringing in his or her considerations on the above two factors. That is exactly why so many defense companies have a sizable government relations department, to which they actively recruit former government officials who have personal networks in both domestic and foreign governments (many consulting firms also offer these services). Leveraging their personal networks, these advisers are expected to provide analyses on these dynamics, so that their business unit can put together a competitive proposal.
To put it simply, Japan lost the bid because their efforts were inadequate in all of these areas. First, Tokyo grossly underestimated the political nature of the bid. Instead, Tokyo was overly reliant on the initial optimistic assessment, which was driven by the close personal relationship between Japanese Prime Minister Shinzo Abe and former Australian Prime Minister Tony Abbott (who strongly supported the Soryu option). This made Japan complacent, which became a handicap when Abbott was replaced by the incumbent Turnbull in September 2015.
Japan also underestimated the negative impact of its reluctance toward technology transfer and workshare arrangements with Australian shipbuilding companies, particularly when Germany and France consistently put in efforts to emphasize that their proposals would bring major employment and other economic opportunities to Australian industry. Given that Japan's bid had a critical disadvantage — a lack of experience in exporting defense equipment — Tokyo should have put in more aggressive and more consistent efforts to understand the dynamics within Australia surrounding the SEA 1000 program. Japan's bid should then have been tailored around these factors.
Japan-Australia relations are institutionalized enough to weather Tokyo's disappointment over the loss of the submarine bid. The current question for Tokyo is how to capture the "lessons learned" from this failure and move forward. This will no doubt force the Japanese government—including the National Security Secretariat, Ministry of Defense, Ministry of Foreign Affairs, and Ministry of Economy, Trade, and Industry—to go back to the drawing board and think through the best governmental approach to facilitate defense equipment exports from Japan. More importantly, Australia's decision will be a rude awakening for the Japanese defense industry. Given that an increasing share of Japan's defense acquisitions are being imported, the old way of doing business will no longer work.
How Japan's government and defense companies respond to this loss will have a profound impact on the future of Japan's defense industry and whether the not-so-new Three Principles of Defense Equipment and Technology Transfer will end up being much ado about nothing.